Enjoy the perfect CAD solutions by Cetpa Infotech

5.0 out of 0 based on 0 ratings. 0 user reviews.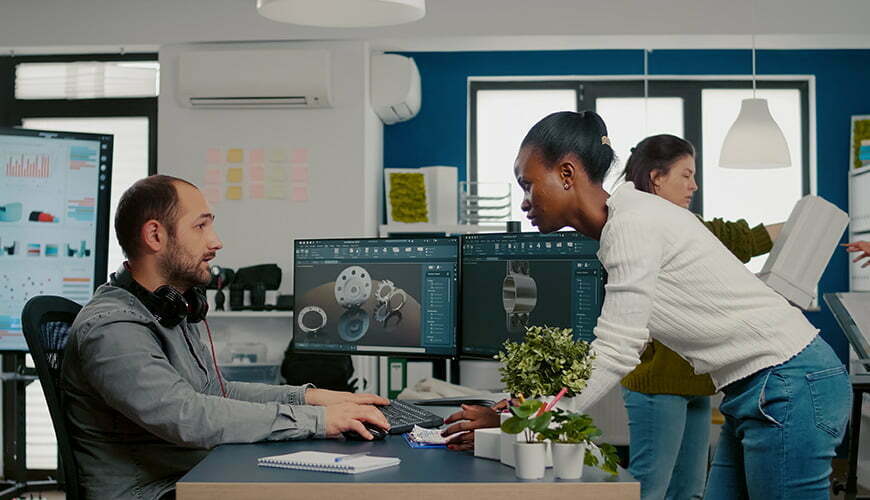 We have earned a unique reputation in the field of mechanical engineering, civil engineering, design and CAD (Computer aided design) solutions while providing you the finest cost effective and pioneering services to your development needs. Acclaimed high by the trust of valued clients and innovative method of our CAD designers & Designing experts we are happy to provide you quality CAD solutions for an extensive range of engineering services, Mechanical Design Services, Mechanical Engineering Services, Mechanical 2D Drafting and detailing services, Mechanical 3D Custom Modeling services, rendering service and reverse engineering service.
Currently, the need in engineering industry has gone beyond the basic CAD and in order to meet this need, we at CETPA have developed cutting edge technology in CAD designing. Our team of expert & qualified CAD drafters and designers are able of handling any level of complexities.
Our Services at a glance
Our specialised CAD services include 3D modelling, 2D drafting, sketch-up, manufacturing drawing and animations. We ensure the high quality services best-in-the-industry assistance in technology. With us, you will continuously enjoy the most affordable services even better than your in-house services. We are providing the following services:
2D CAD Services
Whether you need 2D CAD services for simple sketches & tender drawings to as built record drawings, we have got it all covered for you. When you choose our company for your 2D CAD drafting service, our team will create drawings that are informative, neat, easy to read, and accurate. Engineers who require accurate sketches can also utilize our drafting service.
Our 2D CAD services include:
Mechanical 2D drafting
Civil 2D drafting
Architectural 2D drafting
Structural CAD drawings
Construction & Manufacturing drawings and so on.
Construction documents, Site plans, Utility Plans, contour maps etc
Our team of experienced CAD technicians works with the latest AutoCAD software to create a professional drawing package that clearly communicates your requirements. Our 2D CAD drafts always undergo a multilayered quality check for ensuring its accuracy and best quality. Our aim is always to provide quality drawings to suit your deadline.
3D CAD Services
3D CAD can be a very useful tool for visualizing your forthcoming project or product. We at CETPA, offer a variety of 3D CAD design services, ranging from conceptual 3D modeling through to engineering design. Our 3D CAD service takes your design to the next level. We bring to life your vision, model, or sketches through an aesthetically appealing design that reflects the form and the dimensions of your product. Our goal is simply to offer precise, dimensionally correct CAD files that also reflect your exact specifications.
Our 3Dd CAD services include:
3D Modeling and Drafting
3D CAD Modeling
3D Mechanical Drafting
3D Civil Drafting
3D Architectural Drafting
3D Visualization and Rendering
3D BIM Modeling
Reverse Engineering
During the development and design process, your team may need the specifications from an existing part or a product. Reverse engineering makes this possible – extracting data and design information from an object or product with the intent of reproducing it in a new design. This process will not only allow for a quick reconstruction of a product for which you may not have the original design files – it opens up new opportunities during the development process. Our advanced reverse engineering services help you get detailed 3D models from physical parts of any product or equipment so that you can utilize them to improvise design while keeping manufacturability and the development process in mind.
Why opt for our Reverse Engineering Service:
You get skilled engineers to work on your projects quickly and cost-effectively.
Optimize the product quality
To update and redesign the outdated original technology or product.
Analyze your products and their parts in detail to develop the most efficient development plan
Enhanced focus on product feature improvement while our experts create the 3D drawings
Our problem solving, consultative method will help you quantify performance target and eventually get you the deliverable you need.
Rendering Services
We offer a wide spectrum of professional Rendering service using the latest technology, software, and rendering techniques to enhance your plans and designs. Our Experienced professional drafters provide quality 3D rendering services for all of your design and planning needs. We understand your need, requirements and specifications – our focus on detail will ensure that your projects are completed on time and within budget.
Our Rendering Service includes-
3D Mechanical products
3D Civil products
3D Architectural rendering service
3D product rendering services
Automobile 3D products
We are committed to meeting your deadlines and being an affordable service. We are fast, experienced, and priced competitively. Our group of experienced renderers have many combined years of experience in AutoCAD, Revit, and 3DS Max. We blend the perfect mix of technology and human capital to affect an affordable rendering delivery model.
The Creative Design services for Custom models
Powered by cutting-edge technologies and ground-breaking thoughts, we have been providing unparalleled quality 3D custom modeling services for business all around the globe. Our talented and skilled 3D artists use the latest technology developments to adapt to the needs of our client and deliver low 3D models of any complexity and assignment. Our highly qualified 3D modelers deliver high-quality 3D models on-time and at affordable rates.
Why Choose Our Company for Your CAD needs?
Attention to Detail
We are committed to providing our clients with a service they can rely on. Precision & Accuracy is a main focus in our production of technical drawings.
Communication is key
We pride ourselves on our ability to communicate design intent through the creation of our technical CAD drawings.
Latest tool & technology
We provide CAD services, with the motive of optimizing your designs and enhancing overall processes, with help of a fine blend of advanced tools and latest technologies backed with extensive experience of our CAD specialists.
On- time Delivery
By working with your time constraints and budget we make sure that your drawings and 3D models are developed on time so you can easily move to the next step of product development. We make sure that you get an amazing final product no matter how complicated the task may be.
You can contact us anytime & we will let you know how our expertise can help you. You can call us at 0120-4535353 or email us at query@cetpainfotech.com