A Complete Guide To Unlock Your Career With Salesforce Cloud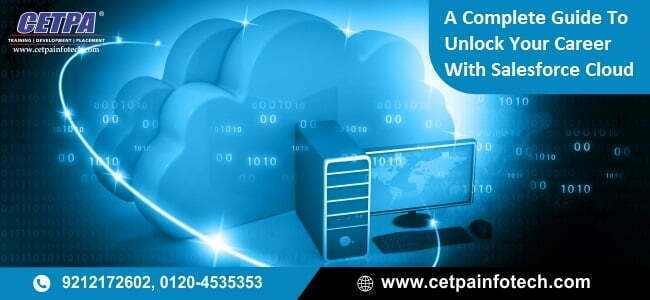 Salesforce is a cloud computing company which was founded in 1999 and is headquartered in San Francisco, California. It is famous for its customer relationship management (CRM) product. It aids users to handle all of their business needs like analyzing performance, managing marketing campaigns and tracking spending and sales.
Salesforce is the hot technology and has generated quite an excitement in the technology business. Jobs in this domain are rising every single day. You can also start your career in this technology by joining Salesforce training in Noida. Salesforce has grown enough that organizations are searching for skilled individuals with proven knowledge of the domain and hands-on experience. Beginning your Salesforce career isn't difficult, but it requires time & patience. But, by taking the suitable steps to learn and network, you can get your Salesforce dream job.
Let's discuss some of the crucial points which will help you in starting your career with Salesforce Cloud:
1. SALESFORCE CERTIFICATION:
If you are unemployed right now, you must know how important it is that your resume has a differentiator. Organizations are becoming flooded with aspirants and you need to assure that your resume does not get missed in a sea of competitors. A Salesforce competency is ranking high on job specifications. And a certification could be the leg up that you require to succeed in the current job market. Certification is the only way to verify your skills to your employers and to improve the worth of your resume.
2. IMPORTANCE OF SALESFORCE CERTIFICATION:
The certification from Salesforce is the powerful pillar to prove their skill of any Salesforce professional. It is an excellent way to show your skill level and expertise to the current employer or a perspective. It encourages you to strengthen your professional career by applying for higher and trending opportunities to gain promotion in the current company. To obtain Salesforce certification, you can join Salesforce Online training course . Experts with Salesforce certification are in high demand and are seeking by major employers. A Salesforce credential also gives you a competitive edge over your peers.
3. ENHANCE YOUR TECHNICAL SKILLS:
Work on your technical skills and get familiar with Java or any other object-oriented programming language. You can also learn HTML5, CSS and JavaScript basics. Not mandatory, but it will give you some advantage by learning one of the JavaScript framework like Jquery.
4. SALESFORCE COMMUNITY:
Another way to start your Salesforce career is to join and become involved in the Salesforce Community. By joining a community you can prove to your employer that you are the type of the person who is dedicated to doing good work.
5. SALESFORCE JOB TITLES ARE IN HIGH DEMAND:
Salesforce is the 7th most in-demand software skill ahead of other IT domains such as Python, .Net, and C++. Some of the job titles which are high in demand in Salesforce ecosystem include Salesforce Solution Architects, Developers, Salesforce Technical Architects and Project Managers. Salesforce course is also a complementary course alongside other IT skills that require a heavy amount of programming including SQL, Java, Oracle and JavaScript.
Read More: Start Your Career in Salesforce Cloud Services & the Products Of Salesforce
6. VOLUNTEER:
Once you have a basic knowledge of Salesforce, it's time to apply that knowledge to a real-world scenario. If you want to create your resume with projects before getting a full-time job somewhere, volunteering is an outstanding way to do that. There are multiple places to find volunteer opportunities.
THE BOTTOM LINE
It's important to remember that Salesforce is a tool, and any tool can be learned. To learn Salesforce does not require any particular background. Anyone can learn it. You just need patience & lot of practice.So, evaluate your skills and choose the appropriate Salesforce certification that helps boost your career.