Advantage And Disadvantage Of Salesforce Over Other Crm Softwares?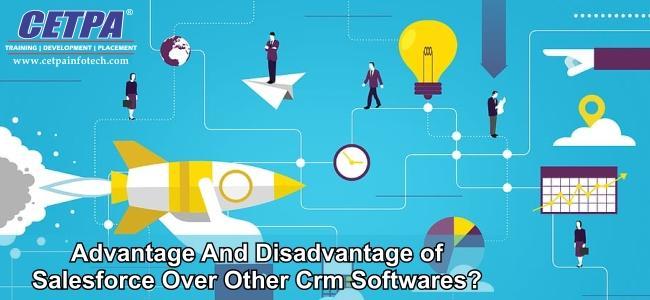 WHAT IS SALESFORCE?
Salesforce is a solution for Customer Relationship Manager (CRM) which connects corporations and customers together irrespective of requirements with the help of different Salesforce tools. Salesforce tools offer the quickest path from developing an idea to developing an App as per the organization's requirement rather than creating an organization's own infrastructure or tools.
WHY SALESFORCE IS POPULAR?
Obviously, the answer is all known "Clod Computing." Salesforce is not just for better product service and its factors for an affordable price. It is also for the easiest installation process and moving it into the internet via cloud process. It changed the business models with no more long-term contracts, no need for expensive license deals.
ADVANTAGES OF SALESFORCE CERTIFICATION
Gain Tremendous Knowledge
If you are a fresher, joining the Salesforce Online Training program will allow you to operate on live projects and obtain industry knowledge. They give you various materials about live projects that are related to the industry you want to develop in and be employed in.
If you're already well-versed in this field, then it allows you to delve deeper into it; know each aspect with examined detail. You can even explore various tools that enable you to indulge in other subtopics of the main subject you're trying to qualify in. You will be ready to expertise in it and even generate more skills.
Update your Existing Knowledge
One of the biggest things about the Salesforce platform is that it persists extremely updated throughout time. This cloud technology allows the release of all updates with concerns to its field of business and gets pushed to the application by itself. The official website for Salesforce advertises these particular updates various times during the year.
Moreover, if Salesforce is a previously existing concept at your organization, then you need not bother about having to wait for a long period to update the entire enterprise software.
An Added Advantage for your Company
With this certificate in your possession, you become a prized requirement for a business. Employees with great knowledge in this field have already tended to be remarkably beneficial for companies and therefore can get jobs within days of showcasing their resumes. If you choose to work with organizations that use Salesforce broadly, then this certification and Salesforce online Training becomes a necessity for you.
Increases your Value
People will require to have you in their business, including the certificate of Salesforce. It improves your qualifications and even supplements to it. This certificate displays the telltale of your expertise in a distinct field and drives you to vocalize the promises you can offer for the company you can work for and its domain.
DISADVANTAGES OF SALESFORCE CERTIFICATION
Too complex for small businesses
It can be said that Salesforce is most suitable for large-scale businesses which have sales and marketing teams. Meanwhile, smaller businesses may not need such complex software.
Not very easy to use
Though Salesforce is an intuitive tool, many users report a high learning curve. Though it doesn't need any installation, it is not something that can be used or set up immediately. In fact, it may be helpful to have a Salesforce 'master' in an organization that uses it. Additionally, there are no keyboard shortcuts for lookups which require users to click buttons for everything.
Poor customer support
For a huge software developer, Salesforce is expected to provide strong customer support. Unfortunately, this is not what many users say. According to some users, customer representatives change quite often which means many of them have just gotten out of training.
Read More: Boost Your Career With Salesforce Online Training
CONCLUSION
The demands of expertized beings in the workplace have risen alarmingly. These days, people are required to have a lot of creative talents. It is not only important to have, idealistically speaking, technical knowledge. Employers look for employees, who can manage the business, give ideas, are able of indulging in analytics, and even excel at customer relationship management. Salesforce certificate speaks for itself and lets you have the perks of having a firm and balanced work life.