CETPA- the best Company for AVR Training in Noida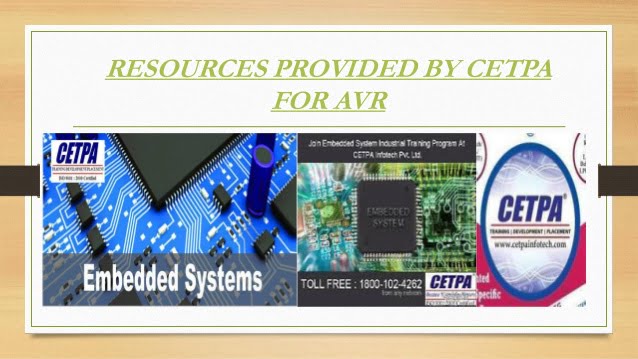 CETPA INFOTECH PRIVATE LIMITED is an ISO 9001:2008 certified training school that has won several awards and accolades for training and developing students in the technical field. The company offers comprehensive AVR Training in Noida, Meerut, Lucknow, Roorkee, and Dehradun.
The AVR Training at CETPA is suitable for technical students as well as corporate professionals. AVR technology has increasing significance in the job markets, but the scarcity of professionals in this field is the main constraint. Hence, CETPA provides world class AVR Training Course to transform students into professionals. This kind of training is required by students to grab the job opportunities in the market.
This AVR Training program is an opportunity for budding engineering students to do lots of practical sessions in addition to theory classes under the guidance of its skilled trainers. The main objective of this training is to make the aspiring students familiar with the theoretical as well as practical knowledge of the AVR. Students will also get to learn the current expectation of the industry regarding the technology. The course content of AVR Training is thoroughly revised with the latest upgraded improvements so that students may lead the race.
CETPA offers placement oriented AVR Training  classes to fresher. Upon completion of the training, students are given a chance to sit in placement drives of reputed companies. For corporate professionals, it offers corporate training and weekend options for classes are also available.
CETPA has more than 12 years of experience in mentoring students in AVR Training in Noida. It has a team of energetic, skilled and experienced trainers who have rigorous knowledge of the concept. Students can join summer training, winter training, industrial training, campus training, fresher training, or online training according to their requirements and interest.
CETPA has well-structured computer labs and excellent IT structure including fully Wi-Fi campus which facilitates effective learning of the technology. Hence, students should enroll for AVR Training in Noida at CETPA to rise in their careers.