Data Science Certification Course: Your Key to Success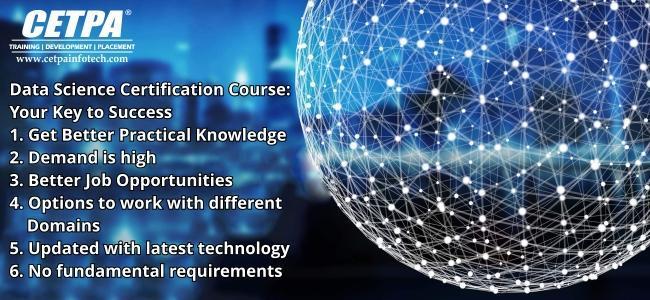 Data Science is act of collecting, organizing and understanding of data for the decision making. Data Science is a field that helps to extract the knowledge from structured and unstructured data. Data Science is helping to changing the universe of analytics. Data Science is used for enhancing the products, decision making and marketing effectiveness in organization.
Data Science Online Training is providing the basic understanding of introduction of data science, data mining techniques, programming language, machine learning applications, artificial intelligence applications.
Data Science Certification Course is the Key to Success as:
1. Get Better Practical Knowledge: Data Science Certification Course helps to work on practical knowledge and implement it on the real work life. Data Science uses advanced algorithms and scientific methods to extract information from structured and unstructured data. Practical knowledge and concepts will provide industry demonstration and actually solving the business problems with future perspective and predictions.
2. Demand is High: Data Science Certification Course is greatly in demand. Data Science is on the high level on the priority list of every organization. It is the fastest growing field. Data Science has a far impact on businesses. The data science demand is high and increasing rapidly with the competitive market.
3. Better Job Opportunities: Data Science Certification Course has one of the most highly paid jobs. It provides a highly lucrative career prospects and options. The growth of jobs is real and in trend. Data Science is involved in decision making related to business strategies. It will improve the academic development and career success.
4. Options to work with different Domains: Data Science Certification Course provides the opportunity to work with different domains and industries. Data Science is a versatile field as it is used in various sectors. It includes many applications of Data Science.
5. Updated with latest Technology: Data Science Certification Course is helps to get updated and upgraded with latest trends and technologies. Data Science will update through latest technologies. Learning skills help to expand the knowledge. New technology gives the organization a new success and work in a competitive field.
6. No Fundamental Requirements: Data Science Certification Course is help to learn accreditation. It not requires any fundamentals and essentials. It helps to discover new skills and information. It provides the ability required for efficient data science proficient.
Must Know: Why Data Science is Most in Demand Career Now
In the industry, there is a huge demand for certified and experienced Data Scientists. Data Science is basically used in IT sectors. Data Science is a critical application for most of the industries. The companies which are using Data Science are IBM, Amazon, Google, Facebook, Microsoft, Walmart, Fractal Analytics, Target, Visa, Accenture, Bank of America, Cognizant, HCL, DELL,Cisco, TCS Ericsson, Yahoo, Genpact, etc.
Summer Online Course in Data Science is providing the master skills in knowledge of hypothesis testing, statistician, clustering, decision trees, data wrangling, data visualization, regression models, recommendation engine and many more.
Data Science Online Certification Course is get basic knowledge of add value in the operations, Tableau, SQL, Data Mining, Deep Learning, Statistical modelling, financial modelling, data exploration, different methods of statistics, helps in productivity, costs, identify new marketing opportunities and competitive advantage in the organizations.
Data Science is used in various sectors such as Healthcare, Finance, Transportation, Manufacturing, Banking, Ecommerce, Automobiles, Retail, Entertainment, Energy, Automobile, Insurance, Defence, etc.
The job roles and opportunities Are Business Intelligence Developer, Data Architect, Applications Architect, Infrastructure Architect, Enterprise Architect, Data Analyst, Data Scientist, Data Engineer, Machine Learning Scientist, Machine Learning Engineer, Statistician, Data Science Manager, Data Mining, Decision Scientist and many more.