How To Become Best With DEVEOPS FOR SOFTWARE TESING?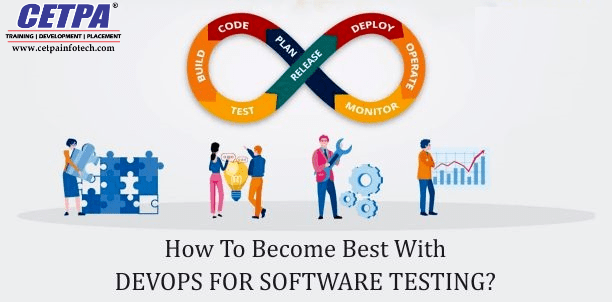 As we know that DevOps plays an important role in the IT industry. According to a recent survey, more than 50% of companies start working with DevOps training because of its high speed and accuracy. So first let me introduce DevOps training.
What is DevOps?
In simple words, the DevOps course is just a combination of Developments and operations. DevOps training is method oriented towards integrating all functions of Software Development, from development to operations. An ideal Life Cycle starts with developers writing code, then building and deploying binaries in a QA environment that executes test cases, and finally deploying into Production in one smooth integrated flow.
How DevOps is beneficial for software testing?
● Even though DevOps training software Testing and Agile differ in many ways, the agile users may find it easier to use (and eventually adopt) DevOps training. On the development and Software testing sides, Agile principles are successfully applied, but it is quite the opposite (and highly contested) on the testing side. This is where the DevOps course comes into play in software testing.
● Automating all the test processes and configuring them to run automatically in the QA environment after deployment can lead to superior speed and agility. To achieve this integration, specialized automated testing tools are used along with continuous integration tools.
Benefits of knowing DevOps for Software testing-
● Test and quality assurance teams belong to technical teams. The focus should be on automation and testing strategies rather than manual functional testing. Due to DevOps training, quality becomes an enabler throughout the software development life cycle.
● As per the client's requirement, needs should be clearly defined by the quality analyzer. It is possible because of the DevOps course. So that both works can be done at a time. It is more important for QA to focus on ensuring a satisfying user experience within the given timeframe rather than striving for perfection in software.
● It is necessary to define and measure quality metrics. Because of this, you can easily find them during testing.
● It is imperative to optimize the goals of individuals and teams. Through which the testing team can work easily. Through quality assurance incentives, organizations can enhance necessary behavior shifts and cultural shifts.
Also Read: Which Is The Best Azure DevOps Certification Vs AWS DevOps Certification?
● Specific requirements are needed which can be fulfilled by DevOps course like, To help and guide development teams towards appropriate directions, quality assurance teams should be actively involved in the requirements process.
● Automation of regression testing of critical areas like key software functions should be a top priority for QA & testing.
● Testing and QA need to leverage automation tools to automate testing wherever possible.
● So if you learn DevOps course for software testing you will get benefits in software testing as discussed above. Besides that, It maintains the proper documentation that makes the testing more organized and transparent for each individual in the organization. Test summary reports, Test case specifications, and Risk assessment reports are among the testing-related documents created by successful DevOps training teams.
Now you can understand why learning DevOps course is important for your career and if you want to become a master of this technology then you should do a hard training – which should be a combination of practical and theoretical concepts and one of the top institutes for DevOps training is CETPA.
● CETPA is one of the best well-known training institutes for DevOps training in Noida.
● CETPA is a trustworthy and ISO-certified institute.
● CETPA offers its students an opportunity to work on live projects.
● CETPA assures 100% placement assurance.
● CETPA is the only company that offers online certificate verification.
● CETPA is the company which provides internship letter on the companies letterhead.