Improve Your Excel Skills Through Advanced Excel Certification Course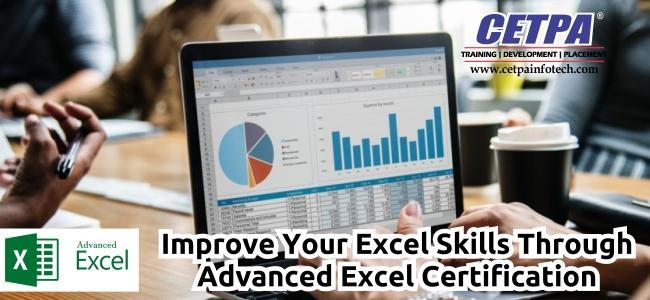 Excel proficiency has been ranked as one of the most desirable skills in prospective employees. Many organizations, small and large, include an advance excel certification online course in their carefully designed employee development programs. Their overwhelming response has shattered the myth that Excel training is required only for careers in Finance and Accounting. Today domains like Research, Technology, Education, Sales, Marketing and HR seek candidates with Excel training, thus offering them myriad opportunities.
So what's in it for businesses of today is the question that needs to be asked. The answer lies in the fact that a modern dynamic corporate environment is driven by data. Vast amounts of data are processed by organizations to gain a customer as well as competitor insights, amongst other reasons. Analyzing this data and organizing it allows companies to stay abreast of the industry trends, market maneuvers and their competition. Advance excel online training class for employees helps them harness the advantages of data, and so much more.
Let's Discuss How Online Excel Program Will Help You in Improving Your Skill:
Enhanced Efficiency
It is one of the most appealing benefits of this training program. Learners who have completed MS Excel Advanced Course arm themselves with a vast array of skills including visualizing data and balancing complex accounts. It makes them quicker and more efficient, which can save businesses huge amounts of time.
Increase in productivity & Efficiency
Learners with training program reduce the workload on the IT team of the organization. With your skilled employees, you won't need to call on your IT team to analyze the numbers. It will allow them to focus on the tasks that are their forte. This kind of effective use of manpower resources is vital for all organizations.
Numerical methods & tools
There is one huge limitation when the IT team runs the numbers for you. They might be able to handle the task but they are often not in a position to analyze the data and offer you meaningful inputs to work with. Business heads and managers need access to numerical tools, which can be provided by employees with advanced Excel training.
Growth & Development
Businesses need to keep investing in the growth and development of their employees to ensure that they retain these valuable assets. MS Excel Advanced Course is part of the training that motivates employees and can reduce the turnover rate. Employees acquire a valuable skill, which is, in turn, is used to improve the functioning of their organization.
Added value to your skillset
Advanced Excel Course makes practical sense for businesses also because they work with their existing assets. They train their existing employees and add to their skill set. At the same time, they don't have to install and invest in additional software and tools. Excel is a universal spreadsheet tool, which is already present in organizations.
Read More: Tips and Tricks of Advanced Excel Pivot Table
ENROLL IN AN EXCEL TRAINING: JOIN CETPA
No matter if you are beginning your career, making a career switch, or looking to increase your attractiveness to potential employers, there is much to be gained by enrollment in our advance excel online course. Some people even discover that learning Excel impacts not just their professional, but also personal lives.
We invite you to look at our class listings to discover which Excel program works best for you. By Joining CETPA you will get benefits like in depth knowledge of SAP ABAP, 100% practical training, REAL –time training, assured placement assistance, live project, expert trainers and much more.
Give us a call to register for free demo class. Enroll Now!