Machine Learning Career Path Is The Right Choice To Advance Student's Career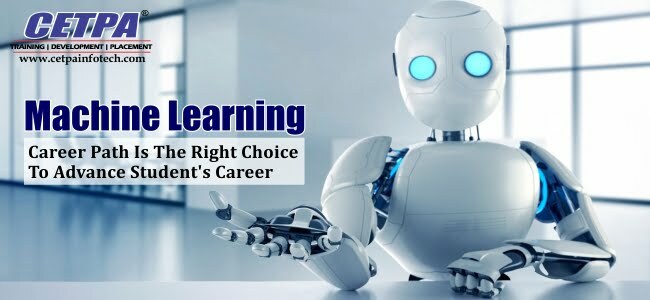 WHAT IS MACHINE LEARNING?
Machine learning is the data analysis technique that automates analytical model building. It is the domain of artificial intelligence that is based on the assumption that systems can learn from data, identify patterns, and make conclusions with negligible human interference. Machine learning techniques make use of computational approaches to "learn" information straight from data without depending on a predetermined equation as a model.
INCREASING IMPORTANCE OF MACHINE LEARNING?
The machine learning domain is continuously developing. Along with development comes an increase in demand and importance. There is one crucial reason why data scientists require machine learning, and that is: 'High-value predictions that can lead to more reliable judgments and smart actions in real-time without human interference'.
To obtain the benefits of this ever-growing domain, you can join the Machine Learning Training Institute in Noida. Machine learning helps in analyzing a large amount of data, reducing the work of data scientists in an automated process, and is obtaining a lot of attention and recognition.
POPULAR MACHINE LEARNING METHODS
Supervised machine learning algorithms
Unsupervised machine learning algorithms
Semi-supervised machine learning algorithms
Reinforcement machine learning algorithms
MACHINE LEARNING JOB ROLES
Machine Learning Engineer
Artificial Intelligence/ Machine Learning Lead
Data Scientist – Machine Learning/Artificial Intelligence
AI and Machine Learning Expert
Machine Learning Engineer
Data Science Manager
Machine Learning Researcher
Data Engineer/Data Architect
Data Scientist
WHO ARE USING MACHINE LEARNING?
Machine learning is used in the following sectors:
Financial services
Government
Health care
Marketing and sales
Oil and gas
Transportation
Also Read: Tips To Build Your Career In Machine Learning
WHAT DOES A MACHINE LEARNING ENGINEER DO?
Simply put, machine learning specialists are computer programmers whose domain areas are deep learning, machine learning, and artificial intelligence. They are specialized in offering automated and tailor-made solutions using machines. Some instances of their contributions include image classification, speech recognition, a customized news feed, and market forecasting.
All through their work, they would have to work with data collection, preprocessing, cleaning, plus training models, and deploying them to production.
It's safe to say that people in machine learning jobs are attempting to make human lives simple and sophisticated. If you are keen on seeking a career in this domain, there are some fundamental skills you requirement for machine learning jobs for you can join Machine learning online training.