Machine Learning With Python Online Certification Courses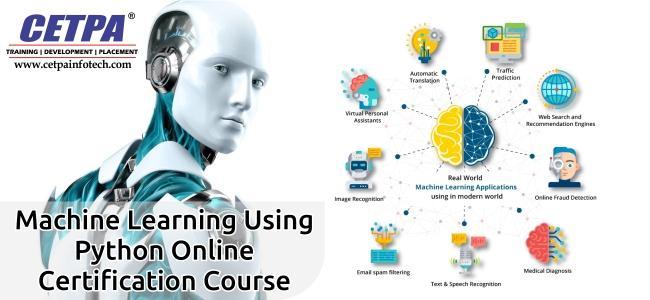 Machine Learning is penetrating almost every phase of life and work – right from spam filters to algorithmic trading, playing a vital role in today's IT environment. Over the last few years, innovations in trending machine learning technologies and algorithms have emerged in fraud detection, speech recognition, self-driven cars, accurate web searches and a constantly rising understanding of the human genome. With the rapid pace of developments in Artificial Intelligence disrupting the industry, companies have been seeking employees that are armed with hands-on experience with Machine Learning.
Python has become quite popular in the last few years. Python has become a popular programming language all over the world. The reason for its rising popularity is quite simple, and that is its applications ranging from scripting to web development to process automation. Python in Machine Learning is undoubtedly the new black in the IT industry.
IMPORTANCE OF MACHINE LEARNING WITH PYTHON CERTIFICATION
These days, AI and Machine learning are present everywhere and have created a whole lot of opportunities for various application developers. Nearly all the big companies have already begun utilizing Machine Learning, and the future is going to be even bigger than this. In the upcoming years, AI and ML will be controlling half of the world, and there will be a huge demand for proficient Machine Learning certified employees in the market. To take advantage of this domain, you should join best Machine Learning Online Course. This is the major reason why experts all around the world are looking to get qualified in Machine Learning and obtain the certification on this hottest high tech skill. Not just this, Python in Artificial Intelligence is also used popularly by different companies as well to enhance their workflow.
MACHINE LEARNING WITH PYTHON CERTIFICATION COURSES
Many reputed training institutes/ companies offer Python Online Course Certification. These companies have the best course content and train the learners in such a way that they can stand out strongly in the AI industry. The skilled trainers are extremely experienced IT professionals who have already worked on live projects and who know every complication and processing that comes with Machine learning. These institutes also provide ML certification which is very crucial to get placed in a reputed company.
WHY YOU NEED MACHINE LEARNING USING PYTHON CERTIFICATION
Some significant benefits of Machine learning certification are:
 The professionals who are certified in ML gets a better advantage over non-certified people as most of the job postings are for certified people only.
 In terms of the package also, the certified ML professionals get an edge over non-certified people.
 Gives an authentication that you have a better hands-on experience in dealing with the ML & AI.
 The certification gives the person the confidence to deal with all type of work that can come up with ML using Python.
So, it is high time that you should think of starting your profession in ML by joining Machine Learning Online Course.
OBTAIN CERTIFICATION & MOVE FORWARD IN YOUR CAREER
Machine Learning using Python is one of the best options for the capable and qualified experts to boost their career prospects in the industry. Further, once you obtain this certification you are offered with an option to highlight your skills to your employer or clients. Moreover, this certification training boosts the confidence of the employer while employing these experts.
Further, for the professionals who take up this training program are offered with an option to enhance their practical knowledge of this domain. Also, qualifying ML training certification is not an easy task. Hence, this is the reason why this certification training is valued by employers.