The 5 Best Things About Machine Learning Online Course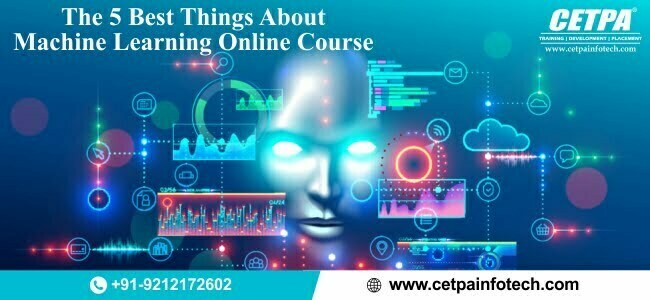 Machine Learning (ML) is a popular buzzword in the field of technology and recently it has entered the online training domain as well. ML facilitates computers or machines to make data-driven decisions, reducing the requirement for explicit programming to accomplish a task. It makes use of algorithms that are intended to improve over time depending on the new data they'll be tracking.
WHY ONLINE MACHINE LEARNING COURSE?
The number of university and college students attending classes online keeps on increasing. This is because of the various benefits & flexibility it offers. CETPA, an ISO 9001:2015 certified training company also offers Machine learning online training so that students who have distance issues or professionals who are not able to learn because of timing issues can also obtain the necessary skills.
When you join CETPA, you get various benefits like opportunity to work on live projects, assured placement assistance, training certificate, project certificate, membership card, guidance from industry experts and so on.
Let's have a look at different benefits of Online Training:
LEARN FROM COMFORT OF YOUR HOME
If you opt for a Machine learning online Course rather than traditional classroom training, you don't have to get dressed or step outside your house. You can learn easily from your home, all thanks to mobile and internet technologies through which anywhere can learn from any place in the world.
Some students can't handle the pressure for their studies, whether its higher education or college degree. Online learning offers a completely different environment for them to learn and apply. Students can still interact with each other and with their instructors also, so they don't need to face any kind of competitive atmosphere every day.
CONVENIENCE AND FLEXIBILITY
Many times a person is ready to learn but he/ she is not able to handle their schedule or have distance issues. Online Learning courses are designed to help you in mastering new skills, so you give your proper attention to it. As physical programs require you to stay in the classroom for a fixed time whereas, in the online programs you can schedule your class as per your preference, distance learning provides you more flexibility.
Also; Read This: Is Machine Learning Trendy?
Most of the people can't manage to take six months off work to master a new skill.
By online training mediums, one can study while working & acquire new skills.  Those extra skills help to add experience and knowledge in your career life and lead to growth for reaching a point willing to move.
One of the benefits of online learning is the experience to work with students around the globe. These advantages are not stopping even after the program ends. You maybe meet them as your business partners or associate. Or you can connect with fellow candidates on LinkedIn and different social media platforms. One can take another's skills when you learn about the latest job opportunities, and continue to encourage each other in career.
THERE'S NOTHING WRONG WITH TRADITIONAL EDUCATION.
But, Online Education opens up a different world of Education. Whatever the situation is Online Education can't exist in physical classes. The Internet has generated an environment that promotes learning, so it's time to take these advantages.
It's time to take advantage of the educational opportunities available for you. Join CETPA now & reap the benefits.