Top 7 Advantages Of Learning Software Testing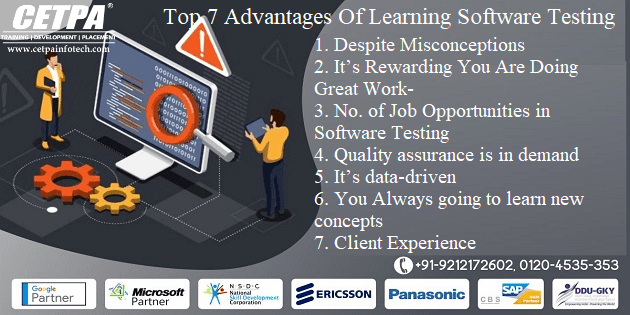 Introduction:
Errors in a developed product are found during software testing. Also, Software testing training helps to identify defects, missing requirements, and gaps in the real outcomes so that they can be corrected or addressed. Before a new product is launched, it must be checked for errors and over several other aspects like quality, defects, performance, etc this process is called software testing training.
Experienced testers employ both traditional and automated testing methods. These professionals report their findings to development teams. Software testing results in the user's desired product and that is why it is important.
Top 7 Benefits of Software Testing-
1. Despite Misconceptions, Only A Few People Can Do It- The majority of testers begin their careers in a related field and are drawn to the role, but software testing training requires a solid understanding of UX/UI design and development patterns as well as analytical skills and good communication skills. As a result, taking an online software testing course is necessary if you want to become a proficient tester.
2. It's Rewarding You Are Doing Great Work- You can make measurable changes to your organization's goals, objectives, and bottom line by conducting software testing training if you take pride in your work and the people you work for. Additionally, being a tester is a beautiful experience thanks to the incredible grassroots support. The tester community is a tightly knit group; they share best practices and keep up to date with new industry trends on StackOverflow and Twitter.
3. No. of Job Opportunities in Software Testing – Every company that uses software needs software testers, which is to say, almost everyone. From medicine to shopping to computer games, testing is needed in virtually all industries. Additionally, you can choose to do manual testing, automated testing, or performance testing.
4. Quality assurance is in demand – If you want a fast-paced, high-paying career, this is the one. You'll always be needed as a software tester; leading companies will strive to recruit you, and there are always opportunities to move up the ranks and become a manager.
5. It's data-driven – The Software testing training is both technical and creative, which is one of the most appealing things about it. However, it does require a certain level of automation. As well as developing and coding as a fundamental base, they analyze product trends and day-to-day data as well. Data science literacy is essential since you must understand how the software works and is built.
Also Read: What Are The Software Testing Trends – For A Successful Growth Of Every Brand!
6. You Always going to learn new concepts-
There is always something new to learn in the software testing online course career, whether you are learning to code, automate, or create security tests, and you likely have a very supportive team behind you to help you succeed. You'll never become stagnant in software testing training since you'll be always improving and developing it.
7. Client Experience- Client experience is a huge component while putting a few items available. No one but testers can guarantee that. Their experience will ensure that the product is planned in a manner that is sensible and instinctive. Moreover, that you need incredible client experience, programming should be liberated from bugs and blunders, which can be an abundance of a disappointment for clients. Picking a decent software testing course administration with an expert group will ensure the nature of an item and a great client experience.
Now you can understand the importance of software Testing training in every industry and within a software testing online course, there is no existence of a perfect product. So Software testers are the secret gem in the whole development process. If you are also fascinated by this then must go for software testing training with India's best training institute i.e CETPA.
Why Choose CETPA?
● CETPA is the best training institute for software testing training in Noida.
● CETPA is the online training institute that provides online certificate verification.
● CETPA is an ISO-certified institute.
● CETPA software testing course content is moderated with the changing times for a better learning purpose.