Want To Make Career As A DevOps Engineer?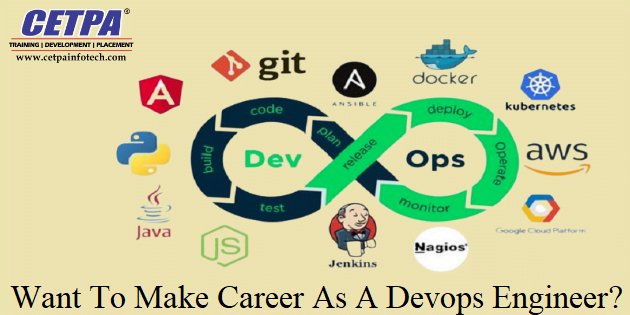 Development of products and services at high velocity can be accomplished with development operations, a combination of philosophies, practices, and tools that are designed to increase the efficiency of software development and infrastructure management. Companies can improve service experience and engage more successfully with their competitors in terms of this pace.
Skills you need to have a better career in  DevOps-
●  Soft Skills and Noble Thought
Having good coding and automation skills is not enough. To get success in this, one needs to possess soft skills, self-motivation, flexibility, and learning abilities. As well as listening. A collaborative approach is crucial to DevOps training transformation because it involves stakeholder engagement, awareness of business objectives, assessment, and solution identification.
●  Security Skills
The pace at which it facilitates deployment often corresponds to the rate of risks. In the traditional method, security might not be possible by adding a separate step or at the end. It may help you by including security into the SDLC from the start. Knowing it can increase your chances of succeeding as a DevOps expert.
● Automation Skills
Those aspiring to be engineers must have a thorough understanding of the automation that underpins DevOps training. This comprises CI/CD cycles, app performance measurement, and architecture and performance quality, among other things. A skillset in this automation is closely tied to coding and scripting abilities, as well as knowledge of this toolset.
●  Coding and Scripting
A good DevOps training professional should know how to code and script. The most widely recommended scripting languages include Python, Ruby, Python, Java, Javascript, PHP, Bash, and Shell.
Also Read: What Are The Relation Between Cloud And DevOps?
● Cloud Skills
DevOps training and cloud go hand in hand. They both influence one another directly. By providing the necessary platform for performing tests, deploying, and releasing code, Its methodology drives a process. Cloud is crucial for comforting the process. In addition to enabling automation with CI/CD tools, the cloud is also capable of facilitating resource monitoring.
● Testing Skills
Testing is critical for the success of this process. Testing that runs without problems will be required in the DevOps training test automation workflow. This is important for the growth of regular screening, which entails running automated tests.
● Communication and Collaboration
To succeed in the DevOps training market, communication and collaboration play a major role. By doing this, silos between development and operations teams can be broken down, teams' goals can be aligned to business goals, and a DevOps course culture can be embedded cross-functionally.
●   Customer-Focused Approach
Any successful DevOps training process is driven by customer satisfaction. As a result, DevOps experts should strive to fulfill corporate goals while also adding value to the final with each function they do. A common goal will require collaboration with other stakeholders such as developers, testers, project managers, and the organization's thought leadership.
The most important aspect of this is that it's something of a technical solution; it is a practice. It is advantageous to gain a better understanding of it. To be effective in the DevOps training path, if you're an employee, a company, or a service provider, you'll require flexibility to innovation and operational flexibility, as well as external and internal skills.
If you want to become a DevOps engineer then you must have these skills. These skills also help you to get a good career. Every company wants professionals. So, As to become proficient in your field you need proper training. For having a good career in this field you need to know all the skills mentioned above, and also more you need to know more concepts about DevOps. We must suggest that you have to go to DevOps training. CETPA is one of the best training institutes for DevOps training in Noida.
●      CETPA provides their students with an internship letter on the company's letterhead, which they can use as experience on their Resume.
●      CETPA offers interested students free Web hosting.
●      CETPA training is known to be an essential component of the college course curriculum.
●      CETPA has partnered with some of the best companies in the world.
●      CETPA course content is up to date with new technologies.