What Is MCSA And Why Should You Learn It?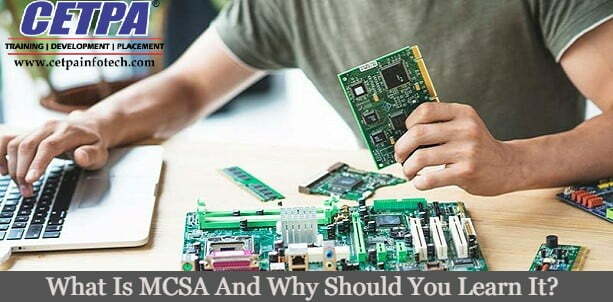 Anyone who has ever been exposed to technology must be aware of Microsoft. It's a name that goes hand in hand with technology, given the magnitude of its popularity. As a result, Microsoft is regarded as the world's leading operating system for business. So getting certified in one of their courses is going to benefit in many ways.
MCSA is especially more advantageous for beginners who are about to venture into the world of IT as well as working professionals who wish to enhance their skills in various fields. This is so because it's a course that exposes you to many things that are bound to enhance your technical skills and knowledge.
So, if you have been wanting to learn MCSA, now is the perfect time to do so! For this purpose, you can take a look at our online MCSA training program.
But What Is MCSA?
MCSA stands for Microsoft Certified Solutions Associate and is one of the most popular courses offered by Microsoft. It's a course that has gotten worldwide recognition and is regarded as the "foundation of Microsoft's new generation of cloud-optimized credentials."
MCSA is a qualification that one needs in order to become a computer network specialist, or a network/computer system administrator, for that matter. Ideally, if an IT professional handles tasks that are related to building and designing IT solutions by using Microsoft technologies, they must have this certification.
Technologies we are talking about include Linux, SQL, Windows Server, Windows, Microsoft Dynamics, and Exchange Server, and many more.
Here's Why You Should Start Learning MCSA now!
It Increases Your Earnings: If you're already working, there's a good chance that your salary will be increased as employers truly appreciate members who are dedicated enough to pursue such courses.
Moreover, even if you're a beginner, MCSA- certified IT professionals are preferred by most companies and hence you get lucrative opportunities. Either way, your hard work and dedication will really pay off.
It Will Help You Stand Out: After completing the MCSA course, it's only obvious that you will become a highly skilled IT professional, who not only meets the standard requirements but also has advanced knowledge of computers, networks, and system services.
Therefore, Including MCSA certification in your resume will undoubtedly put you in a considerably better position.
It Will Enhance Your Skills: Learning MCSA is also going to enhance your designing skills. It will improve your ability to develop technical solutions. This is so because the course provides an in-depth understanding of the various core concepts.
You Become Capable Of Holding Higher Positions: Microsoft's certified professionals tend to hold important as well as influential positions in the organization. Also, as you get certified, your performance improves substantially, which ultimately leads to promotions.
Consequently, it has been observed that employees who have attained MCSA certifications tend to work far more efficiently than others. Hence, attracting more secure, stable, and higher job opportunities.
Great Option For Career Growth: Earning MCSA certification is bound to open more doors for your career. You can further explore courses like MCSE and MCSD in order to gain mastery in Microsoft technologies.
Also Read: How To Enhance Your Skills Through MCSE Certification Course?
Furthermore, you can work as a computer support specialist, network administrator, Windows migration specialist after the completion of the course. Another plus point is that it proves your dedication towards learning, and exploring your abilities, which is something that all the big corporations seek in candidates.
Now that you know what MCSA stands for and why you should learn it, it's time to enroll in our online MCSA training program. We provide the best MCSA training course in Noida. In our online MCSA training program, you will learn all the core concepts of MCSA as well as get live projects to work on.
So you can count on us to offer you the best MCSA training in Noida. I hope this helps,
Have a great day!