What Is Vocational Learning And Why Its Important?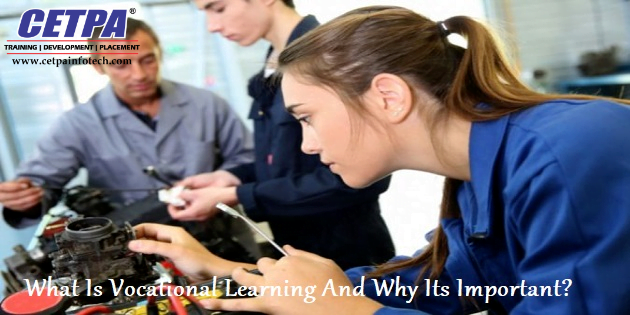 In this developing world be with the trend is difficult and vocational training is something that helps you to get your dream job in real and update you with the latest technologies. While a university education often allows learners with theoretical or comprehensive knowledge that can be applied to a wide range of occupations within a sector, vocational training course teaches students the skills and techniques required to be a master of that field like how to operate and how to do work.
University education commonly involves classes in a wide range of topics and it may not even relate directly to a person's dream and that graduation may or may not use in their career. Instead, Vocational training fuses all the insights to a single point that why one should get expertise in that particular field.
Technical skills for a particular job or profession are developed through vocational online training. In contrast to the knowledge provided by traditional formal education, it provides you with practical expertise. Understanding the importance of vocational training can assist you in advancing your career with the best skills for your professional progression and development.
why vocational training is important?
● Employment Prospects And Skill Development:-
Students in non-vocational studies frequently devote hours daily to researching a range of topics. They will spend countless hours in the classroom and on computers performing research and producing papers that will help them continue to improve their theoretical knowledge in a number of subjects, so they will only have limited hours of practice time per week. In non-vocational training, trainees are subjected to theory concepts more the practical knowledge so thats why they did not practice their ideas and they also don't know how to work on the machine because they learn the only theory part.
This issue is rectified for students in vocational training and training programs. Students spend several hours per week in practical workshops studying hands-on useful knowledge in their chosen industry. Because learners engage in researching genuine work options that prepare them for their future jobs, class time in these universities tends to increase when compared to outside research time. They do not devote as much time in vocational training to theoretical research as they do to actual learning.
Vocational training moreover has courses that will walk them through chances to utilize the profoundly specialized gear and spaces that they ought to do their employments well. Instead of non-vocational learning almost this sort of hardware or how it can be valuable within the work, they have the chance to undertake out their claim abilities whereas still in school. When the time comes for them to move to genuine work, they can start immediately. They will not get to spend time learning how to physically work the hardware on the work, permitting them to end up a profitable worker and construct a career quicker.
Also Read: Best Vocational Education Program
● Vocational training offers Increased earnings
Completing vocational training classes may also assist you in obtaining a higher-paying position. This is especially true if you are looking for your first work after graduating from high school or if you want to further your studies.
According to research on vocational education published in 2019, vocational education enhances earnings. Over five years, employees with vocational training (Vocational Education Training) saw a 7% boost in pay. Whether they transferred employers or not, this was true. The business, technology, and health sectors were the ones where vocational education increased incomes the greatest.
● For many students who are in a situation whether they ought to go to college or not, Professional instruction truly opens a totally modern entryway.
● One of the key advantages of vocational training is the ability to pursue a job of one's choice. The vast majority of people are stuck in the incorrect jobs because they are in it for the and more for a job, income, a lack of option, or a professional compromise, whereas someone who pursues Vocational training is already working in his dream job.
Vocational training is essential for students and vocational online training should be like complete training for individuals for that it must include all practical concepts. Training institutes also play an important role in vocational training and CETPA is the topmost training institute for vocational training in Noida. CETPA provides you the live lab exposure and CETPA certificates are globally accepted and after the training, you get an opportunity of working on live projects. CETPA is awarded as the best institute for providing quality education for more than 10 years.