Why SAP FICO Certification is Significant for a Successful Career in Financial Management?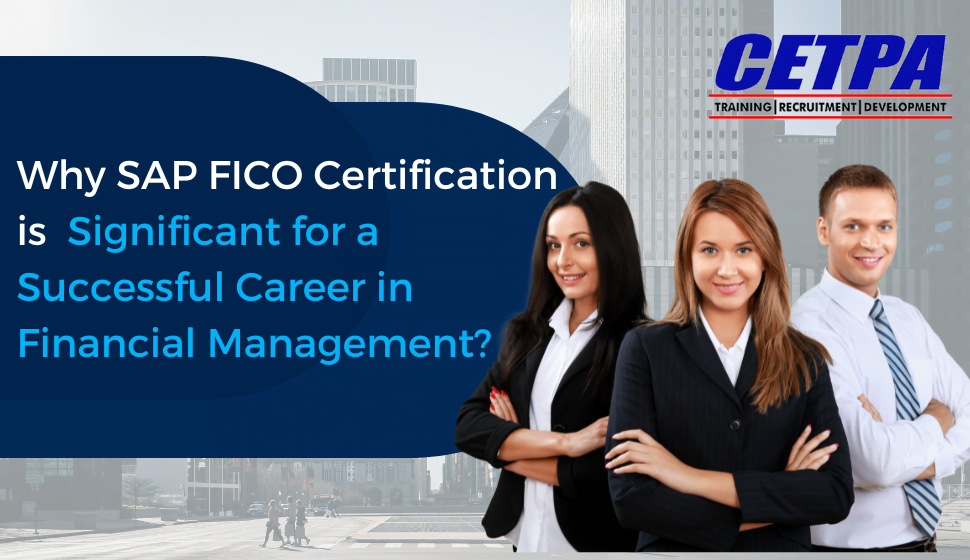 Introduction to SAP FICO Certification
SAP FICO is a complete software solution created by SAP for facilitating effective financial management and reporting within organizations. A SAP FICO Certification permits businesses to control their financial transactions, supervise financial performance, and take up well-informed decisions. On one hand, the Financial Accounting module manages tasks like general ledger accounting, accounts payable and receivable, asset accounting, etc. It assists in the maintenance of accurate financial records and compliance with different accounting standards. On the other hand, the Controlling module concentrates on cost management and internal reporting. It supports tracking costs, analyzing profitability, budgeting, and offering insights into business processes. 
Therefore, integration of financial and managerial accounting – SAP FICO thereby ensures that there exists a smooth flow of financial information. This allows businesses to optimize resource allocation, streamline operations, and enhance decision-making. Due to this, the SAP FICO Training in Noida is widely popular across different industries and organizations irrespective of their size. It is used to provide a unified platform to financial experts for managing, monitoring, and controlling their financial processes efficiently. Overall, it improves transparency, accuracy, and effectiveness in financial operations, contributing to the enhancement of financial management and strategic planning. Finally pursuing an SAP FICO Certification Course may vitally improve your career prospects in the domain of financial management.
Importance of SAP FICO Certification for a Successful Career in Financial Management
Some significant reasons which prove the importance of SAP FICO Certification for a successful career in Financial Management are: 
Industry Recognition:

SAP FICO is a globally popular and widely adopted financial management software. Hence, pursuing a certification in this field from the

Top SAP FICO Training Institute in Noida

is beneficial for individuals. This is because it showcases their expertise and knowledge in using the software, thus making them a valuable asset for organizations. 
Skill Validation:

Certification gained at the successful completion of the

SAP FICO Course in Noida

extensively validates the skills and knowledge of individuals in using the software's features. It demonstrates their ability to control financial transactions, perform accounting activities, and generate relevant reports. 
Competitive Edge:

In a competitive environment, holding a SAP FICO certification by

CETPA Infotech

differentiates you from other candidates in positive ways. It enhances your opportunities of securing better employment opportunities with competitive salaries. 
Career Development:

SAP FICO certifications introduce a plethora of opportunities for individuals. Not just that, it also opens up doors to career development opportunities within current organizations as well as new jobs. It may lead to promotions, appraisals, and opportunities for taking up much more complex and strategic financial responsibilities. 

Global Opportunities:

For their financial management, numerous multinational companies and organizations use SAP FICO. The

SAP FICO Online Training

certification also helps individuals to land a job abroad by positioning themselves as attractive candidate for positions in different fields.
Scope of Pursuing SAP FICO Certification 
Pursuing an SAP FICO certification from the Best SAP FICO Training in Noida holds a wide scope in financial management. With this certification, professionals get the benefit of applying for job roles such as financial analysts, controllers, and managers. Further, it plays a role in facilitating data-driven insights, strategic planning, and regulatory adherence. As a result, trained personnel may lead system integration initiatives, offer consulting, and guarantee accurate financial reporting.
In addition, the adaptability and alignment of SAP FICO Online Course with technology-driven financial operations generate enough prospects throughout industries. This thereby ensures a consistent demand for adept individuals who may streamline financial processes with SAP FICO. Moreover, as organizations seek to improve efficiency, compliance, and decision-making in their financial tasks, SAP-FICO-certified professionals get extensive opportunities in the evolving environment of financial management. 
Summary
In summary, pursuing SAP FICO certification from the Best SAP FICO Training Institute in Delhi NCR ensures a successful career in financial management. The certification is a strong indicator of one's ability to use SAP's Financial Accounting (FI) and Controlling (CO) modules effectively. This is because the knowledge of these modules helps in facilitating smooth financial operations, accurate reporting, and wise decision-making. Further, the certification gives individuals a distinct advantage in the job market. As the employment sector gets more competitive, this certification increases an individual's appeal to potential employers and improves career prospects. 
Additionally, the extensive training and expertise gained during the training also provide professionals with the necessary tools. The knowledge of these tools is beneficial as it enables them to handle financial difficulties, support organizational growth, etc. As businesses strive to depend on technology-driven financial management solutions, professionals with SAP FICO Online Certification are excelling in careers. Therefore, these individuals are well-equipped to negotiate volatile financial management landscape and carve out a rewarding and lucrative career path.