5 Reasons to Be Addicted to RPA Training in Noida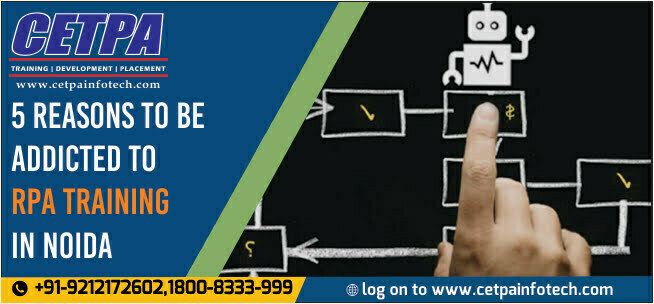 Robotic Process Automation (RPA) is the application of technology that enables employees in an organization to configure computer software or the robot to capture, interpret and follow existing applications for processing a transaction, communicating with other systems, manipulating data and evaluating responses.
Robotic Process Automation (RPA) offers excellent improvement in efficiency and processing time by improving productivity in transaction processing. In this blog, we will discuss 5 reasons to be Addicted to RPA training course in Noida.
5 Benefits Of RPA Robotics Training In Noida
The Processes are described
The System Will be In Sync with each Other.
Work Force Ability os Learnt with Assistance Of RPA
The Best Type Of Intelligent Automation
Robotics Process Automation delivers Security
1. The processes are described
With the help of Robotic process automation, methods are mapped out and those works are completed by following these processes. Those tasks which before required human touch now can be expedited with RPA system. This concept has been able to make tasks achieving more quickly.
2. The system will be in sync with each other
With the help of RPA, problem of system syncing with dynamics can be solved. RPA will delete the unnecessary task of double entry of data a bad creates agile and dynamic transfer of information among the systems. Now with the assistance of RPA system, the documents in the ERP system can be read from without any difficulty.
3.Work force ability is learnt with the assistance of RPA 
In case of workflow conditions, you will be capable to measure aptitude and performance of human beings. This is a way better method than baseline or KPIs. If a workflow requires doing some human interventions so that it can see how someone works with efficiency then it is a valuable process.
4. The best type of intelligent automation 
With the help of robotics process automation manual work is decreased. Not only that, RPA not a theory based subject to learn. It is based on practical work and experience. Suppose a workflow is not working for your company then you can make changes with the RPA.
5. Robotics process automation delivers security 
Breach of data is an unfortunate incident and if such leaks happen then companies get almost ruined. Because the data are stored in the central repository if you are using RPA, it guarantees that the setting of accessibility is done by the employee. This makes sure that the right person will manage the data that is linked to their workflow otherwise the non-required data are encrypted therefore safe.
Robotics Training In Delhi NCR From CETPA 
If you are also an Engineer and wants to do Robotics training in Delhi or looking for the ways to polish your RPA skills or searching for the new job, then join CETPA INFOTECH. The company will offer you training as well as placement service. CETPA is the official training partner of big brands like Microsoft, Oracle, Panasonic, Autodesk and many more, so you will be getting the international certificate after completion of your training.
CETPA INFOTECH is an excellent Robotic Process Automation Training Institute in Delhi NCR with great infrastructure and newly-designed labs which enables one to practice and pursue various courses at CETPA Noida. We train thousands of students every year from every corner of the world in Robotic Process Automation to adjust to every student's needs related to various modules and content.Join CETPA INFOTECH which is the best Training Company In Noida.