Does Embedded System Impact Your Everyday Life?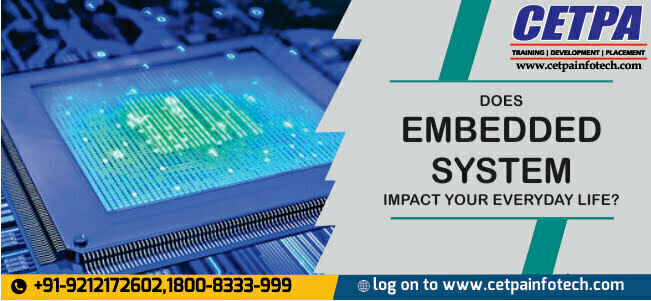 Every day the world is becoming more and more digital, automated and connected, but what causes this transformation possible? In various cases, it is the technology that is frequently overlooked: embedded systems. Embedded systems play a part in almost every phase of modern life. They impact the way we spend our leisure time, the way we do business and the way we commute.  In this article, we will discuss how an embedded system affects our daily life.
WHAT IS AN EMBEDDED SYSTEM?
An embedded system is a dedicated computer system that is designed for one or several functions. It is part of the multi-purpose device that includes both software and hardware but is something completely different to an ordinary personal computer we use on a daily basis. Embedded systems are designed to perform a particular task, rather than a broad range of tasks as laptops, smartphones, or many other smart devices do.
Four categories of embedded systems are as follows:
Stand-alone
Real-time
Networked
Mobile
ADVANTAGES OF EMBEDDED SYSTEM
No need for hardware updates
Concentration on a specific task
The flexibility of operating system requirements
An economy of storage and power resources
Cost-effectiveness.
You can learn more about embedded system benefits by opting Embedded System Training in Noida.
EMBEDDED SYSTEMS IN HOME
Embedded systems are essential parts of home life in the new world. In the bedroom, you may find a T.V., digital alarm, clock, and cable box, all three of which are devices that leverage embedded systems. The living room will possibly have another T.V., digitally controlled audio systems, a wireless access point, a router for Internet access, and controllers for video gaming consoles. All of these devices are excellent examples of how omnipresent embedded systems have become.
Moving out into other areas of the home, you will find two embedded systems, smoke and carbon monoxide detectors that help alert you in the event of danger inside the home. All these examples are just the tip of the iceberg when it comes to embedded systems within the modern home.
EMBEDDED SYSTEMS ON THE ROAD
Vehicles on the road now are full of embedded systems designed to enhance your driving experience. Convenience features like satellite radios and global positioning systems (GPS) are other excellent examples of embedded systems that can be found in current vehicles. Moving forward, with self-driving cars becoming more and more popular, embedded systems will only become even more critical to the automotive industry over the next decade.
EMBEDDED SYSTEMS IN BUSINESS
Whether you work in a restaurant, office, factory, or other environments, it is likely that your workplace is full of embedded devices. Some of the examples of embedded devices in the workplace are:
The elevator that gets you to your office
The point of sale systems at restaurants
The routers and switches that send data across corporate networks
The printers and scanners that help you make physical/ electronic copies of the document
The machine control & monitoring devices in industrial plants that keep assembly lines moving
To gain more understanding of the embedded system in business, you can join embedded system Course in Noida.