5 Reasons Why Artificial Intelligence Training Really Will Change Our World?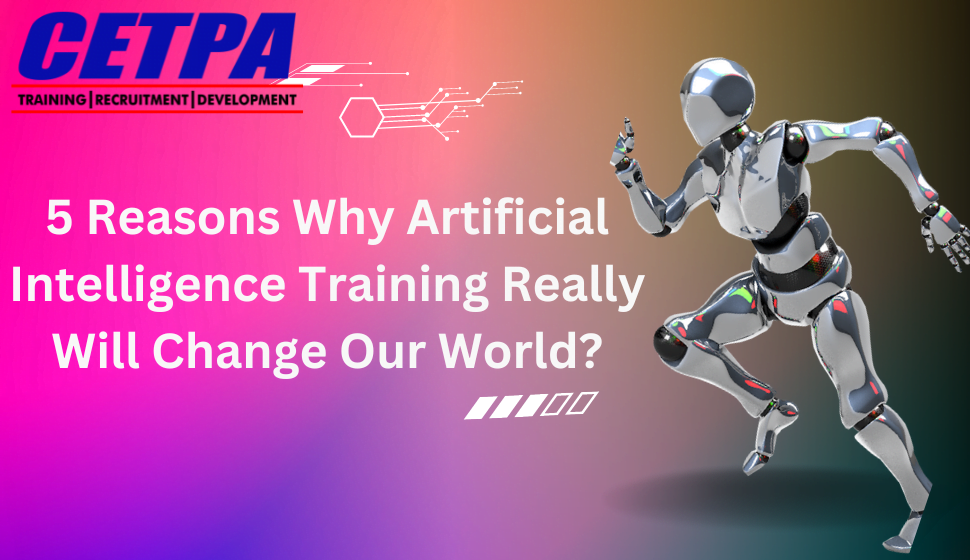 Pioneering the Future: The Dynamic Power of Artificial Intelligence Training
In a world where technological advancements are revolutionizing human innovations, Artificial Intelligence stands at the core of the revolution. AI, once confined to science fiction, is now a vital part of our daily lives. The role of AI ranges from virtual assistants on our smartphones to self-driving automobiles navigating our roadways. However, the truly transformational power of AI lies not only in its existence but in the popular Artificial Intelligence Training. At its foundation, this training aims at nurturing the minds of aspiring individuals. It involves the supply of large amounts of data to machine learning models, allowing them to learn and make autonomous decisions.  
What popularizes Artificial Intelligence Training in Noida is its ability for perpetual self-improvement. The greater amount of data it consumes and the longer it runs, the smarter it comes out. This unprecedented growth thereby holds the promise of developing technologies that surpass human abilities in an everlasting manner. Consider the self-driving automobile, an AI training miracle. With each mile travelled, these vehicles collect data and improve their driving skills, bringing us closer to a future when accidents are a thing of the past. 
Therefore, now we know that AI is popular as a technological force aiming to reshape our world. In this blog, we unleash the five reasons why Artificial Intelligence Training in Delhi NCR is set to revolutionize the world. We aim to delve into AI's innovative industry impact, enhanced personal experiences, and ethical considerations shaping our AI-driven future.
AI Training Unleashed: 5 Revolutionary Shifts That Will Change Our World
The 5 ways in which Artificial Intelligence Training Certification is set to revolutionize our world are as follows:
Power of Autonomous Machines:

The popular Artificial Training empowers machines with the opportunity to learn from data and make decisions autonomously. This newfound independence is enhancing the development of self-driving cars, drones, and robotics. This further promises to bring about a revolution in the transportation, logistics, and manufacturing sectors. 
Personalized Experience:

The extensive

Artificial Intelligence Online Training

allows systems to comprehend individual preferences and behavior. This results in hyper-personalized experiences of the customers. From customized recommendations on streaming platforms to personalized healthcare schedules, AI-driven personalization enhances user satisfaction across industries. 
Healthcare and Medical Breakthroughs:

In the domain of healthcare, AI training is enhancing diagnosis, drug identification, and treatment optimization. AI-generated medical imaging, predictive analytics, and virtual health assistants are all set to improve patient outcomes and minimize healthcare costs. 
Transformation of Business Operations and Decision-Making: Artificial Intelligence offers businesses with predictive analytics, process automation, and data-driven observations. This brings about a revolution in decision-making, streamlining operations, and enhancing customer satisfaction. Therefore, the AI training offered by CETPA Infotech 

offers individuals to dive into the ways of reshaping the business landscape. This makes the companies much more efficient, competitive, and flexible in an evolving global market. 
Ethical Considerations:

As AI training evolves, ethical questions about bias, privacy, and openness emerge. The course examines how AI developers and policymakers are addressing these issues and forging a responsible AI future. It also enables people to understand the crucial role of ethical considerations in ensuring AI helps society while minimizing potential dangers.
Scope Of Pursuing an Artificial Intelligence Training
Beginning with Artificial Intelligence Online Training is like entering an unknown universe of possibilities. It's an immersive journey that enables individuals to alter industries, solve complicated issues, and innovate on unprecedented scales. AI training opens access to lucrative employment opportunities ranging from machine learning engineering to data science and AI ethics. This dynamic industry is always evolving. This assures a constant demand for AI-trained individuals across industries, providing not only career security but also the pleasure of pioneering future. Thus, AI training prepares you to become a visionary contributor to a world that increasingly relies on artificial intelligence. Nonetheless, with a constant potential of revolutionizing healthcare, finance, and other fields.
To summarize, the scope of AI training is large and promising. It not only offers doors to lucrative job opportunities, but it also has the ability to revolutionize industries, improve personal experiences, etc. Pursuing AI training prepares individuals to negotiate and shape the dynamic terrain of our AI-powered future. As we embark on this revolutionary journey, it becomes clear that AI training is about more than just obtaining technical skills. The training is much about becoming architects of a better, more technologically sophisticated world. The future belongs to those who are willing to harness the power of AI through education and creativity.
Wrapping Up!
In conclusion, Artificial Intelligence Certification Training goes beyond mere technicalities; it is the foundation of a major societal shift. Exploring its five unique characteristics provides a roadmap toward the drastic transformation of companies and entire communities. This disruptive journey, fueled by AI training, includes a wide range of applications ranging from personalized healthcare to optimized business operations. However, the rise of AI is not without obstacles, notably in terms of ethics. As we embark on this exciting journey into an AI-powered future, the ethical implications of AI training, such as bias mitigation and data protection, are becoming more important debates that require careful consideration to ensure AI serves as a force for good in our changing world.