5 Step Roadmap: How To Find A Job After Java Training?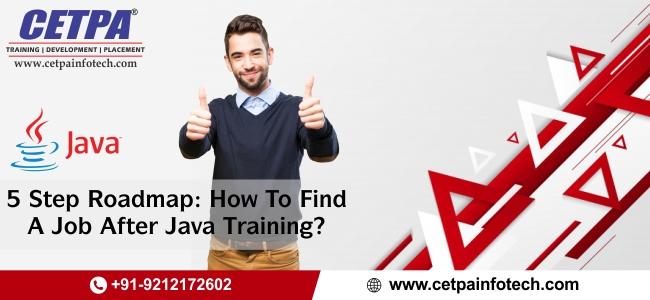 You don't have to worry about finding a job once you learn Java programming after joining Best JAVA online Courses. In fact, one of the surveys revealed that jobs that require Java training will grow by almost 20% for the next few years, or until 2024.
In this post, we will discuss how you can bag your dream job after completing Java Training. Follow the below-given steps:
Improve Your Advanced Java Skill
Understanding Java doesn't just mean knowing the language. Many other pieces are important to generate, develop, and test code. Given below are some of the advanced skills a top candidate for Java development jobs should have:
AI and machine learning
Python
Blockchain
Hadoop/Big Data
Amazon Web Services
Advanced JavaScript framework (e.g., Angular, React)
Mobile technologies (Android or OS)
Spring Boot
Grow Your Professional Network
After completion of your training, it is a great time for you to build your professional tech network. Visit local meetups, volunteer at a tech event to meet different people in the domain, or join a hackathon. The more people you talk to, the more contacts, plans, and avenues to investigate will open up.
Showcase Your Training Experience
When hiring entry-level software engineers, employers understand your experience will be limited. Therefore it's important to communicate the technical skills gained during your JAVA online training Courses on all your job searching collateral with the tips below.
Feature your training experience on your resume, LinkedIn, and other online/social media profiles so your skills are visible and searchable.
Include the programming languages, databases, project management tools, frameworks, and other applicable technologies you mastered.
Describe your training projects. Show the roles you played and project results to prove how your new skills can help your future employer.
Showcase Your Personality Value-Adds
Given your limited experience, your next excellent point is to stand out as someone people want to work with. Soft skills which include culture fit, communication, adaptability, friendliness, determination, and passion are very valuable to prospective employers. These traits prove that even with limited expertise, you can immediately add value to the corporation as someone willing to work hard with a good attitude.
Also, Read This: Top 8 Benefits Of Using Java In Web Development
Work Hard
You must work hard to prove yourself and have to show that you are a quick learner and competent in doing any task. You might also be under close supervision at the start, and you have to perform well during your probation period or risk termination.
Show your peers that you can perform any task and help them finish their work and fulfill their deadlines.
THE BOTTOM LINE
By following the above-given steps and demonstrating your motivation to work hard, keep a positive attitude, and provide an advantage to the corporation, you will stand out as a qualified excellent software engineering candidate.