What Are The Benefits Of Doing C Language Online Training In 2020?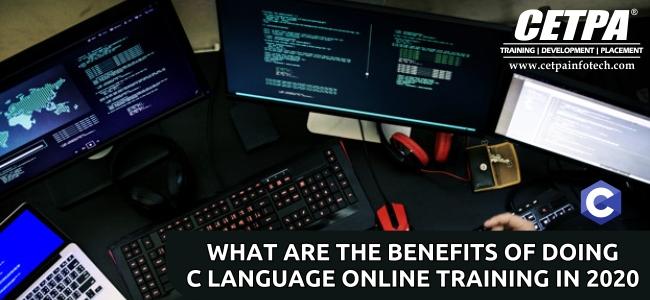 With the increased demand for IT professionals and a steep increase in the number of software developers, it is becoming important to showcase your coding skills, particularly if you are searching for an IT job and have to compete with hundreds of other applicants. Whether you are planning to enhance your knowledge in specific areas or looking for training to improve your coding skills, joining C language online course can surely help. Though we cannot see the codes when a software application runs, the users can always feel the difference between a feature-rich application and a general one.
WHY LEARN C LANGUAGE?
Dennis Ritchie developed procedural C programming before 1973. This language is effective on paper codes for operating-system and compiler improvement. C elevated to obtain success because of its characteristics like simplistic keywords, low access for memory, comfortable, and clean approach. It is an industry-recognized programming language that's necessary to produce software. C is recognized by programmers around the globe because of its highest control and capability.
There are several benefits of joining C language Online Training but essentially it can serve to know the unit framework and architecture from the difficulties. C may be the foundation for learning any advanced computer languages since it simplifies the process of learning memory locations and pointers.
BENEFITS OF C OVER OTHER PROGRAMMING LANGUAGES:
Since C and C++ are known worldwide and are employed in numbers of apps and operating systems, joining C language online training often enables you with various things that you wouldn't be able to learn otherwise. This involves becoming a career coder, hand-crafting your website, and even beginning your own technology business. Proper training will also help to communicate with partners in different regions, even if they don't speak identical verbal language.
Though various computer languages are applied to write applications, C and C++ are the most popular programming languages that are utilized worldwide. Everything from operating systems to micro controllers is composed in C as it is adaptable, flexible and even extends maximum control with minimum commands.
Another excellent advantage of choosing the C/ C++ language is that C is the primary language of all advanced computer programming and if you are prepared to learn C++, which is an object-oriented language, it is necessary to know the C language beforehand. Since programming in C is accessible as it uses necessary commands in English, you can quickly start to learn to code before you look for a career in the IT industry.
HOW C CERTIFICATION WILL HELP YOU?
Remain ahead of competitors:Recent studies have revealed that a certification has a big impact on creating IT professionals for evolving business organizations and the survey also claimed that holding certificates has always lead to a new, better and secured job.
Recruitment criteria:Statistics have also revealed that IT managers and recruiters usually attach meaningful importance to applicants holding a certification portfolio. Hiring managers believe that certification is a vital part of the hiring criteria and applicants who opt for online summer training course always added advantage in their career.
Strong and secured position:Obtaining a certificate also makes your position more effective in the labor market and whenever you state that you have specific skills in programming languages, you have to prove it. A certification is an excellent chance to prove you during the interview and it helps to boost your career growth and also helps a programmer to get noticed.
THE BOTTOM LINE
The above points show the benefits of learning C language and obtaining Certification. Hence, we can say that if you want to kick start your IT Career, then option for C will definitely help you.