5 Ways in which Artificial Intelligence is Transforming HRM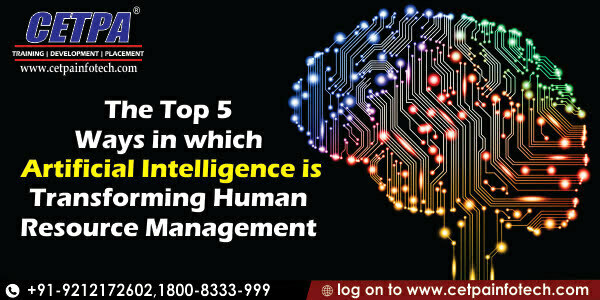 We all know to a certain extent what Artificial Intelligence (AI) is. We also know that AI is changing the fundamentals of many business areas across almost all sectors. Many high tech organizations have already seen encouraging bottom-line benefits with their AI strategy. Want to know how AI program influencing the HR space? If yes, then this blog is just for you.
Recruitment and talent acquisition
With the proper technology, HR managers can tackle the various facets of the recruitment process with ease. Talent acquisition software can collect, scan and evaluate applicant information and shortlist eligible candidates.
Shared services (Chatbots)
Companies today spend millions of dollars providing in-house or outsourced shared services. The traditional form of shared services is the tiered-call center. Employees call someone in the call center (usually located in a different country) and, either an answering machine with pre-recorded options, or a human, try to address the questions before scaling up to the next level of employee attention. That traditional approach will be over very soon. AI and chatbots will provide a whole new level of employee attention.
Training and continuous development 
Developments in technology can take the time-consuming elements out of developing employee training and L&D programmes, by organizing and coordinating the needs of the employees/those undergoing training. Having platforms that offer online courses to start or develop careers further is a huge advancement in terms of allowing people to learn and develop in a way that suits them – the remote classroom and digital classes provide people the with the flexibility they need in this world.
Engagement & Development
Today, with the help of the latest technology and automated information systems, training modules and data can be deployed across a massive workforce in a matter of minutes. Thanks to AI, individual employees can be monitored, their career graphs updated in real-time as they're evaluated for both favorable and not-so-favorable traits
Performance Management
There is a huge amount of time organizations invest in performance management & AI comes in handy. AI helps in certain performance metrics more versatile, data-oriented and unbiased.
While this may seem like a cutthroat style of management, productivity data does not have to be the sole performance measurement to determine an employee's worth, but a supplemental tool to back up decisions.
If you want to learn more about AI and its development, then join Artificial Intelligence Training in Noida at CETPA. CETPA is an ISO 9001: 2015 certified training company which provides live project based training with assured placement assistance.