5 Ways to Grow Your Creativity Using Digital Marketing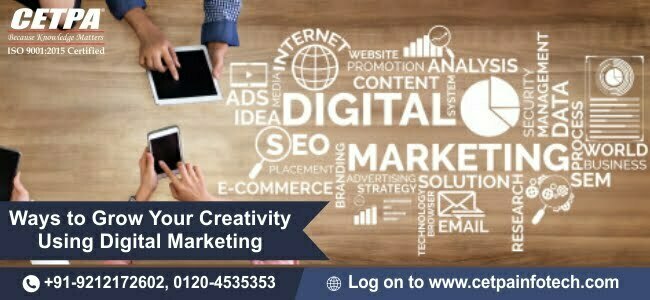 Digital marketing is an activity which involves doing promotion and marketing through various online channels or platforms. It includes use of certain digital mediums like SEO, E-mail marketing, social media platforms like FB, LinkedIn, Twitter, display marketing and mobile marketing.
How Digital marketing will Improve your Creativity
1. Brush Up marketing skill
With the help of digital Marketing, you can boost your marketing skill, which will increase overall productivity of the organization.
2. Grow your online Business
Instead of hiring digital marketing professional and spending money on him, you can get trained in Digital marketing yourself by joining Digital Marketing Course.  This will help you to expand your online business by increasing your customer base. Creating and expanding the customer outreach in digital marketing is extremely crucial to maintaining a friendly relationship with the customer.
3. Increase Career Opportunity
Digital marketing does not limit you to one particular job profile. Even big MNCs such as Twitter, Google and Facebook offer a broad range of job opportunities.
Making a decision depends on the professional who has to make his career in digital marketing. New online jobs are declared frequently for different companies and enterprises. This gives an added advantage of being choosy about the kinds of work and type of workstation.
4. Adopt New Customer Acquisition Strategy.
With the help of Digital Marketing, you can make proper marketing strategy and learn how to execute the same.  You also get access to a larger and global audience by using digital marketing methods as the internet has made every country accessible
Must Know : 5 Crucial Tactics for Digital Marketing
 5. Gain Excellence in Digital marketing field
As more and more organization's will incorporate digital marketing as their primary marketing strategy, the digital marketing will fetch ample of job opportunities, especially for fresher. It will be beneficial for fresher if they join any Digital Marketing Course since they need direction to make career in this field which can be possible through Digital Marketing course in Noida Moreover, it will also help them in polishing their skill and landing them a good job.

CONCLUSION
If you really want to stand out from your peers in the industry, joining Digital Marketing course in Noida and obtaining certification will help. One of the problems facing the digital marketing industry is that there are no restrictions to entry, indicating that anyone with a loose grasp of business terminology can probably get a position in a company.
As this industry grows, recruiters are becoming savvier about what differentiates a candidate that can talk the talk, but maybe will be a costly mistake for the organization. Hence, Digital marketing training will give you leverage among others.