The Key Aspect Of Testing Quality Software And Types?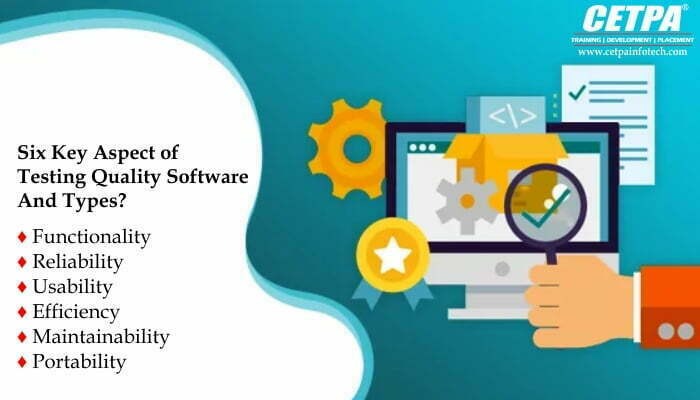 What Is Software Testing?
Software testing is an examination carried to offer stakeholders with knowledge about the product or service quality under test. Software testing can also give an objective, independent perspective of the software to support the business to acknowledge and understand the risks of software implementation.
6 Ways Of Testing Quality Software:
Given below are some of the key aspects of testing quality of software:
1. Functionality
Software Quality is described as how efficiently the software interacts with other elements of the system. The software must give appropriate functions as per demand, and these functions must be executed correctly.
2.Reliability
It is defined as the software capability to perform under specific conditions for a particular duration.
3.Usability
Software Usability is described as its ease of use. Software Quality is also identified as how simply and easily a person can understand the software functions and how much effort is needed to understand the features.
4.Efficiency
The efficiency of the software depends on the coding practice and architecture used during development.
5. Maintainability
Maintainability is also one of the crucial factors to determine software quality. It refers to identify the fault and fix in the software. It should be stable when the changes are made.
6. Portability
Portability of the software described as how quickly a system changes to changes in the specifications. The quality of the software is also defined by the system portability how easy it is to install the software and how simple it is to replace a component of the order in a given environment.
To Learn More About What Is Software Testing? Check Out The Ways And Importance Of Software Testing

Types Of Software Testing:
Software testing methodologies are the different approaches and ways of ensuring that a software application in particular is fully tested. Some of the most common types of software testing includes:
Manual And Automation Testing
Static And Dynamic Testing
White Box, Black Box And Grey Box Testing
Functional And Non-Functional Testing
Manual And Automation Testing:
Software testing can be extremely time-consuming and repetitive, involving countless checks to see if all essential features of a software application work as intended. To make their lives just a bit easier, software testers often write test scripts to automate test execution using various automation testing tools, including Selenium, Visual Studio Test Professional, Telerik Test Studio, SoapUI, and Katalon Studio, just to name a few. To learn these automation tools, one can join Software Testing Training in Delhi.
Automated software testing takes significantly less time than manual tests, and it's also more reliable because there is no testing fatigue to worry about. They are, however, more expensive to prepare than manual tests, which is why they are not as cost-effective for small volume testing as manual tests.
Static And Dynamic Testing:
Static testing involves techniques such as inspection, walk-through, technical review, and informal review to improve the quality of software products by finding errors in the early stages of the development cycle without actually executing any code.
Dynamic testing, on the other hand, involves code execution and techniques such as unit testing, integration testing, and system testing, the last of which is performed on the whole system.
White Box, Black Box And Grey Box Testing:
White box testing, also known as clear box testing, is a type of software testing that's performed with access to all source code and documentation.
Black box testing is the testing in which software testers don't have any knowledge of the architecture and no access to the source code.
Grey box testing is a type of testing that involves at least some knowledge of the internals of a system.
Functional And Non-Functional Testing:
Black box testing is a great example of a type of software testing that concentrates on the functionality of a system, which is why it's also known as functional testing
Non-functional testing checks non-functional aspects such as performance, usability, and reliability and evaluates them based on their quality.
CONCLUSION
If you decide to become a tester and want to pass a job interview for a testing position, you should probably know all the basics of software testing for which you can join the Software Testing Course in Delhi NCR. But, if you are a software developer, honestly, it's only important for you to have an idea of the concepts and what the vocabulary is, and to understand the real idea behind testing, which is risk reduction.