6 Weeks Live Project Summer Training Courses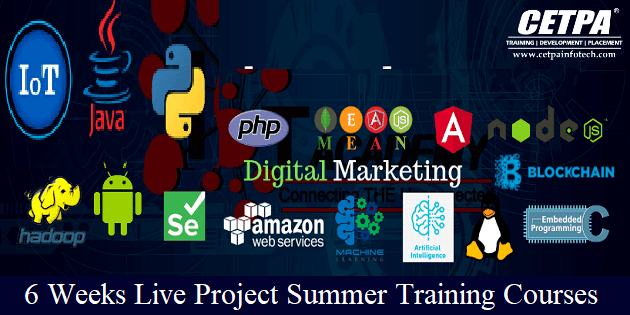 Introduction-
As we all know that the technology and the industry upgraded themselves day by day. So the freshers and learners are facing challenges while applying for the job. To deal with these problems summer training courses like AWS, Cloud, DevOps, Salesforce, Artificial Intelligence, Machine Learning, Deep Learning, Java, Python, IOS, Robotics, AutoCAD, Web designing and development, Microsoft, Stacks and more are the best option to resolve all the problems you face in your upcoming career.
To upgrade knowledge of emerging technologies you should do online summer training, this is an essential part for the job seekers to complete at least 6-weeks training. So that they can get enough knowledge of the updated technologies and get hired easily.
There are many facets that are unrevealed about live projects summer training and you should know because this will benefit your career enormously and some of the facts are mentioned below-
● Increase your practical knowledge:
As we know that when we pass out from college then all we have is theoretical knowledge. But when we go to companies for a job interview then they ask for practical knowledge and about job experience. At that time, we are stuck at a point that how we can get job experience. Actually, the interviewer is testing whether we have actual practical knowledge or did we know- how a company works? So when you do online 2/3/4/5/6 weeks training then you will get enough practical knowledge of the working environment and make you familiar with the latest technologies. And also teaches you the ethics and working process of an organization. Online summer training courses makes students a professional ready to enter the industry world
Also Read: Why Our Summer Training Program is Different from Others?
● Summer training provides Industrial exposure: –
With the help of summer live projects training, you will get aware of the industry working methodologies like how they complete the task and hope they compete with their enemies and how they work in typical conditions. In Summer training  you get How different departments divide their work and make the task easier and complete it in a very short period.
You will learn the manners, etiquette, and ethics of an organization. How to treat colleagues and seniors. Summer internships offer some real-time projects so that you can gain practical knowledge of an organization and you will become a professional for the industry. So join 6 weeks training in such a company that offers internship programs so that you don't wonder companies for internship certificates.
● Enhance your interdisciplinary knowledge
Summer live projects training also helps in interdisciplinary knowledge. So that if you gained some knowledge in a particular field then you also utilize it in another field so that you will not suffer if someone provides you with the task of a different field. you will not receive this kind of knowledge from the college or any book. So this is also an important benefit of joining a winter and summer training programs.
● Summer  training helps you to clarify areas of interest: –
Most of the learners are confused about what they have to do because they have some big plans but there are some doubts in their minds by doing winter and summer training you can clear all your doubts and you can discover your area of interest. For example, if you want to do the work of a business analyst but your strength is as a developer. So if you join the online 2/3/4/5/6 weeks courses then they will find out your strength and sharpen your skill in that field so that your strength will help you in reaching the highest post in an organization.
● Summer training helps in Enhancing your interpersonal skills-
Besides this practical knowledge interpersonal skills are also different. The way you are talking to your colleagues, your manager, your dressing sense, your sitting posture and gesture, and many more things. These interpersonal things also play important role in your future job. So by doing summer training courses you can learn how to behave and how other professionals behave in the workplace. Working experts will teach you and everything from basic to advanced.
Winter training also provides you placement security which is the most important part of a job seeker journey and except all this summer training online provides more additional benefits for which you have to explore winter and summer training courses and you can do the on-demanded technologies as your internship and you should know that CETPA is famous for winter training in Noida.
Why go for summer training in CETPA?
● CETPA is the leader of high-end training.
● CETPA is an ISO-Certified institute and its certificates are globally recognized.
● CETPA gives you a separate internship letter on the company letterhead.
● CETPA is well known and trustworthy for online summer training in Noida.
● CETPA course content is equipped with fresh and new technologies.