Aws Certification Types: Choose The Right For You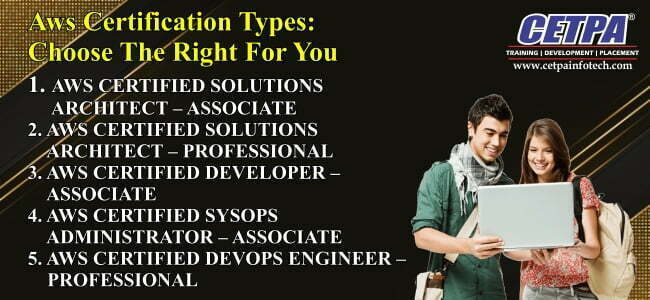 Establishing your career and succeeding in it is one's own prerogative. In order to shine in AWS and attempt a career laden with the advantages of AWS, you should be well certified by joining AWS online training to guarantee that you are always on top of your game.
To receive the certification, we have given a list below that has been written down completely for AWS candidates. This comprehensive list will give a good idea of everything you need to know to get obtain Amazon Web Services Certification.
LEVELS OF AWS CERTIFICATIONS
Presently there are five certifications to select from, separate tracks each of which is available in three. These tracks cover the SysOps Administrator, Developer, and Solutions Architect. You can prepare for these certifications by joining AWS online training program in Noida. Each of these tracks is fairly straightforward and can be explained in detail:
Solutions Architect: It concentrates on building and creating AWS solutions as per the various requirements of enterprise and clients.
Developer: It concentrates on designing, creating, and maintaining applications that are usually synced and combined with AWS.
SysOps Administrator: It targets operations, design plus management of the various AWS solutions listed, usually within the same company.
AWS CERTIFICATIONS – DIFFERENT TYPES
Currently, there are 5 different certifications that are available to the aspirants.
AWS CERTIFIED SOLUTIONS ARCHITECT – ASSOCIATE
The AWS Certified Solutions Architect – Associate is suitable for those people who work on junior level architecture tasks. The certification is divided into four parts, namely:
Capability to design extremely scalable and cost-efficient systems
Security of Data
Deployment and implementation
Troubleshooting
AWS CERTIFIED SOLUTIONS ARCHITECT – PROFESSIONAL
This certification is perfect for those experts who offer senior-level solutions associated with architecture tasks. From a high level, this is what the certification involves:
Business Continuity and High Availability
Deployment Management
Costing
Network Design
Security
Data Storage
Hybrid Architecture & Cloud Migration
Scalability & Elasticity
AWS CERTIFIED DEVELOPER – ASSOCIATE
This certification is perfect for people who will perform junior level development duties. From a high level, this is what the certification entails:
Fundamentals of AWS
Deploying and Security
Designing and Developing
Debugging
Also Read: How Aws Online Certification Can Boost Your Career In The IT Industry?
AWS CERTIFIED SYSOPS ADMINISTRATOR – ASSOCIATE
This certification is suitable for people who work on a junior level single organization deployment, operational, and management tasks. From a high level, this is what the certification compromises:
Metrics and Monitoring
Data Management Analysis
High Availability and Provisioning
Security
Networking
AWS CERTIFIED DEVOPS ENGINEER – PROFESSIONAL
This certification is ideal for people who will work on senior-level single company provisioning, deployment, management, development, and operational tasks. From a high level, this is what the certification involves:
Continuous Delivery & Process Automation
High Availability & Elasticity
Monitoring, Metrics & Logging
Security, Governance & Validation
PREPARE FOR AWS CERTIFICATION WITH CETPA
Are you ready to upgrade your skills in AWS and show your value to employers?
As India's largest IT training and Placement Company, CETPA provides expert-led AWS online training courses to strengthen your certification path. Check out our AWS courses, available in both online as well as offline mode to discover how to learn AWS and select the best AWS certification for you.