Which One Is A Better Career Option- Data Science Vs AWS?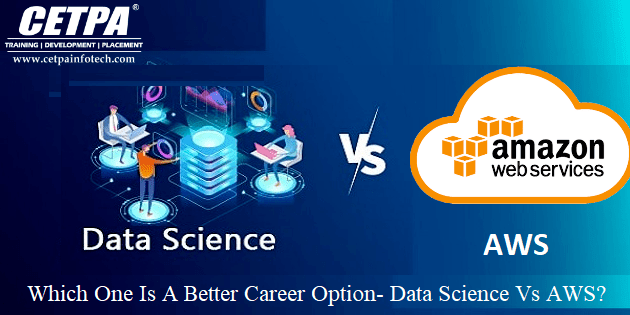 Data Science and AWS, both have strong and career-holding potential. Now the question arises of which one is better for a career and it is very difficult to answer this question, so first, we will take a brief intro of Data Science training and AWS training.
Applied Data science training involves using modern tools and techniques to create patterns in large amounts of data to determine meaningful information, derive insights, and make business decisions. Machine learning algorithms are used in applying data science training to build predictive models.
On the other hand, AWS training( Amazon Web Service) comprises a combination of infrastructure-as-a-service (IaaS), platform-as-a-service (PaaS), and packaged software-as-a-service (SaaS) offerings. Amazon Web Services (AWS course) is one of the largest companies in the world that provides cloud computing services. Cloud computing services can be utilized by organizations to provide computing power, database storage, and content delivery services.
Benefits and features of Data Science:
In current times, a large amount of data is developed every millisecond. For example, lots of people use Facebook every second, and their data is generated and stored at a place, people making calls, their data is also stored at a place or the data yielded from the community, so the query is how to use this information and collect the necessary data. Here are important points of data science training about its features:
Business Benefits: Data science training is very beneficial in business, just like you see whenever something is going to be delivered at your place at the right time, this all happens only because of data science training. With the help of faster and more efficient services to the client, organizations earn higher profits.
Highest paid job: A data scientist's job is very attractive and the salaries earned by the employees are also grand. According to a survey, the average salary of data science training professionals is $105000 per year.
Hirer benefits:- Data has been sorted comparatively easier and there are more possibilities to locate the most qualified candidates for an organization. By using big data and data mining, recruitment teams can process and select CVs, aptitude tests, and games more easily.
Also Read: Five Lucrative Advantages of Machine Learning To Make Career In Data Science-
Benefits and features of AWS:
● The service is worth considering, as you are just charged for the services you use without committing to a long-term plan that is the most prominent feature. AWS training offers.
● AWS training Services are easier to manage since data centers do not need to be maintained.
● Using operating systems, programming models, and databases that are already widely known to companies and startups.
● AWS training a hybrid solution to multiple problems.
● Allows an easy addition or removal of data or elements from the AWS training cloud.
● AWS training offers private/dedicated servers that will cost you much less than this.
Career opportunities in Data Science and AWS-
The Data Science course represents an important step forward in how computers can learn right now, and for good reason. As technology shifts and huge amounts of data are generated, the demand for Data Scientists is on the rise. So you can choose data science training as a career opportunity.
As an AWS course is the most demanded skill nowadays. companies ask more for AWS skillets, so opting for a career in AWS Training can offer you a huge salary package even more than expected.
Both the AWS training and data science courses offer beautiful and good-paying jobs and they have good market value in their places. So, it is totally up to you, whether to go with data science training or to go with AWS course. Both courses need special guidance and more practical concepts for this you can go with CETPA Infotech and if you are thinking about why to go for CETPA then you should know-
● CETPA is one of the best institutes For AWS training in Noida.
● CETPA is awarded as one of the best institutes for data science training in Noida.
● CETPA's trainers are industry experts.
● CETPA Data science course content is tailored by working professionals.
● CETPA assures 100% placement assistance.