Mastering Data Science Courses: A Complete Guide to Skill Development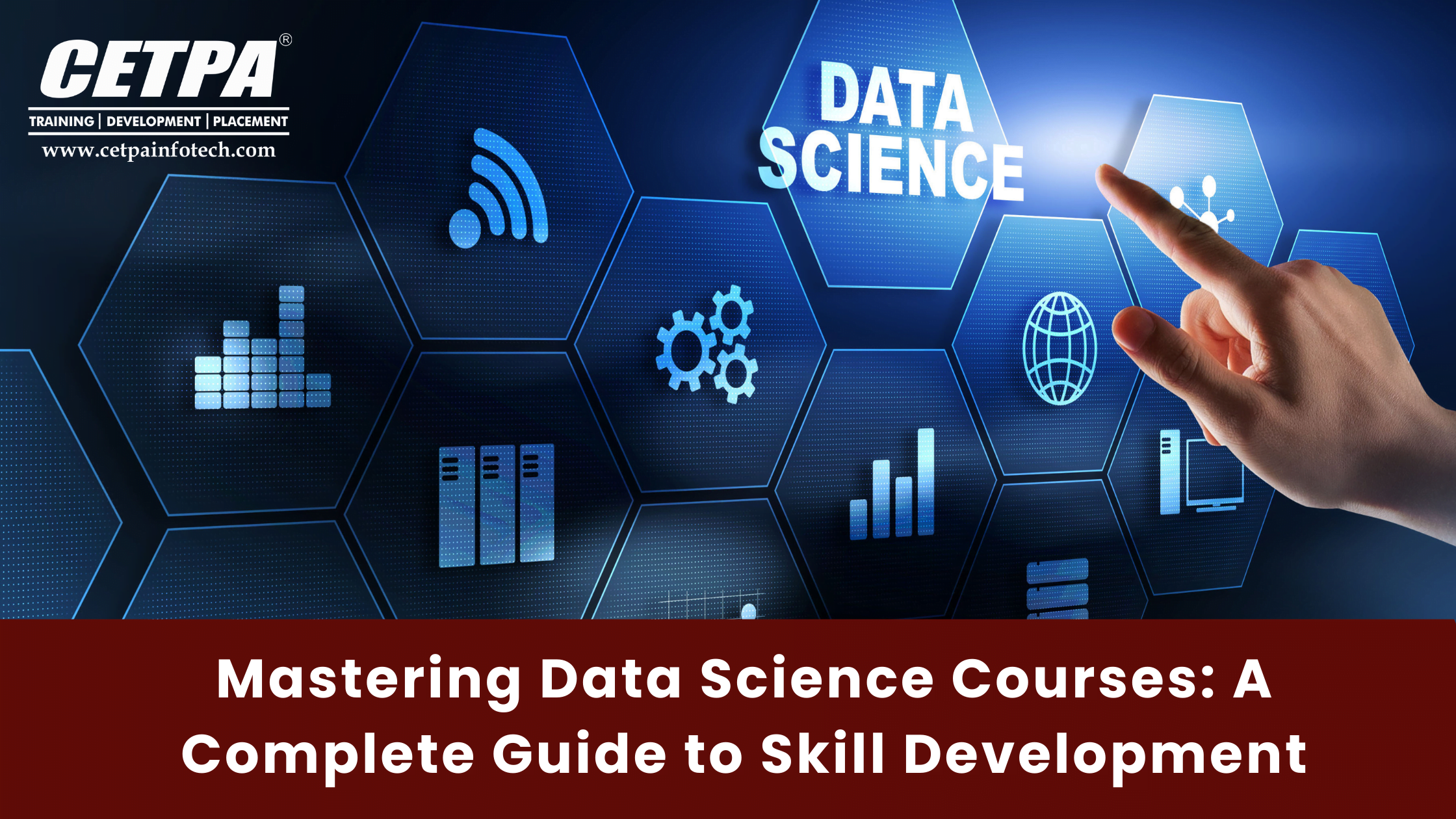 Data Science Courses: An Introduction
In recent years, data science has become a vital domain at the intersection of technology, statistics, and field expertise. In such a scenario, data science courses have become much more popular because of their relevance in the current data-driven world. These courses aim to empower individuals with the necessary skills and knowledge for the extraction of valuable insights from large datasets. The knowledge imparted in these courses is vital in different industries including healthcare, finance, e-commerce, and so on. 
Popular data science online training or offline training courses usually cover a wide array of topics. This set of topics includes data collection and preprocessing, statistical analysis, machine learning, and data visualization. Further, individuals also gain knowledge of working with languages like Python and R, as well as tools like TensorFlow and Scikit-learn. Additionally, often promote critical thinking and problem-solving skills, as data scientists must be able to analyze and translate their insights into actionable data. 
Moreover, data scientists are in high demand in recent times as organizations continue to use the power of data for informed decision-making, predictive modeling, etc. For this reason, completing these courses is made readily available to aspiring learners through universities, online platforms, boot camps, etc. Also, data science has now become a global domain, with usage in almost every industry, offering a plethora of job opportunities to professionals. Therefore, as we continue to acquire large datasets, the significance of data science courses in preparing students' careers cannot be underestimated. 
So, come along with us on this journey to explore the Top 5 Data Science Courses in 2023 as per the recommendations of data scientists!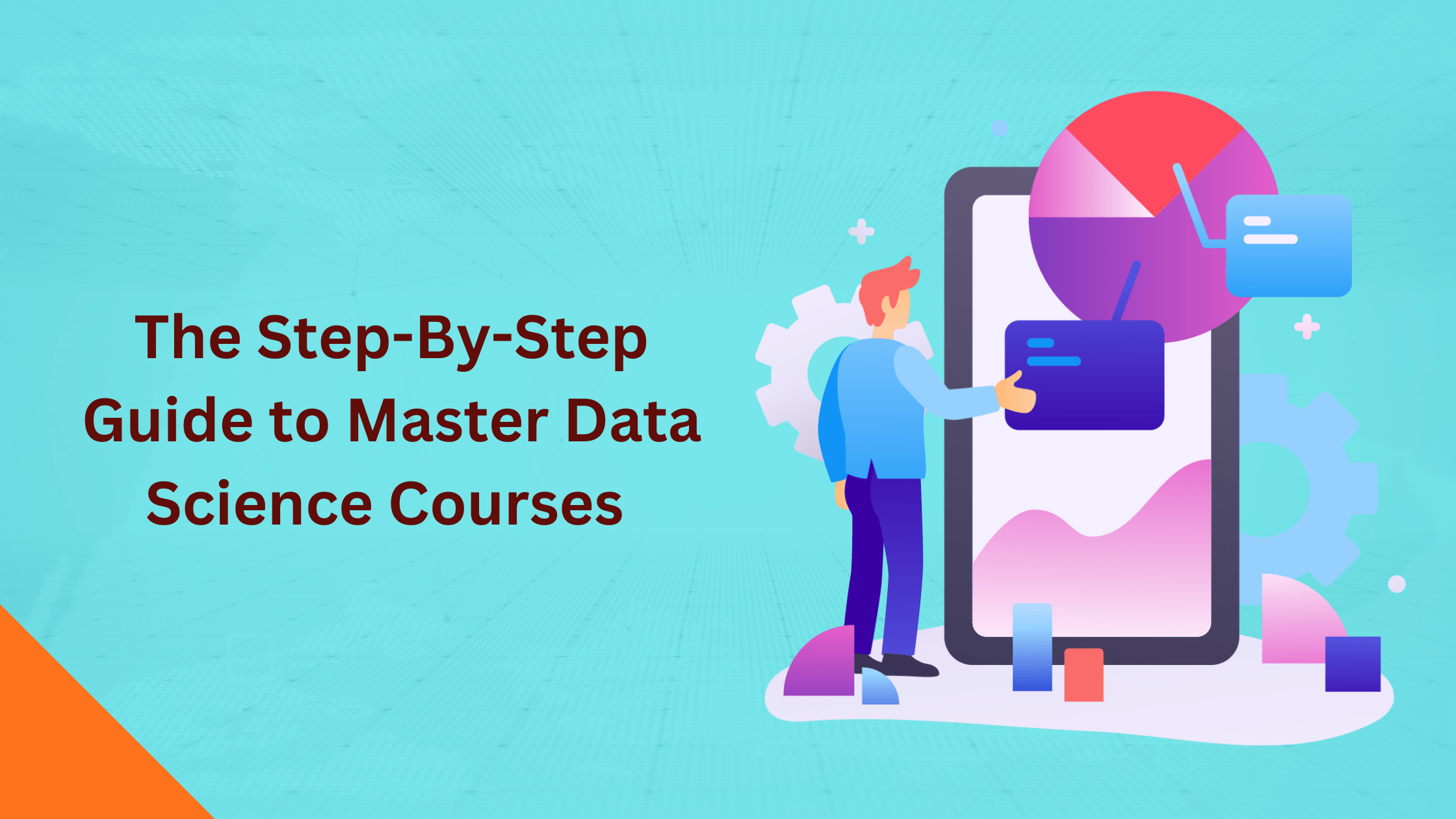 Unleashing The Step-By-Step Guide to Master Data Science Courses
Data Science refers to a dynamic and fast-evolving domain, mastering which demands a structured approach to skill development. Whether you're a beginner or a professional, here's a comprehensive guide to help you succeed in data science field: 
Understanding the Basics: Beginners Guide to data science training in Noida

or elsewhere must begin by forming strong foundations in mathematics and statistics. Data science depends heavily on these areas, so having a strong knowledge of probability, linear algebra, and calculus is a must.



Programming Skills:

Data science courses demand individuals to be proficient in programming. Python and R are the top programming languages preferred in data science. Thus, individuals must master the basics of coding, data structures, and libraries.



Data Manipulation and Analysis:

Aspirants must gain skills in data manipulation and analysis. They must learn the cleaning, preprocessing, and exploration of data using tools such as Pandas and NumPy.



Data Visualization:

Data visualization is a strong communication tool. Learners must master data visualization libraries such as Matplotlib and Seaborn to efficiently present insights.



Machine Learning:

Participants in data science courses at

CETPA Infotech

must have comprehensive knowledge of machine learning strategies. They must understand supervised and unsupervised learning, and experiment with algorithms for regression, classification, etc.



Deep Learning:

Individuals must explore the world of deep learning by diving into neural networks and deep learning frameworks like TensorFlow and PyTorch.



Big Data Technologies:

Learners must familiarize themselves with big data tools such as Hadoop and Spark, vital for managing large datasets effectively.



Real-World Projects:

Students must apply their theoretical knowledge to real-world situations through practical projects. Capstone projects offer hands-on experience and demonstrate individuals' skills to potential employers.



Networking and Collaboration:

Individuals pursuing data science courses must join data science communities, attend conferences, and participate in forums to expand their network and gain insights.



Scope of Pursuing Data Science Courses
The pursuit of data science courses offers a wide and promising career scope. In the current data-driven world, businesses and organizations heavily depend on data to make informed choices. This dependence generates a high demand for data scientists in different industries. Thus, by pursuing data science courses, individuals may explore a wide array of opportunities across different industries. These industries include finance, healthcare, e-commerce, and so on. Moreover, the field continues to grow, offering a plethora of opportunities for specialization and growth. Thus, as a data scientist, individuals get the opportunity to work on diverse projects. These projects range from predictive analytics to machine learning, encouraging innovation and problem-solving. Therefore, the scope for data scientists appears wide, making it a fulfilling and secure job option for the future.
Summary
In summary, completing data science courses is a life-changing experience that gives students necessary tools for understanding the data-rich world. This comprehensive guide guarantees a strong start and steady advancement in the area. Acquiring proficiency in data science holds great potential as it continues to influence sectors and decision-making. Thus, the ability to master data science courses is essential to gaining access to a dynamic and rewarding career. So, to acquire your full potential in data science, maintain your curiosity, continue learning, and embrace the profession's dynamic environment.