Getting Started with Microsoft Dynamics 365 Training: A Beginner's Guide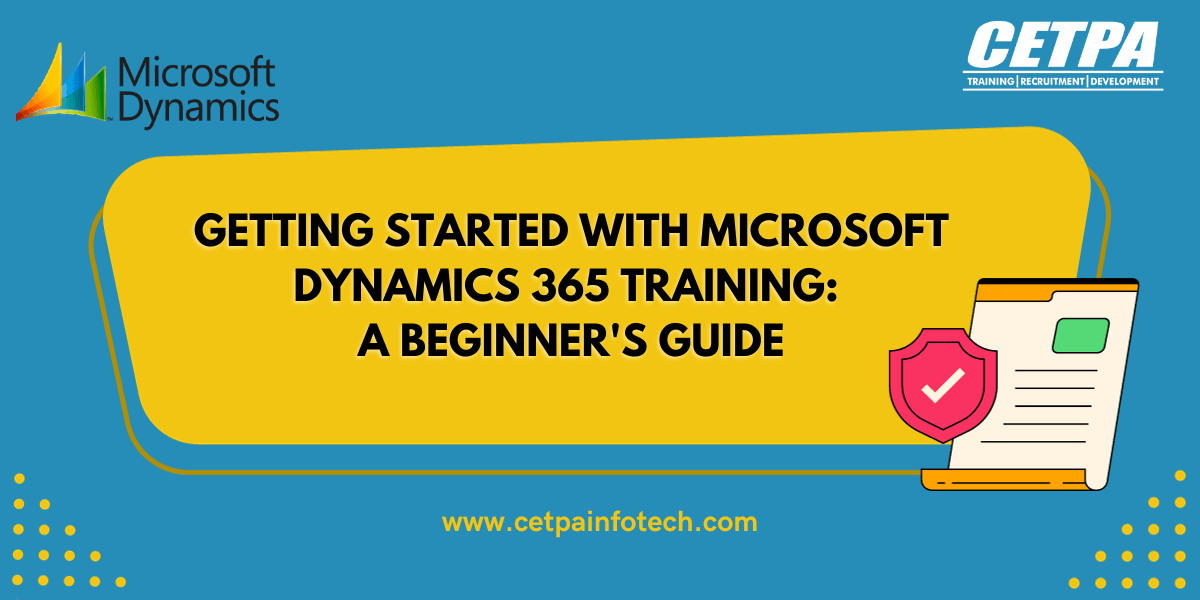 What is Microsoft Dynamics 365 Training?
Microsoft Dynamics 365 is a powerful set of business applications that integrates CRM and ERP tools into a unified platform. This cloud-based solution equips organizations to simplify their operations, enhance customer engagement, and acquire valuable insights via data-driven decision-making. At its base, MS Dynamics 365 is curated to assist businesses in the better management of their processes and relationships. It comprises a wide array of applications including Dynamics 365 Sales, Marketing, Customer Service, Field Service, Finance and Operations, etc. Each of these applications is designed to address specific business requirements, allowing companies to select and combine the modules that best suit their goals. Therefore, Microsoft Dynamics 365 Training emerges as an essential ingredient for both beginners and advanced who wish to use the technology efficiently. 
Individuals who pursue Microsoft Dynamics 365 Training in Noida or elsewhere are empowered with skills and knowledge for navigating the system. They further use their knowledge to customize it as per their needs and use its abilities to enhance productivity. The training program covers areas like data management, automation as well as combination with other MS tools like Office 365. Additionally, the training is a valuable investment for organizations as well who aim to optimize their operations and render commendable customer service. 
So, whether you're willing to improve sales, customer service or simplify financial processes, the Dynamics 365 training at CETPA Infotech is your pathway for realizing the full potential of this flexible business solution. 
Microsoft Dynamics 365 Training: A Comprehensive Guide for Beginners
If you are a beginner looking forward to beginning your MS Dynamics learning journey with the Microsoft Dynamics 365 Course in Noida or elsewhere, here's a quick guide to help you get acquainted with the domain:
Understanding Basics:

Dynamics 365 is a cloud-based platform that provides different modules for various business functions. These functions include Sales, Customer Service, Finance, Supply Chain Management, and so on. Individuals must understand all these factors of MS Dynamics along with MS Office apps to acquire a seamless learning experience. 
Identifying Objectives:

Aspirants must determine their specific goals for gaining knowledge of Dynamics 365. Whether they are willing to improve their skills for their current job or manage the organization's operations in better ways?
Choosing The Learning Path:

Depending upon the goals, aspiring learners must choose their learning paths. There are several learning paths available for consideration User Training, Administrator Training, and Developer Training. 
Online Resources:

Microsoft provides a plethora of online resources including documentation, webinars, and video tutorials. Learners must check out the official website of Dynamics 365 and discover the "Learn" section for free resources. 
Certifications:

Individuals must take into account the pursuit of Microsoft Dynamics 365 certifications. Certifications usually tend to improve resumes and showcase an individual's expertise. Thus, learners must check out certifications like "Microsoft Certified: Dynamics 365 Fundamentals", "Microsoft Certified: Dynamics 365 Sales Functional Consultant Associate", or others that are relevant to their career objectives. 
Hands-On Experience:

The best way of learning is by doing it practically. Therefore, individuals must build records, customize forums, set up workflows, and discover the different modules within Dynamics 365. 

Community and Forums:

Aspiring professionals must join Dynamics 365 forums and communities where they may ask questions, share knowledge, learn from experienced users, etc. 
Scope of Pursuing Microsoft Dynamics 365 Training
The pursuit of Microsoft Dynamics 365 Training in Delhi provides a promising career scope in the dynamic domain of business technology. As organizations continue to depend on Dynamics 365 for the management of customer relationships, operations, and data analytics, trained professionals are in high demand. By becoming proficient in Dynamics 365, one can acquire roles like Dynamics 365 consultant, administrator, developer, or business analyst. These positions offer commendable salaries and opportunities for the career growth of professionals. Dynamics 365's interaction with other Microsoft products, such as Microsoft 365 and Power Platform, further increases its applicability across industries. This makes the training in this field an excellent investment for anybody looking for a flexible career in business and technology.
Conclusion:
To sum up, learning MS Dynamics 365 is a crucial step in becoming proficient with CRM and business management tools. Beginners can rapidly become proficient by grasping fundamental ideas, adhering to defined learning pathways, and using a variety of internet resources. With Dynamics 365, there are many different job options, regardless of your preference for becoming a user, administrator, or developer. Recall that the secret to success is having certificates, getting real-world experience, and keeping up with platform updates. Hence, Dynamics 365 will prove to be a priceless tool for improving client connections and managing business operations.