Empower Your Professional Growth with Winter Training Programs in Noida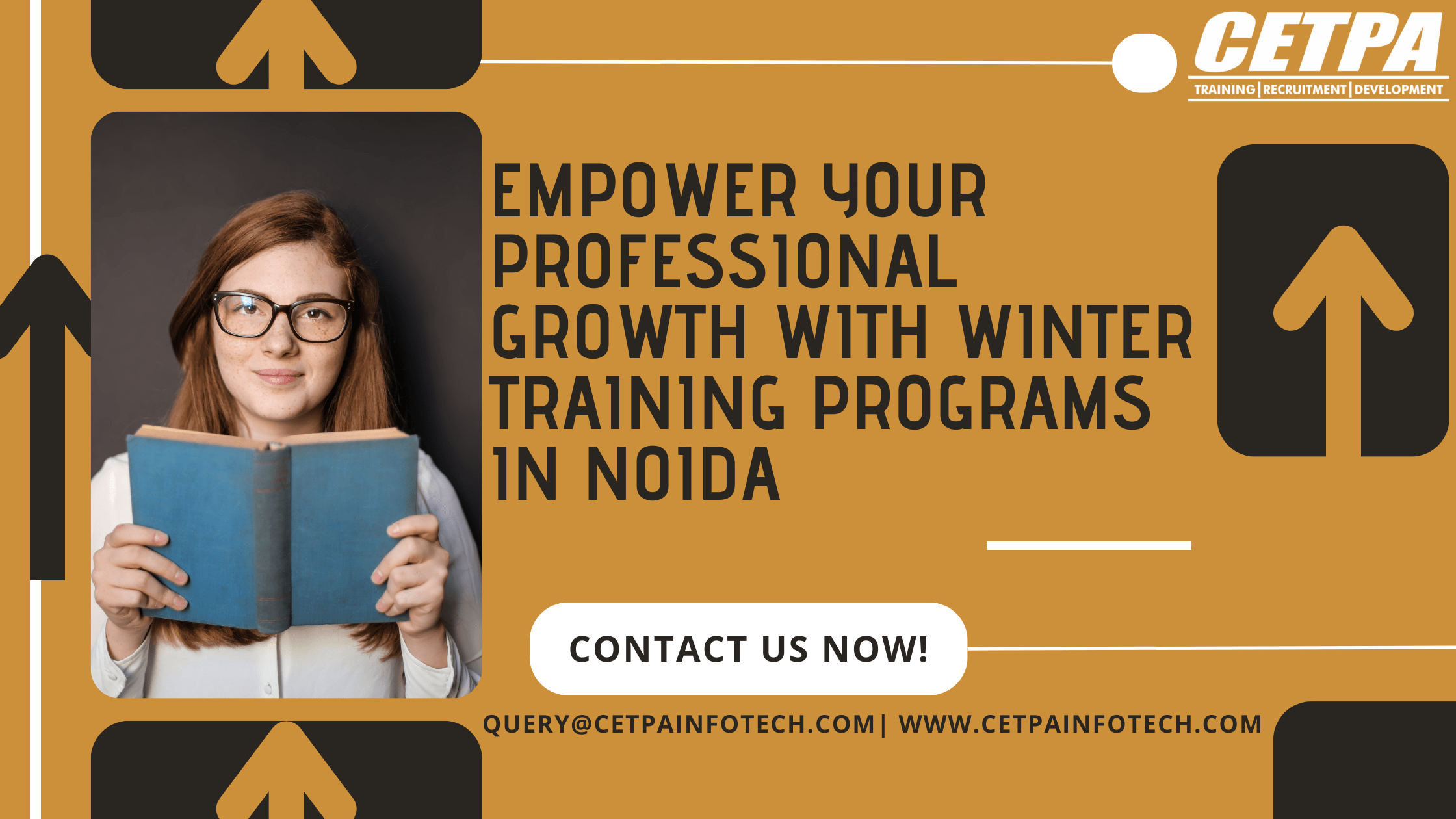 Winter Training: A Smart Investment in Your Future
As the winter season approaches, it brings along the ideal moment for embarking on a journey of professional growth and self-improvement. Winter training programs are a unique opportunity for individuals to acquire new skills, expand existing knowledge, and take their careers to unprecedented heights. In the following blog, we aim to discover the wide range of benefits of enrolling in winter training programs. Also, we shall explore how the training program can be a catalyst for the professional development of individuals. 
To begin with, winter training programs are like stepping stones to a successful career. They offer a refuge for those trying to widen their knowledge and experience. Whether aspirants are willing to supplement their academic knowledge or working professionals looking for upskilling, winter training is a good choice for all. One of the major benefits of winter training is the flexibility it offers. With the winter holidays in full form and work commitments often lightened up, learners may opt for courses that suit their availability and goals. Further, these programs offer detailed and specialized training in several fields. This concentrated strategy allows participants to dive deeper into a particular field or skill, boosting their professional profiles. So, whether individuals are interested in data science, artificial intelligence, software development, or any other field, there's a training program tailored for all. 
In a nutshell, winter training programs are a strong piece of equipment for professional growth. Their versatility, specialized training, internship opportunities, and networking potential make them a top choice for individuals looking for upskilling. So, what are you waiting for? Consider enrolling in Winter Training in Noida or elsewhere to set out on a transformative journey toward professional excellence. 
Exploring The Benefits of Pursuing a Winter Training Program
The major benefits of pursuing a winter course with CETPA Infotech are as follows: 
Skill Enhancement:

Winter training programs are curated to offer detailed knowledge and practical experience in different domains. Whether learners seek to acquire practical skills or professionals wishing to enhance their knowledge, these courses cater to all needs.
Flexible Timings:

The winter season brings a relaxed schedule for several individuals. They generally provide flexible timings, making it convenient for participants to balance work, education, and personal life. One can choose from part-time or full-time courses, depending on their specific availability. 
Specialized Training:

Noida is popular for its thriving IT and technology industry, and is the perfect place for finding specialized training programs. One may explore the Winter Course in Noida in domains like data science, AI, software development, and so on. The pursuit of these courses guarantees individuals a competitive edge in their specific fields. 
Networking:

Embarking on a winter training course journey allows individuals to interact with like-minded individuals, professionals, etc. Networking opens up new prospects for career enhancement and helps individuals stay updated with industry trends and practices. 
Role of Winter Training in Your Professional Growth
Winter programs offer to be a vital catalyst for the professional growth of individuals. These programs play a significant role in empowering individuals to advance their careers. To begin with, the renowned Winter Training in Delhi or elsewhere offers an invaluable opportunity for skill development. Whether you are a student looking forward to supplementing your academic knowledge or a professional willing to upskill, these programs empower you with all the latest industry-specific skills and knowledge. Further, practical exposure is yet another significant factor of winter training. Several programs incorporate practical projects, internships, and real-world settings, permitting learners to apply their new skills in a tangible context. This practical experience minimizes the gap between theory and practice, making learners job-ready and more adaptable in their respective fields. 
Moving ahead, the winter training programs offer training in different high-demand domains. These include data science, artificial intelligence, cybersecurity, digital marketing, etc. Gaining expertise in these areas offers individuals a competitive benefit and makes them stand out in the competitive job market. Therefore, to summarize, winter training programs are not just about gaining knowledge; they are about transformation as well. They encourage individuals to gain new skills, acquire practical knowledge, specialize in high-demand fields, and establish valuable industry networks. Subsequently, they play a significant role in nurturing professional growth and encouraging individuals towards a successful career. 
Summary:
In conclusion, whether you're a student or a seasoned professional, winter online training or offline training is an excellent opportunity to engage in your professional progress. These programs not only impart new skills and update your knowledge but also give a platform for acquiring hands-on experience. With availability of a plethora of courses, one holds the freedom to select the course that best matches their career goals and interests. So, consider enrolling in a winter training program today to take the proactive step in advancing your career. Your path to professional progress and achievement is impatiently awaiting you!