Top 5 Cloud Computing Trends For 2023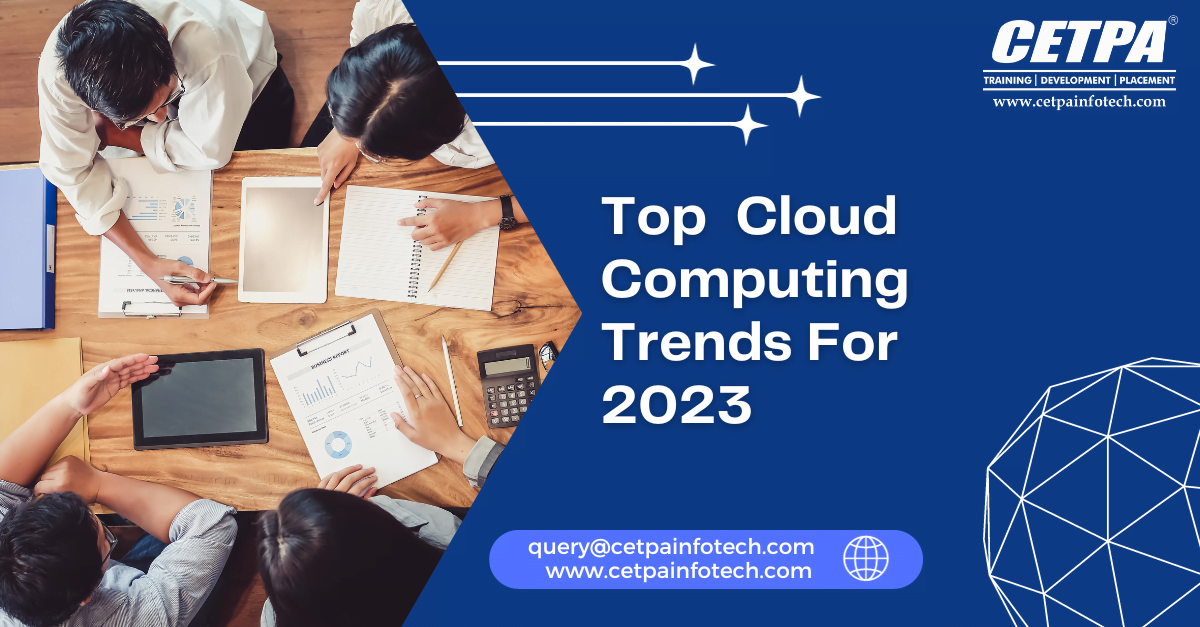 Cloud Computing Training: A Rapid Evolution:
Cloud computing has brought about a revolution in the way businesses operate. With its ability to control data remotely, cloud computing has reshaped industries across the globe – from healthcare to finance and so on. As technology advances rapidly, it becomes increasingly vital for businesses to stay ahead of the competition. In the ever-evolving digital world, cloud computing is emerging as a significant tool for businesses of all sizes and industries. It permits companies to access a plethora of resources like storage, processing power, and software applications via the internet. This thereby eliminates the demand for on-premises infrastructure and minimizes operational costs. 
Further, the evolution of the cloud computing online course or offline course is driven by several aspects. These aspects include improvements in technology, a rise in demand for remote work abilities, and the requirement for scalable and cost-efficient solutions. As a result, the cloud computing training environment has subsequently evolved and expanded. This evolution and expansion are further opening up new opportunities and possibilities for businesses every passing day. Not just that, but from the rise of edge computing to the proliferation of AI and ML capabilities in the cloud, the future of cloud computing holds enormous potential. Thus, by being well-versed in these trends, businesses get the opportunity to position themselves for success in the world of cloud computing. 
Still in a dilemma? Come along with us to explore the top cloud computing trends introduced in the best cloud computing training programs. We aim to discover how these trends will shape the future of the industry in 2023 and beyond. So, what are you waiting for? Get ready to unveil the future of cloud computing and discover how it revolutionizes the way businesses thrive!
Cloud Computing Training: Exploring Top 5 Cloud Computing Trends For 2023
The Top 5 Cloud Computing Trends for 2023 as discussed in reputed cloud computing training program of CETPA Infotech are as follows: 
Edge Computing:

In the rapidly evolving world of technology, one trend that is set to take center stage in cloud computing is edge computing. As we move towards 2024, the demand for rapid and efficient data processing is becoming vital. The edge computing trend is driven by the demand for minimizing latency, improving security, and enhancing reliability.



Multi-Cloud:

As businesses continue to use the cloud for driving growth and innovation, depending on a single cloud provider may no longer work. In such a scenario, multi-cloud grows to prominence. In this, organizations use a combination of public and private clouds from different providers to meet their diverse requirements.



Artificial Intelligence Integration in Cloud Services:

AI integration in cloud services is projected to be a crucial trend in the future of cloud computing. As AI continues to revolutionize different industries, its combination with cloud services puts forth several benefits. Further, it allows improved automation, intelligent data management, and analytics, as well as advanced cybersecurity.



Serverless Computing:

In the evolving world of cloud computing, serverless computing is set to gain significance in upcoming years. As demand for cost-effective cloud solutions grows, serverless computing equips businesses to concentrate on innovation and accelerates their digital transformation journey.



Improved Security Measures in the Cloud:

In the evolving world of cloud computing, security has always been a top priority. As more businesses embrace the cloud and depend on it for storing sensitive information, the need for improved security measures becomes vital. 
Impact of Cloud Computing Trends on Businesses and Industries:
The ever-evolving cloud computing landscape is having a significant impact on businesses and industries across the world. Thus, Cloud Computing Training in Noida discusses how trends will reshape the way organizations operate and revolutionize industries. To begin with, the advent of edge computing will bring computing abilities closer to the data generation source. This will allow real-time processing and analysis, minimizing latency and enhancing overall performance. Further, the increase in hybrid cloud solutions are set to allow businesses to use the benefits of both public and private clouds. This versatility permits organizations to optimize their infrastructure, guaranteeing sensitive data remains secure. This trend aims at empowering businesses with greater control over their data, fostering innovation and agility. 
Not only that, but the rise in adoption of AI and ML within cloud computing allows organizations to unlock valuable insights from large data sets. This will help in making data-driven decisions, personalization's, automation of processes, and enhancement of customer experiences. Similarly, other trends like server less computing and cloud security are set to have a positive impact on the concerned field. Therefore, to summarize, the integration of these cloud computing trends will redefine the way businesses work and revolutionize industries. Ranging from edge computing and hybrid cloud solutions to AI – ML integration and so on, organizations will experience exponential growth. Additionally, they shall witness unprecedented levels of innovation, growth, and efficiency. Hence, adapting to these advancements is vital for businesses for staying competitive in the dynamic environment of the future. 
Conclusion:
In conclusion, as we approach the year 2023 and beyond, the future of cloud computing appears extremely promising. Cloud computing's revolutionary potential has already transformed the way businesses work, and this trend is expected to accelerate. Businesses may expect increased scalability, flexibility, and cost-efficiency as cloud services become more popular. Furthermore, advances in cloud technology will open up new avenues for innovation and digital transformation. Nonetheless, the future of cloud computing is bright and full with prospects as we move forward. Businesses may unleash new levels of efficiency, innovation, and growth by leveraging the possibilities of cloud services.