Top Winter Training Courses in Noida To Boost Your Career in 2023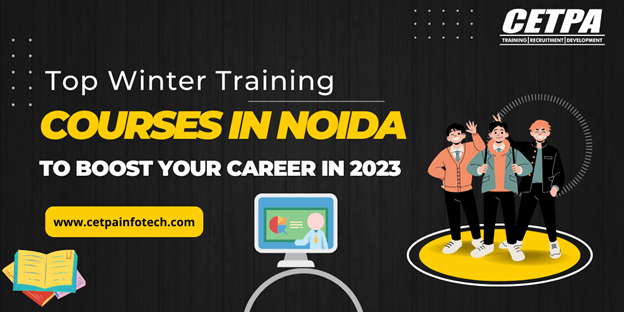 Winter Training: An Introduction
Winter Training is a vital component of educational and professional development, providing valuable possibilities for individuals to improve their skills. This professional training, generally conducted during the winter break is a significant bridge between theoretical knowledge and practical experience. Further, it covers a wide array of domains, including technology, engineering, business, and much more. The training programs offer students, recent graduates, and even professionals with practical experience. This allows them to acquire insights into industry-specific practices, tools, and techniques. Thus, by delving into winter training programs, students can enhance their resumes and increase their employability. This is because the winter programs offer real-world experience which is of much value to potential employers.
The primary benefit of Winter Training in Noida or elsewhere is that it gives participants the opportunity to discover new areas of interest and improve existing skills. Also, students get the opportunity to work on live projects, gain knowledge from professionals, and network with like-minded individuals. This experience not only improves their proficiency but also enhances their confidence, and problem-solving skills. Moreover, winter course is not just about gaining technical skills and knowledge but also about adopting soft skills such as communication, teamwork, time management, etc. These skills are quite vital for personal and professional growth, making winter training a comprehensive learning experience.
To summarise, winter training offers an essential stepping stone in the journey of self-improvement and career growth. It is a luminous prospect for individuals to make the most of their winter break by acquiring practical skills and developing a basis for a successful career.
Benefits of Pursuing Winter Training Programs
Participating in Winter online training or offline training offers numerous benefits for boosting career prospects:
Practical Experience: Winter Programme provides practical, real-world experience in chosen fields. This hands-on experience is invaluable for employers and sets individuals apart from the crowd, offering them a competitive edge in the job market.
Skill Improvement: The winter training courses allow individuals to enhance or gain specific skills relevant to their career objectives. Learning a new programming language, mastering a certain software tool, or obtaining industry-specific experience are all abilities that are directly applicable to your professional life.
Resume Improvement: The addition of winter training certifications to the resume demonstrates an individual's commitment to learning and self-improvement. Further, potential employers usually look out for candidates who showcase a proactive approach towards their career development.
Industry Exposure: Winter courses usually offer opportunities for interacting with industry professionals. This offers participants exposure to the latest industry trends, technologies, and best practices in their concerned field. This exposure proves as a source of valuable insights and networking opportunities.
Networking: Developing connections with trainers, fellow learners, and industry professionals at the time of training opens up individuals to a plethora of opportunities. These opportunities include job referrals, collaborations, and mentorships. Thus, networking is a vital factor in career development.
Top Winter Training Courses in Noida To Consider For Career Boost in 2023
With several winter courses available in 2023, Noida—a booming hub for technology and professional development—can greatly improve your chances of landing a good job. The best 5 Reasons to Take Winter Training Courses in Noida to think about are as follows:
Data Science and Machine Learning: Data Science and Machine Learning are in high demand, and Noida offers outstanding training opportunities in these fields. These courses may empower individuals with skills for analyzing data, building predictive models, and making data-driven decisions.
Web Development and Web Design: Web development and web design courses help students master front-end and back-end development, along with developing visually appealing websites. These skills are significant in the current digital environment, providing lucrative career opportunities.
Artificial Intelligence and Deep Learning: AI is revolutionizing industries, and winter training programs in AI and deep learning by CETPA Infotech offer extensive knowledge. The course offers individuals with extensive expertise essential for working on cutting-edge AI projects, paving the path for a lucrative career.
Cybersecurity: With the increasing cyber threats, cybersecurity training has become invaluable. Thus, the wide variety of cybersecurity courses available covers a wide range of cybersecurity topics, from ethical hacking to network security.
Digital Marketing: The digital marketing courses offered in CETPA's popular Winter Training in Delhi educate on the ins and outs of online marketing, including SEO, social media marketing, and content marketing.
Cloud Computing and DevOps: The Cloud Computing and DevOps courses offer expertise in the management and deployment of cloud-based solutions and optimization of software development processes. These skills are extensively marketable, with several companies migrating to the cloud.
Java, Python, and Programming Languages: Pursuing winter training in programming languages such as Java and Python put forth several career prospects. CETPA's extensive winter course programs help individuals become proficient in these languages.
Conclusion:
To conclude, Noida is the perfect place for aspiring individuals who wish to boost their careers in 2023 with winter training programs. With an extensive range of courses in cutting-edge technologies, Noida provides a distinctive opportunity to acquire hands-on experience. The winter course programs offered here provide individuals the opportunity to improve their skills, opening them up to lucrative professional journeys.
So whether it is data science or programming languages, winter training offers you the perfect opportunity to learn from industry experts. It also helps you stay ahead of the competition in your chosen field throughout the training phase and beyond. Additionally, the dynamic environment and strong professional networks in Noida make it the ideal destination for career development. Therefore, such courses not only offer practical skills but also offer vital networks that are beneficial in the long run.
So, investing in a winter course program in Noida is a strategic decision toward an enriching career in 2023 and beyond. Seize the opportunity now to achieve your professional goals for the future!