10 Tips To Become a Master in Python Programming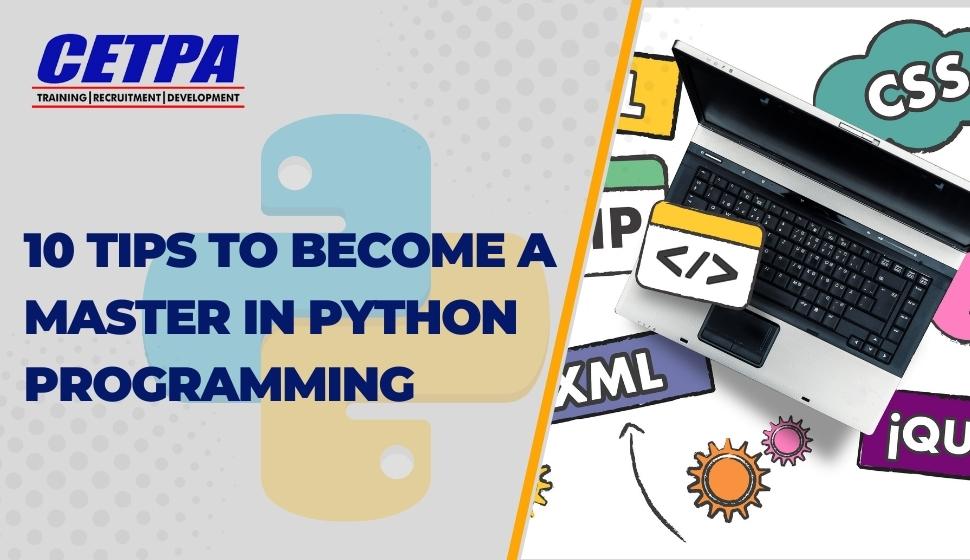 Are you facing issues in developing your skill set while being a Python Developer? If yes, then no worries, here you will get the different tips to become a master in Python Programming. Since Python is a popular programming language that offers users much scalability and flexibility and has numerous opportunities to advance their careers. Let us proceed forward. 
Honestly, we are excited to make your journey remarkable with the help of Python Training in Noida. Whatever field you choose, the first step is to start learning a programming language and make sure what you learn. To become a master, you need to implement things and it will work to jump-start your journey.
Tips to Become a Master in Python Development Field
Starting from scratch will help you learn basic concepts such as variables, operators, data types, and other functions. Not only these but other concepts also must be clear to you and move on to other complex topics. 
While learning concepts, implement the code of each concept to make things more clear and more visible. Just start taking help from different resources such as using websites, you tube channels, or boot camps. Once you feel like you are comfortable with all things, it will bring a challenging option for you. After that, you can start applying for internships. 
Connect With Experts for Help 
For help while learning Python, you can connect with different experts using LinkedIn, find multiple websites for help, and try searching for questions on forum sites. Even it becomes beneficial when you start attending different boot camps or online tutorials. 
Find a Good learning Resource. 
As such if we talk deeply, then we find out that thousands of things are present on the Internet for free, but choosing the perfect option will be difficult for you. Some people start learning by reading a book, some join a Python Course in Delhi NCR, some take help from siblings or friends, and most of the programmers start to learn by themselves using YouTube. So, learning something depends from person to person, all because everyone learns in a different way. 
Some Advanced Tips to Become a Master in Python
Learning and implementing the bulk of things together might be a difficult option for you, so here we can give you a solution. Dividing the concept into smaller pieces will be a suitable option for you. It will help you to understand things one by one and also there will not be many debugging issues arising. 
Stay Up to Date with Trends 
As we know, technology is continuously evolving and there have been regular updates in languages such as new frameworks, libraries, and other tools. This will help you to adapt to these things frequently and you will not be able to face many issues in the future. Even in the future, you will be aware of different tools and techniques that can help you in solving different problems. You can subscribe to different blog websites, and new channels, attend conferences, and meetups, and participate in seminars.  
Without solving debugs or errors, we cannot execute our program, so debugging is considered an important aspect. Many times, while executing a program, bugs are generated instantly so it is better to be aware of different debug tools. These tools that can help while writing a program and solve errors simultaneously. These tools can help you in managing your long-term goals and work on things prominently. 
While learning something and working on its different challenges, it is better to implement things whatever you have learned. So, start implementing your concepts on live projects. By joining CETPA Infotech Institute and registering for a Python online certification course, you can interact with trainers, work on live projects, clear your doubts, and know the latest industry trends. 
Evolve With Python Professionals 
Connecting with other professionals who are in senior positions and know everything about the latest trends and technologies will help you to clear your doubts and stay more positive. They will tell you about different techniques that can be helpful for your projects. Although, you will get guidance from them to build up your resume and stay effective.
Python programming, no doubt, is a challenging field, but it depends on you how you will be able to consume the data. Many times, while working you may get stuck, but you need to keep in mind that you should not lose any hope, just start working and practicing. 
What is the Best Option to Master Python? 
To become a master in Python requires one simple and single step. The step is to choose the best mentor that will be only possible once you join CETPA Infotech. Their trainers have more than 9 years of experience and have the best knowledge about the latest industry standards. 
Also Read: Why Python Language is So Demanding Today?
Conclusion 
So, we are at the end of this article and hope everything may be clear to you. Honestly, to become a Master in Python Developer is quite a challenging field but with the right practice or guidance, you can definitely achieve success. Just remember to be patient and keep on learning new things, join the Python Online Training or offline depending on your requirements. For more information about the course, you can connect with CETPA team members.