Why Python Language is So Demanding Today?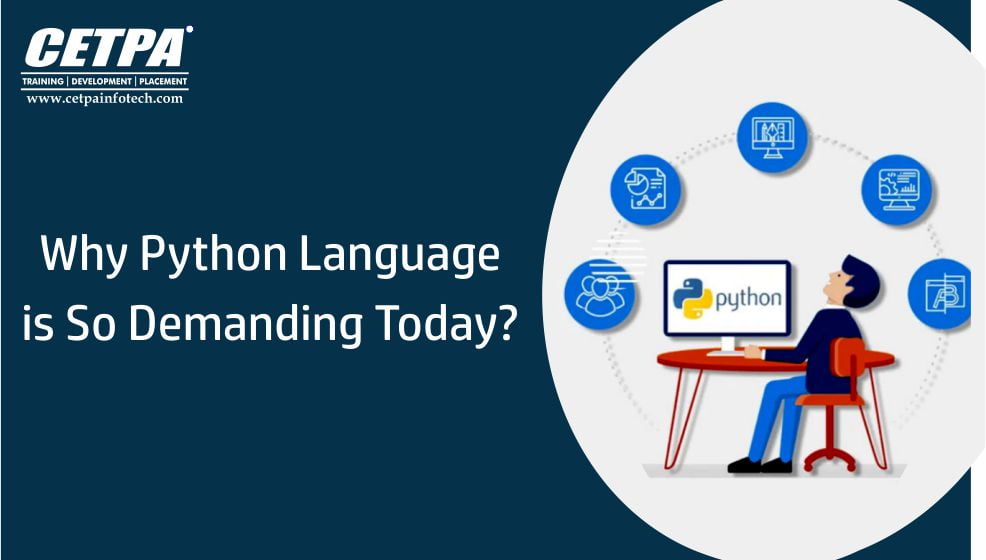 Over the past years, python has amazingly grown to one of the most popular languages to learn that can land you trending job opportunities. It is used AI, machine learning, web application, and software development. Therefore, you can look up to Python with Python training in Noida to enhance your knowledge. 
In this article, we will delve into the reasons that make it one of the most popular programming languages for many years. Let's take a look at some reasons that make it one of the most in-demand languages today.
It's an open-source language.

Over 70% of developers consider it a popular language.

Python syntaxes are easy-peasy (like you are learning the English language).

You can automate your tasks.

Great libraries and frameworks. 
Why Python is So Demanding
Easy to learn 
Learning python is very easy as it is very beginner friendly, even for those who have never coded before or have a basic knowledge of programming languages. Python has very simple syntax using which you can code without draining your mind in learning complicated syntax. Below is a syntax to print output – hello word.
print("hello world"); 
You can easily learn this language if you are planning to learn a new language but are confused about finding a suitable language for you. Python doesn't have complicated syntax which makes it one of the preferred languages to learn from. Though it is simple to learn, it is widely used in developing trending technologies today. Today there are several accredited institutes that offer short-term python online training programs to help you get the hang of Python.
Better career opportunities 
When it comes to learning a new language it is always important to know to real-life application of the language that you are planning to learn. It especially helps aspirants who are looking for great job opportunities. Let's talk about python; it is going to rise to new heights as the technologies (for example; machine learning, AI development, etc.) it empowers are going to be a hot topic in the forthcoming years we can sense today. In the last few years, netizens have generated an immeasurable amount of data that we can't handle with manpower therefore AI is on the rise. Do you know python is among the languages that empower it? This is another reason that makes it one of the trending programs among developers. 
Versatile Language – A wide range of real-life applications
There are multiple industries that are leveraging the power of Python such as fintech, finance, machine learning, scientific computing, etc. With Python Online Course you can work for these industries. You can notice it is used in most in-demand skills nowadays which is also one of the important factors that make it a very demanding language today. 
Automate your tasks
With Python, you can automate various tasks performed without giving manual instructions to your system. Learn automation with Python Course in Noida if you are interested in learning these fun things. Python is a standard language for automated industries. Automotive, delivery, electronics, healthcare, and there are several industries that have been developing such infrastructure with help of robotic/machine assistance to perform complex tasks and handle the enormous amount of data with ease. 
Conclusion 
Python is one of the languages that has witnessed incredible growth over the past few years as today it is empowering AI, machine learning, data analytics, etc. Having python training in Noida can help you land the most promising career opportunities 
It has been used in AI and machine learning, data analytics, web, and software development, and it is empowering many more trending technologies today. AI, machine learning, and data analytics are today's and tomorrow's trending technologies.
Whether you are an experienced or novice, you can enroll in Python Training in Delhi tailored for aspirants aiming for the most sought-after job roles today.