6 REASONS WHY TO LEARN AUTOCAD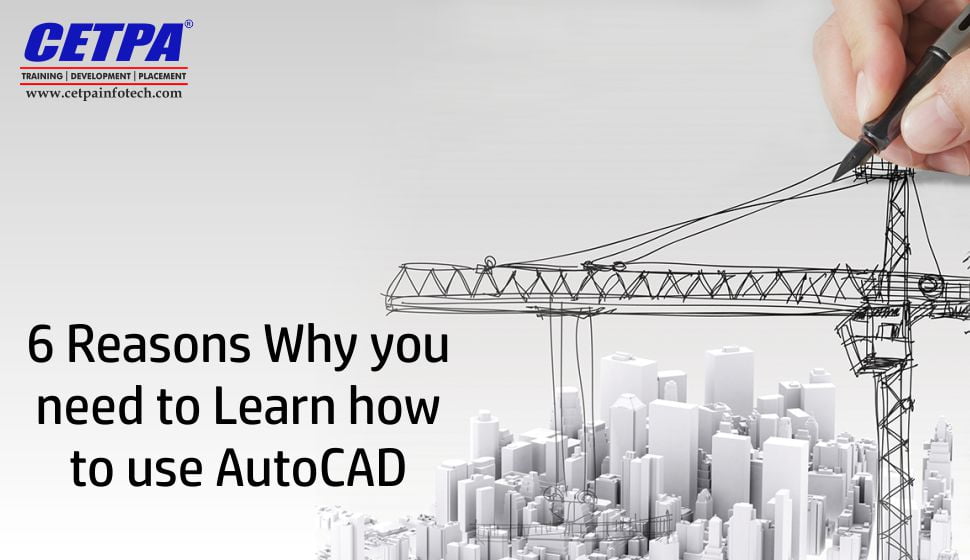 Do you want to specialize in crafting Computer-Aided Design (CAD) models? If your answer is yes, all you need to do is become an AutoCAD Expert. These Designers usually work in the construction and manufacturing industries and have expertise in designing and building 2D and 3D drawings and designs using AutoCAD. Therefore, it is easy to understand this technology. It is software, basically used to design 2D and 3D models. Modern-day AutoCAD extends to a huge number of software tools that focus on designing, modeling, rendering, and applications. AUTOCAD Training in Delhi aids you learn and become an expert, as well as designing models effortlessly.
AutoCAD has upgraded itself with the latest technologies, where it focuses on cross-device harmony and increased functioning in the cloud. Some of the latest features are:
Cloud Storage and Querying
Multiple Device Support
Progress History of the File
Instant Measurement Section
Block Pallet
Improved Execution
Innovative AutoCAD Characteristics
6 REASONS WHY YOU NEED TO LEARN AUTOCAD
AutoCAD is an advanced technology, that pulls down the real struggle of drawing and designing to ease. AutoCAD works in tiers with vector images, though bitmap images can also be introduced, which compel us to think straight of Photoshop or Illustrator-type programs. Nevertheless, its absolute interface is defined for the design of plans and structures. AUTOCAD Training in Delhi contributes to making you an expert in technology and promoting a bright career ahead of you. 
Come, let us study the reasons why AutoCAD learning is a must for you:
1. Time and Money Efficient:
AutoCAD is capable of saving time making it user-friendly and supportive. It also has a proper design language. This platform has proper efficacy which is enlarged to decrease the cost of the product and the project.
2. Reduces Error & Boosts Accuracy:
AutoCAD works on a dynamic with a proper model. It merges design and production with ease to provide the essence of the entire program. Moreover, it reduces error in the project and imparts proper room and upgradation in the design. It provides accurate designs, thus having fewer chances of errors.
3. Easy Import and Export of Files:
AutoCAD promotes easy to import and export the files. Its tools and features increase the productivity of the program and make work easier. Its dynamic platform manipulates and assists designers develop 3D frameworks.
4. Calculations:
AutoCAD delivers accurate calculations of area, mass, and center of gravity with many other platforms. It assists in designing the most accurate sketches and delivers 2D and 3D models and delivers accurate decisions with appropriate calculations.
5. Tiered Characteristics:
AutoCAD training has tiered characteristics and provides details to the user where they can hide and show the specifics with a complex group of drawings. It delivers a better understanding with appropriate drawings. Its characteristics enable the designers to come up with issues easily. AUTOCAD Online Training helps you in understanding all these complexities and makes you a complete professional with a great future ahead.
6. Acquisition of a Craft:
AutoCAD has a particular craft to be handled with technical expertise and a professional career in different fields. It is used in multiple professions such as architecture, interior design, engineering, project management, manufacturing, and other platforms. Its expertise lies in a designing platform that promotes a great income and high salary incentives.
Also Read: How to Become an AutoCAD Designer?
SUMMING UP
AutoCAD is a valuable platform where students and professionals can become experts in the field. To become an expert in the field you must have the right skills. Your drawing skills with clear images; annotations and styles having a geometric category; fundamental knowledge of tables, hatches, dimensions, texts, and others is a requisite. A suitable drawing management platform that is productive enough as per the style and features is also required. For this, you must plan a proper workflow for yourself.
But, how is this possible? AutoCAD Online Course assists you in learning how to modify tools having different designs and patterns. Once you learn these skills, the most important step toward becoming an expert is regular practice and hands-on experience which guides you to become a professional. If you are looking forward to a kickstart in your career with AutoCAD, do register for this AUTOCAD Training in Delhi and give yourself the best available opportunity to learn with us.