Why Android is considered One of the Best Career options?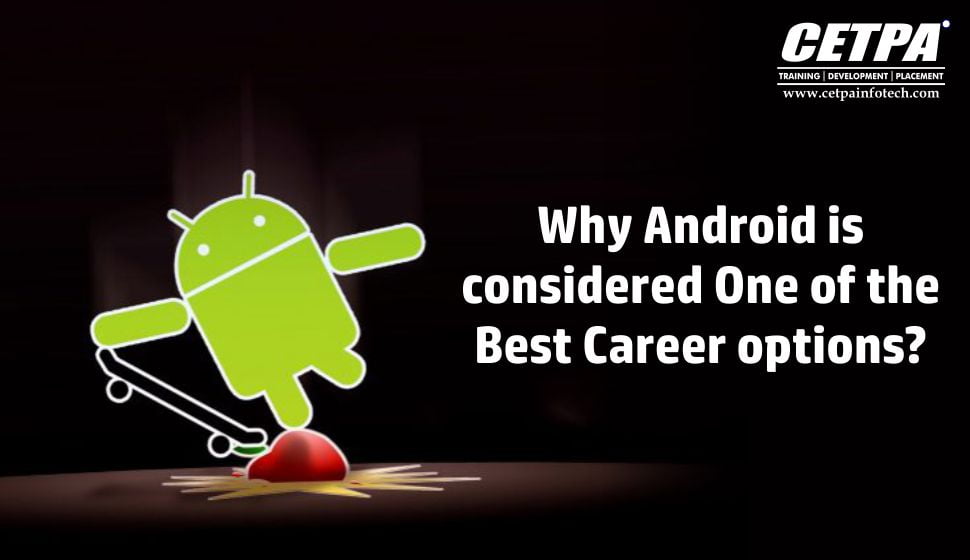 With the increase in technology and advancements, everything is growing day by day. In earlier times, there was not even a single cell phone and now if we see around, almost every person is using an Android device. Even if see a child who is 8-10 years old, he also has a separate phone. 
In the future also, there is no one left and everyone is opting for technologies nowadays. Talking about these technologies, becomes more fruitful, especially for Android developers who seem to have higher-paying jobs. 
In fact, the community of Android Developers is increasing day by day and soon become one the specialized persons with more respect. There are also a lot more other reasons considered that say choosing Android is one of the best career options.
Reasons – Why Android is Considered One of the Best Career Options? 
Before moving to the reasons, we just wanted to tell you that if you also find Android, the best option for your career, then you can opt for Android training in Noida. By continuing with the Android course, it becomes possible for you to learn more and more about this technology and also able to work on your implementation skills. 
But Why You Should Join Android Training?
It is because;
Android is one of the Boom Industries 
Both Android and iOS users are increasing day by day. But the rapid increase in Android has become a blast for the Android industry. Because of these reasons, organizations work on better advancements to attract more and more clients. It basically leads to higher investment with higher revenue. One most common reasons for choosing this is that we can get a better device at a cost-effective amount, and is possible to build user-friendly apps. 
Well-Paid Jobs 
The increase in the technology and increase in the work of Android developers have really become the ultimate nowadays. Since Android developer works on developing devices with better creative skills as well as the works on implementing more of their knowledge. That's the main reason why they are being paid more and more. 
Open-Source Platform
One of the most genuine things about using Android is that it is basically an open-source platform and works on using the best technology framework. Also, it becomes fruitful for future Android developers to build high-quality applications.

Large Community 
The community of Android developers is rapidly increasing day by day and once you will enter here, no doubt you will get complete support from the best developers. It becomes possible for you to solve more and more of your queries and you can work with other professionals.  
Rapid Advancement and Learning 
Future Android developers are learning more and more and they will be able to learn more new on platforms that earlier developers don't know. So, it becomes possible for them to learn more instantly. In fact, this is one of the fields that allow you to learn different things every day, basically, there is constant learning. 
Also Read : Here's everything you need to know about Android
Conclusion 
Choosing Android is one of the best career options and life-changing decisions. Although the android community is not small, it is wide and going to be wider in the future. A lot more people think, about how they can also become successful here. Honestly, it just needs a small effort, just need to start taking Android training in Noida or Delhi, or you can even also take offline and online Android training.