10 things you need to know about the AutoCAD Web App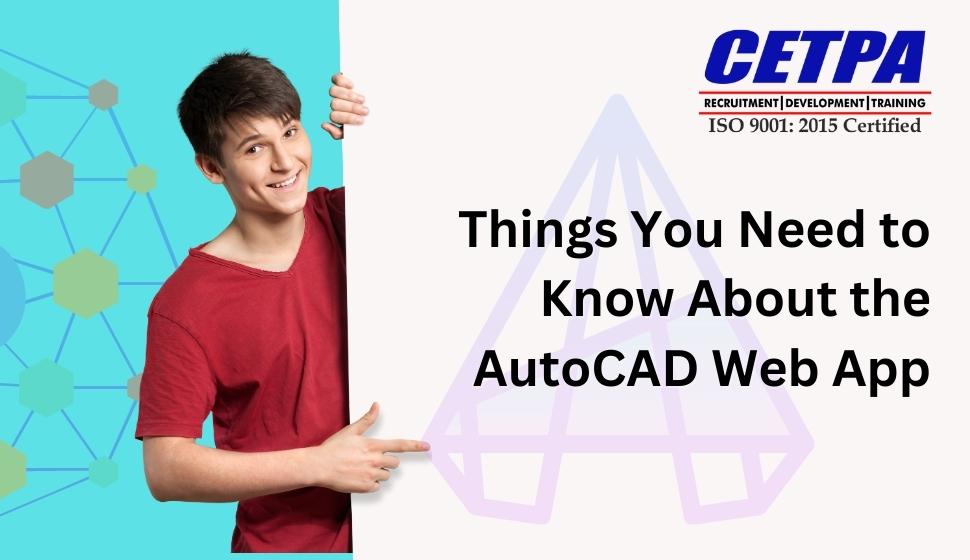 As we know, AutoCAD software has been now utilized in a wide range of areas usually for designing and editing purposes. But do you know what are the benefits of using AutoCAD Web App? No issue, here we are going to discuss numerous concepts about it. But before that let us know in brief about AutoCAD Web App and why an individual should pursue AutoCAD course in Noida. 
AutoCAD Web App is a prominent solution that works on all the AutoCAD commands for editing and generating much better designs at a better and effective price. And you must be aware about all the AutoCAD drafting tools online. Although, using this you can quickly collaborate with users while creating a design. 
Few Things an AutoCAD Individual Must Know About AutoCAD Web App 
Visuality of App: The interface of AutoCAD Web App usually looks like Desktop Interface. Once you open it, you will get the Web App on one side and a view of AutoCAD on another side. Maybe some items are missing and there may be different properties, but it provides a simpler interface that can be easy to handle. File Management will be proper, creation of designs are also fine, and measuring tools to modify all the drawings or designs. 
Access Anywhere: Without any kind of installation and without putting much effort, it is possible to access the AutoCAD cloud-based App even from the browser. This will save the memory of the system and a user can access this Web App anytime just by using the credentials provided. 
Consistent Connection: There is no fallback in the connection and users can easily view the files in the Autodesk drive, Autodesk Docs, and in other multiple leading Cloud storage providers. This will be efficient in improving the productivity of the enterprises and will save much time for the professionals. 
Create New Models and Tabs As per Requirements: Possible for experts to create different layouts and tabs that meet with the client requirements. Although you will have a number of properties there in the Web App which will automatically work on viewing and selecting items as per the properties. 
Note: AutoCAD is a vast growing field nowadays and AutoCAD has become a crucial part for Mechanical Engineers. There are a number of resources already present on the Internet which can help you to grow further.
Honestly, to be the best in a field, you must continue learning AutoCAD online training with CETPA Infotech Institute in Noida. 
Other Emerging Things About AutoCAD Web App
Layers: Sometimes it happens that creating new layers would seem difficult for the expert. It is possible to lock all the layers and turn the lights either completely off or on, then go to the Create New layer section and give the name. Also, there has been different settings for drafting at the bottom of the screen. 
Move Reliably with All Applications: After using AutoCAD web mobile app, you can easily place your drawings with web, mobile, and desktop in a persistent manner. Also, using this, it is possible to save the items on your mobile, desktop, web, and simply save it on the Cloud storage space. 
Save on Cloud-Storage Space: Other spaces such as Google Drive, Dropbox, One Drive have also been mentioned on the AutoCAD web app, where you can store the designs without any issue. This is one of the best things about AutoCAD that allows professionals to restore data where they want to. 
Work Offline: Whether you use AutoCAD Web App on mobile or desktop, you can easily create new designs according to your requirements without having any Internet connection. 
Conclusion 
Last but not least, there are other several aspects about AutoCAD Web App that keeps you authenticated with this. CETPA Infotech is known to be one of the best institutes in Noida that works on providing the certifications to make your career bold. These are some reasons that a professional need to know while making a career in the AutoCAD field. Having knowledge about Web App can also grow your perspective to improve further. 
Hope you get all the information in a detailed manner. But before moving to learn AutoCAD Web App, be a part of AutoCAD training in Noida.