How are CCNA and CCNP Important Aspects of Networking?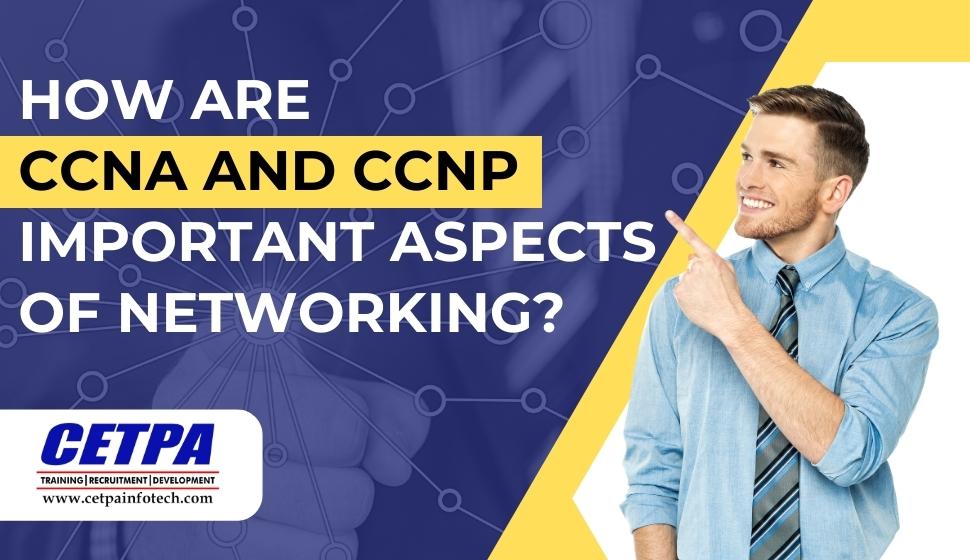 Are you interested in learning about CCNA and CCNP? Do you want to make your career successful in the field of Networking? Here, in this article, we are going to discuss CCNA and CCNP certifications and why they are important for the future of Networking. Moreover, also we will let you know – Why Students or professionals go for the CCNA Certification courses or CCNP training programs in Noida?
Both CCNA & CCNP certifications are valuable certifications and help you to reach a high level in the field of Networking. When it comes to improving their performance as Network Engineers, then also many professionals go for these certifications and come to better job opportunities.  
Many students who are interested in the networking field start their career as a beginner in the CCNA and go for the CCNP training in Noida. Once done, he will enter this field and start learning a wide variety of concepts then he should go for a CCNP course in Noida. This will make him sure and explore him in front of a number of job opportunities and different statistics. Now we will understand in a separate manner – Why CCNA? And Why CCNP? 
Why is CCNA Important in the Networking Field? 
CCNA (Cisco Certified Network Associate is one of the well-known and popular certifications in the field of Networking. In short, we can say that this certification works on clearing all the fundamentals and basic concepts and is a well-designed module for freshers. 
Once the candidates go for CCNA online course, at that time, it becomes quite possible to enter into this field and gain some experience as a trainee so that after 4 months or 6 months, they can be able to know their focus areas. Although when he thinks that his future is completely into it, at that time, he will explore more and more job opportunities. 
Although another reason for doing CCNA certification is that it does not need any kind of degree or requirements and can be affordable to do. Moreover, this certification has a number of modules, or we can say specializations so candidates can continue with any one of those like Wireless, Security, Voice, WAN data center, and other service providers. Any professional who wants to continue in this field can go with the certification of his own choice. It explore more opportunities along with installing, operating, and configuring switches, and other routers. 
Why is CCNP Another Important Aspect of the Networking Field? 
CCNP stands for Cisco Certified Network Professional. It is another important certification for those who want to become experts in the complete networking career. CCNP training in Delhi NCR can be done once the person is already qualified for the CCNA certification and has a minimum of 1-2 years of experience. 
More professionals who have a CCNP certification will be given more priority as there is much shortage of CCNP professionals. Although, there are a number of opportunities available for CCNP. It will help you to keep updated with the latest technologies and trends in the Networking career. This is one of those certifications which have high-value on the resume and allows you to prioritize all over the world. 
Once you come across others who have done only a CCNA course, you will be at a higher level while comparing yourself to them. And it will be a better reach at an excellent career growth. So, if you want to become an expert at the Networking career, then go for the CCNP certification course in Noida. 
Also Read: What Computer Networking Skills You Need to Be Successful?
Wrap Up 
However, if you analyze both the CCNA and CCNP certifications course in Noida, then serve a better career for the future. However, both have different requirements but have the same road, one is much closer, and one is too far. And if you go with one only for the entire future, then CCNP online training program is much better than the other and it will explore more opportunities and build your career in networking. For more information about the course, you can connect with CETPA team members and build up your career precisely.