Importance of Best CCNA Training Course in 2023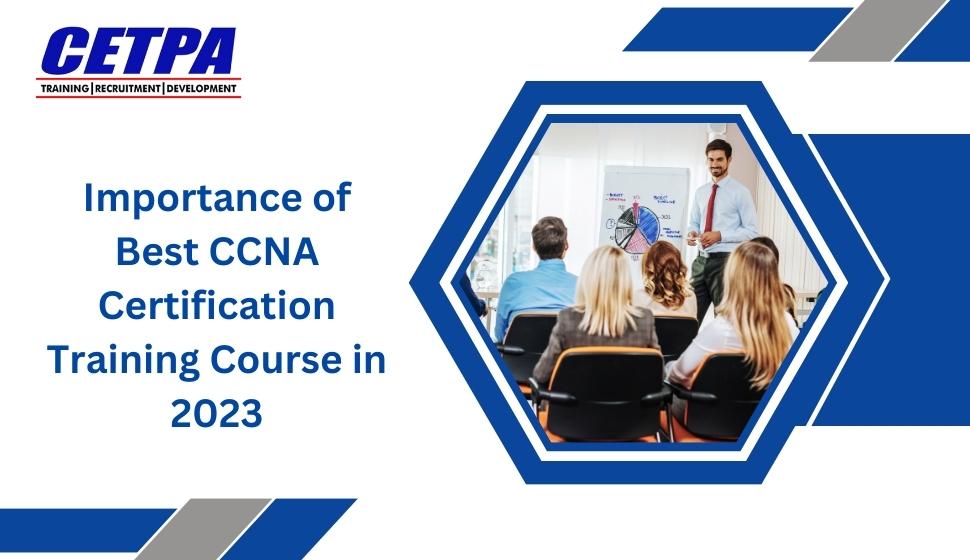 CCNA Training: An Introduction
CCNA or Cisco Certified Network Associate is popular as a beginner's level Information Technology Certification. Cisco – a networking hardware company presents the CCNA certification. The networking characteristics in IT jobs usually demand individuals to possess a knowledge of fundamental networking concepts. Thus, the certification enhances the knowledge of individuals on the concepts of fundamental networking. The CCNA Training certification verifies the fundamental know-how and abilities for setting up, running, configuring, and troubleshooting networks in small to medium-sized businesses.
CCNA Certifications affirm the basic skills necessary for beginner-level networking positions. The positions include network administrator, network technician, technical support engineer, etc. It provides a thorough understanding of concepts of networking, protocols, Cisco technologies, and so on. The CCNA certification opens up vast employment opportunities in industries relying on network infrastructures including IT services, government sectors, etc. CCNA Training in Noida offers to be a beginning step for achieving advanced Cisco certifications. The advanced certifications include CCNP (Cisco Certified Network Professional) and CCIE (Cisco Certified Internetwork Expert).
CCNA certification is beneficial for individuals applying for a new job or seeking a higher position in the current company. It is the best way for displaying IT skills. CCNA certifications help score more points in interviews for new jobs. Thus, a Cisco certification gives the utmost advantage in competency. 
Importance of CCNA Training in 2023
Here are some crucial details showing the significance of CCNA Certification in 2023:
Market Recognition:

In the field of networking, a CCNA certification gets acceptance across the globe as a reputed qualification. All employers of top-notch organizations favor individuals possessing CCNA certification. To know in detail about CCNA certification, register for

CCNA Online Training by CETPA Infotech

now.
Enhancement of Career:

A CCNA certification considerably boosts the career prospects of aspiring professionals. It highlights the professionals' expertise and passion in the field of networking. The highlights, thus, result in better employment opportunities and advancements in terms of careers.
Upgradation of Knowledge:

The networking industry rapidly revolutionizes, with new technologies, protocols, and best practices appearing on a regular basis. As of 2023, a CCNA certification ensures that professionals' knowledge and skills are up to date as per industry advancements. 
Development of Practical Skills:

A CCNA certification offers both theoretical and practical skills development. Professionals with CCNA certification possess great experience with Cisco software and devices. 
Networking Possibilities:

A CCNA certification allows professionals an opportunity to coordinate with other professionals of similar beliefs. Such networking opportunities lead to possession of essential contacts in the industry, mentorship opportunities, etc. 

Basis for Future Certifications:

The CCNA certification is a fundamental certification that leads to more advanced Cisco certifications. The advanced certifications include CCNP (Cisco Certified Network Professional) or the CCIE (Cisco Certified Internetwork Expert). 
If you too are looking forward to developing your career with Cisco certifications, check out the CCNA Training in Delhi now.
It's a Wrap!
Also Read: 5 Reasons Why you should Join our Networking course in Delhi NCR?
The above blog concludes on the point that the scope of CCNA certification is clear and concise. A Cisco Certified Network Associate or CCNA Training is crucial for professionals as well as the entire Information Technology sector. Hence, a top-notch CCNA (Cisco Certified Network Associate) certification training program is still essential in 2023 for a number of reasons. The reasons for the importance of CCNA certification in 2023 include market recognition, enhancement of career, upgradation of knowledge, and so on. The CCNA certification acts as a basis for pursuing other Cisco certifications in the future. The certification equips individuals with the utmost expertise for succeeding in the field of networking. Also, it plays a major role in staying competitive in the dynamic technological environment.
In broad terms, obtaining a CCNA certification gives people a strong foundation in networking, certifies their expertise, and improves their professional reputation and job prospects in the networking industry. Hence, pursuing CCNA training allows individuals in gaining knowledge, skills, and recognition important for excelling in networking positions. A CCNA certification greatly increases your chances of success and opens your doors to new prospects in the IT sector, whether you're starting a career in networking or trying to grow professionally.
For more details, check CCNA Courses in Noida now.