Why is AutoCAD Important for Mechanical Engineers?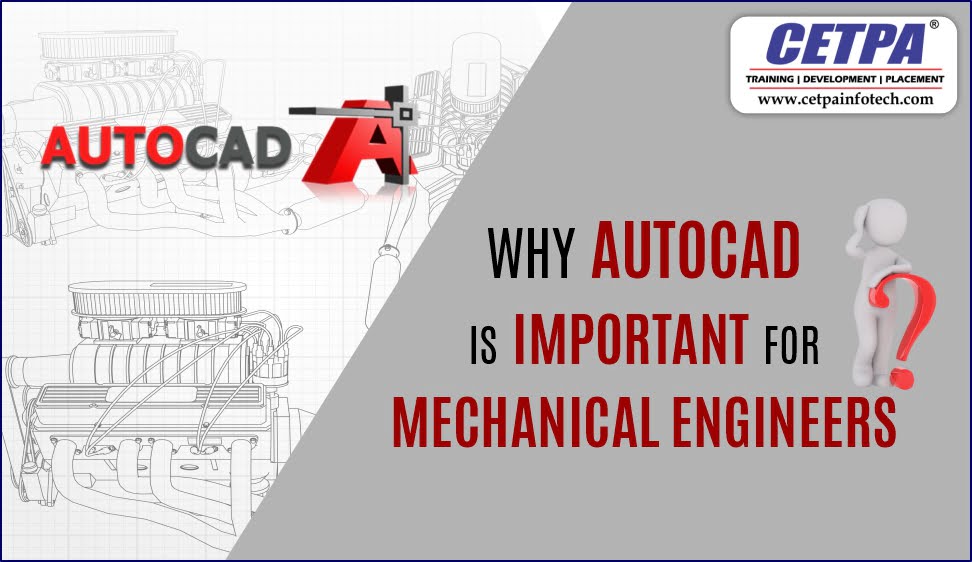 Designing has become one of the prominent fields for every organization. Most companies depend on mechanical engineers or systems to create best of the design to attain the desired output. If you are working in the mechanical engineering field, then you must hear the term "AutoCAD." 
AutoCAD is a known 3D system software used explicitly for designing purposes in a wide variety of applications for both 2D and 3D purposes. Nowadays also Mechanical engineers first gain knowledge of AutoCAD with AutoCAD online courses. AutoCAD has created its mark and works on growing visibility day by day by helping organizations to create effective designs. Although if a mechanical engineer has done AutoCAD online course, then it will play a most important role in his life. 
The usage of AutoCAD can benefit the employees as well as the organization in order to save much time and resources. Also, this software is not limited to a number of things, but it works in a wide area. 
How AutoCAD is beneficial for Mechanical Engineers? 
This article is for those who are interested in moving their career to the design part. And if you are one of those, then you should start learning it from today onwards. Although there are a number of resources as a way to start you should go with the best resource that can help you in various aspects. Joining CETPA Infotech will help you to learn this with the allowance of the best AutoCAD training in Noida. 
Now, let us understand some benefits:
With the help of AutoCAD, it becomes possible for engineers to start creating drawing with accurate dimensions in an organizable manner. It also works on refining new ideas and implementing them in a persistent manner. Also, it will help you to work faster so that previous blocks can be used precisely. 
Gain Skills to Stay in the Market 
Since the tool offers numerous tools and even allows engineers to work from different perspectives. You will be able to improve your 2D and 3D designing skills and learn a wide range of applications and concepts included in the designing part.   
Better Communication with Clients 
While designing or manufacturing, the tool will work on storing and displaying the data in an accurate manner. It will give the output in a digital manner and this will work to increase communication with stakeholders or clients. 
Reduce Usage of Materials 
When you buy AutoCAD for design purposes, it will automatically reduce the cost and engineers will not need to buy any other physical materials for designing. Even with the help of this software, it is possible to test other installations which will work on better productivity and increase efficiency. 
Quality Assurance and Control 
Since mechanical engineers work in a number of dimensions, while working on designing, this software allows them to bring out better functionality and even work in different environmental conditions for better simulation. And this will work on proper maintenance in different specifications and allows clients to get the perspective they want.  
Also Read: 5 Ways You Can Improve Your Skills by Learning AutoCAD
How You Can be a Part of the AutoCAD field? 
To be consistent or move into any field whether it is technical or non-technical, you need to start focusing on gaining knowledge first. And you should have a complete roadmap of its modules or concepts. 
But do you know – What you will learn first? 
Don't worry, let me tell you: 
Understand the functions of AutoCAD and its basic components.

How to create simple and advanced designs?

How to use text, geometry, and different drawings? 

How can you edit and customized with various options?

More information about drawings. 

Advanced 3D modeling for manipulating and organizing different models. 
All these can be learned once you join AutoCAD Course in Delhi and stay consistent at your work by gaining much deeper knowledge. It will allow you to consume data that meets all the industry standards and will improve your implementation skills. 
Now, a question arises in your mind: 
Is it really difficult to learn AutoCAD? 
It seems really difficult to understand, but by picking up the right AutoCAD course program, you will stay convenient in this line. You will learn the entire theory, modules, and all the modules that can bring up better operations and functions. 
Joining the course in CETPA Infotech will help you to learn from professionals who have more than 9 years of experience. They will teach you all the practices regarding AutoCAD 2D and 3D designs or drawings and how can you work in this industry. 
End Thoughts
Hope everything is clear to you, and you get the entire knowledge regarding AutoCAD. These 5 mentioned points can work on improving your mind and skillset- why you should learn AutoCAD if you are a Mechanical engineer? Just start working on it and get the best out of yourself. Once you start focusing on its proficiency, you will learn its benefits and its entire scope in the future. And having a certification in this will explore a number of opportunities for you.