Best Tips For Artificial Intelligence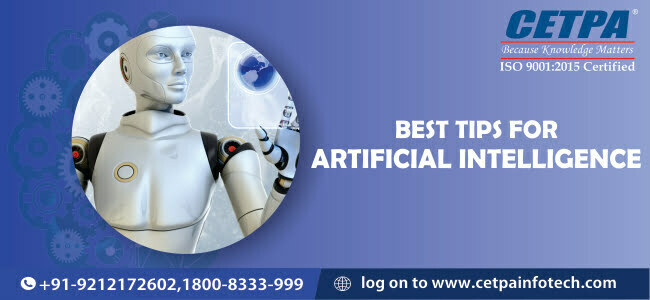 WHAT IS AI?
Artificial intelligence (AI) is all around us. AI is used in our daily life which includes commute, checking your latest social media feed, searching the web. AI has a major effect on your life, in addition to your business.
BUSINESS BENEFITS OF ARTIFICIAL INTELLIGENCE
Many enterprises adopt artificial intelligence software to try to decrease reduce operational costs, enhance efficiency, grow revenue and improve customer experience.
For greatest advantages, businesses should look at putting the full range of smart technologies – including machine learning, natural language processing and more – into their processes and products. But even businesses that are new to AI can reap major rewards. If you also want to reap AI benefits you can consider joining any reputed artificial intelligence training Institute.
WHAT DOES AI ENTAIL?
Artificial intelligence has become an umbrella term for numerous technologies. However, it is not really the proper use of the term. "AI" should known as software that imitate independent thought and is still generally found in research labs. Instead, look at these related technologies:
Machine Learning:
Smart Robots:
Virtual Assistants
Speech recognition
Natural Language Generation
Decision Management
 To learn about AI & its benefits, you can join artificial intelligence online course.
TIPS FOR USING ARTIFICIAL INTELLIGENCE
AI is helpful in many business situations, but like other tools, it's not the solution to every problem. Here are some of the ways in which AI is useful for business:
Keep your expectations moderate
You should refrain from AI since the things it can do can really help your business. But do not assume it to solve all your problems. AI and especially machine learning gets smarter the more it's used. So be patient.
Plan for the impact
Using AI may shift jobs around in your business or even eliminate some. It most certainly may try to use data in unanticipated ways. Make sure you look forward to it and head off any troubling, or embarrassing, employment crises or Privacy implications.
Rethink your business.
Begin with the blank whiteboard and inquire yourself where in the industry you could grow a competitive advantage by resolving new problems or automating tasks. Express these in business terms with measurable objectives and then get some expert advice on how to implement them.
Get really data-driven
Think about the KPIs that make your enterprise work and optimize around them one at a time. Every thriving AI strategy begins with the foundation of good data. Slice data and stay away from averages. Put the time into cohort analysis and find the slices of your critical method that deliver the most value. Be practical and make technology a main part of your process.
Most of your access to AI will be from vendor products.
Invest in solutions from companies who are investing big in data and automation. They will build AI into their products and you will get a massive competitive advantage from them.