Can't Miss 3 Key Points of SCRUM Master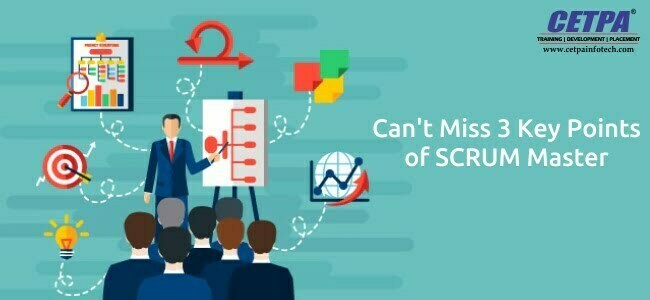 SCRUM is the project management activity that enables a team to self-organize and make changes swiftly. The scrum master, hence, is the head of the team following this method. A scrum master is one of the main roles of an agile project using the scrum structure. This individual is the chief facilitator on the project, accountable for arranging the daily meetings, enhancing team interactions. So, join best Scrum master training in Delhi and helping to maximize productivity by eliminating roadblocks and supporting the team.
In this post, let's discuss some of the top tips to become Scrum Master:
MASTER THE BASICS OF SCRUM
Before you can turn into a scrum professional, it's necessary to familiarize yourself with both the benefits as well as the principles of Agile and the common scrum framework. You can dive deeper into Scrum concepts by reading books, online content, blogs, and forums. Do not save time on reading about the fundamental skills and aims at the heart of the concept.
JOIN SCRUM COURSE
To master the basic & advanced concepts of SCRUM as well as to clear the exam, you need to join Scrum master training in Noida. Each certification option has its own terms, so make certain you enroll in a course that will be acknowledged before investing in it.
SELECT YOUR SCRUM CERTIFICATE & REGISTER FOR EXAM
One of the most excellent ways to become a scrum master is with the help of the recognized certification program. This type, of course, will guarantee you're familiar with Scrum, Agile, and the roles and obligations of a scrum master. Moreover, getting your certification will allow you to show your knowledge of the domain and can help open up the latest opportunities. There are various scrum master certifications you can go for.
Once you've decided the certificate, completed your Certified Scrum master course in Delhi, you're set to take your exam and show that you're competent enough to become a Scrum professional. It's suggested that you give the exam as close to the completion of your training as possible, so you remember the maximum amount of information taught.
CONCLUSION
Once you've mastered Scrum, it can also be worthwhile to study other alternatives. By knowing about multiple agile methodologies, you can easily try alternative strategies as needed for a project or support effort when the situation itself does not lend itself to Scrum.