Enroll for Comprehensive Java Training in Noida To Achieve Your Career Goals.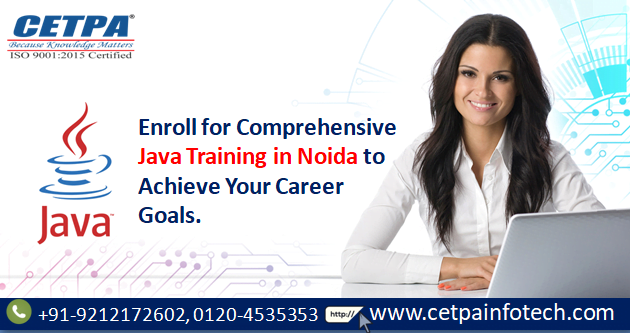 Java Training is one of the best training for candidates who want to make their careers in the IT software industry as a developer. Java is one of the most powerful and secure programming languages available in the market that was created more than 20 years back. Java is still considered an evergreen programming language among the software development industry.
CETPA INFOTECH provides Java Training in Noida to cater to the growing training needs of students and corporates. It is a full-fledged training that covers basic to advanced level of Java programming. CETPA is one of the finest training, development, and consultancy company in Northern India.
The course and content of Java Training in Noida are revised and updated according to match the industry standards. It is designed to master learner's skills in java programming, development, and other important tools required for developing applications. Java Training in Noida by CETPA includes extensive practical oriented training aiming towards real-world problems that help students to gain industry exposure and confidence to work with any job requirements.
Java Training in Delhi is provided by the proficient trainers who have experience in java software development industry, so excellent training is guaranteed. The aim of Java Training in Noida is to build the gap between college education and the IT industry.
After the completion of Java Training in Noida, the company provides guaranteed placement assistance to its certified students which helps them in finding their dream jobs. The participants are also given certificates upon the completion of the java training.
CETPA conducts the Java Training in Noida in a wide variety of ways. Apart from classroom training of 4/6 weeks- 6months, it also offers online training, campus training, overseas training, and corporate training. Furthermore, the company believes in affordable pricing strategy so that every student can afford its training classes.