Get Deep Insights Into .Net by Joining .Net Training in Noida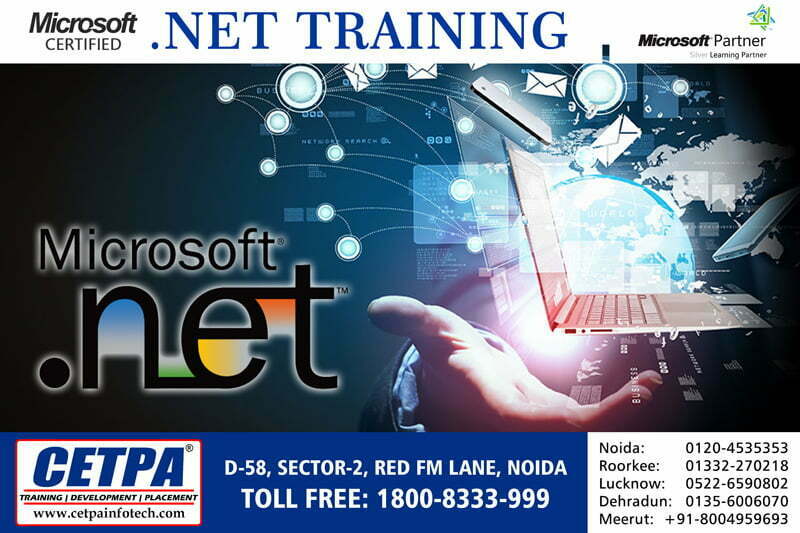 In today's time, there are various institutes spread all over the world offering Microsoft .NET Training In Noida. But, if students are seeking best .NET Training institute to build up their career in this field, then they should come to CETPA INFOTECH PRIVATE LIMITED.
CETPA is one of the leading institutes in Northern India offering .NET Training in various cities like Noida, Roorkee, Dehradun, Meerut and Lucknow; so that students can join any training center nearest to their home. CETPA helps to build the career of the students by offering quality .NET Training in Noida at the cost effective price.
CETPA is offering many other training other than .NET in various engineering domains since 2002.
.NET Training at CETPA includes the detailed explanation of every topic and it covers every domain related to the technology. The trainers of CETPA have designed the teaching methodology in such a way that even difficult concepts are covered with ease. The trainers have sound knowledge of the concepts and friendly environment is maintained between trainers and students. Small batches of .NET Online Training In Noida are formed to ensure individual attention to each student is given. CETPA assures that students enrolling for .NET Training will surely become better candidates to get the job in comparison to other freshers.
Students at CETPA are provided with excellent course material which contains important points about the topic which will help the students to practice independently and become the expert on the subject.
CETPA provides classroom training as well as online training to students in this technology. In addition to that, it also provides summer training, fresher training, campus training, winter training, industrial training and corporate training.
.NET Training in CETPA is designed by "Learning by doing" method where students are given live projects under the expert guidance of the trainers. If students really want to give their career a new dimension then they should enroll for .NET Training at CETPA.
Microsoft .NET training course Noida involves "Hands-on experience", we believe in practice what you preach and therefore each candidate is encouraged to practically conduct each topic that is discussed for better understanding of real-world scenarios. This practice of comprehensive training allows candidate to gain all the concepts and skills effectively and to later efficiently apply on their field of work.Are You interested in Microsoft Certification learn waht is the main Difference Between Microsoft .NET Core vs. .NET Framework