Everything You Need To Know About Summer Training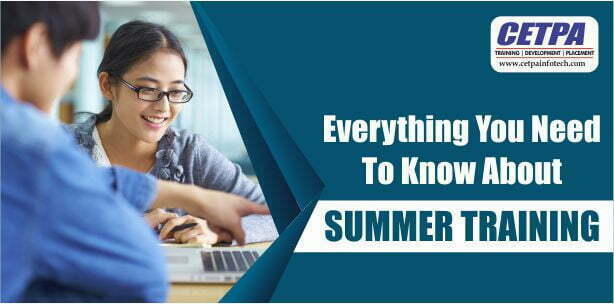 In this world of everything digital, competition is only going to increase as time passes. New technologies and changes have become an everyday norm, so it's only obvious that if one doesn't adapt one is bound to lose.
This is the reason why summer training programs are perfect for students who want to gain fruitful skills in a short period of time. Our online summer training courses is meant for students from various IT backgrounds, including engineering.
It doesn't matter if you're pursuing an undergraduate or postgraduate degree, as your interest is the only thing that counts. Summer holidays are the best time to acquire new and exciting skills because you have ample time to properly learn advanced subjects. These skills are definitely going to enhance your career prospects as well as your technical skills.
Is There Any Eligibility Criteria for Our Summer Training Course?
No, not really. Anyone from B.Tech, M.Tech, BCA, MCA, B.Sc (IT), or M.Sc (IT) can join our summer training course in Noida.
Why Is Summer Training Important?
A candidate with enhanced technical skills is the favorite of any and every company. Moreover, no matter how big or small a company is, they always look for a technically literate candidate, compared to others.
So, if you opt for our summer training program, your chances of standing out from the rest of the crowd are bound to increase drastically. Having additional skills never looks bad on a resume, especially the ones we're providing.
The less training you require as a newcomer, the more preferable your profiles become, and summer training programs are created to fulfill this purpose only. Consequently, you won't have to struggle to find a relevant job like other newcomers, as our online summer training program also ensures that you get ample industrial exposure which is necessary for job prospects.
Also Read: Looking Ahead: The Future of Online Summer Training for Engineering Students
What Are The Key Benefits of CETPA's Summer Training?
Acquire Necessary Skills and Learn About Latest Technologies: Summer Training programs enable you to learn the skills which are necessary for your career growth. Java, Python, AI, SAP, SAS, Machine Learning, Data Science are a few examples of the courses offered in our summer training program. All of these are high in demand and almost necessary to score a high-paying job. Moreover, you will also gather knowledge about the latest advancements in the IT sector that are beneficial for the future.
Learn As Per Industrial Norms: The online summer training courses we offer are designed in a manner that matches industry criteria perfectly. The curriculum is updated and upgraded at regular intervals, ensuring that the students do not miss out on anything relevant.
Attain Practical Knowledge and Interact With People Of The Same Field: In order to increase your practical knowledge, you will get live projects to work on during our summer online training. Moreover, You'll also be interacting with other students who may or may not be from the same field but building up networks sure helps a lot.
Learn At Your Own Pace: Online summer training allows you to learn at your own speed with no time or space constraints. Sure, classroom training has its own perks, there's no denial in that. But the comfort that online training provides can't be ignored.
You can learn and attain knowledge with no pressure through online mediums. Moreover, online training lets you refer back to the lectures according to your own time, as they have flexible schedules.
Now that you know all the benefits of Summer Training, you can get yourself enrolled in our online summer training program today.
Hope this helps.