What Is The Difference Between Organic and Paid Ads? Which One Is Better?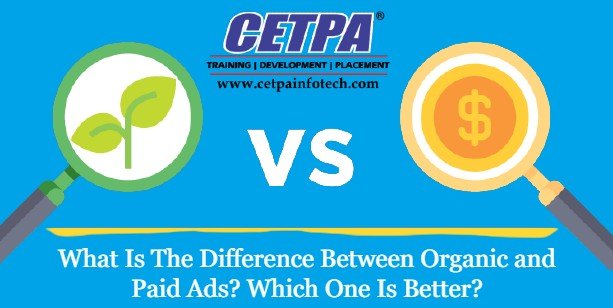 If you're in the world of digital marketing or want to pursue a career in it, you must be aware of the terms 'paid' and 'organic' advertisements. Advertisement is one way to drastically increase brand awareness, website traffic, and generate more leads and sales.
One can opt for organic advertising or paid advertising to increase sales, but how do you know which one is better for your business? Let's find out!
An unspoken rule about the world of digital marketing is that it's highly erratic as news ideas, methods and technology enter the digital medium every single day. For an industry that can never stay still, it's difficult to determine what ways are ideal to succeed in it.
So before we discuss the differences between a paid advertisement and organic advertisement, it would be helpful to know their definitions, how they function, and the impact they create.
Paid Ads
Paid Ads, as the word suggests, uses money to secure their position on a certain application. These advertisements pop up at the top of search results or on your social media feeds with 'Ad' or 'Sponsored' mentioned.
Especially in social media, certain ads show up on your feed because the advertiser considers you to be their target audience based on your age, sex, occupation, behavior, interests, etc. Hence, Paid Ads tend to be less taxing, clear, and attract ready-to-buy users.
Also Read: Why Learning SEO Is Important To Make Career In Digital Marketing?
Organic Ads
Organic, as the word suggests, refers to generating results through one's own efforts, creativity and time. So, any type of content that isn't paid for is organic. Hence, organic ads are essentially advertisements that are not paid for.
Increasing Brand Awareness through the use of Social Media is done by having an in-depth understanding of the needs and concerns of your target audience, their interest, and preferences.
One must be creative in order to reach their audience via organic advertising. Hence, creating content such as images, blogs, videos on social media works the best.
You can also reach google rankings through organic methods by optimizing your content so that join SEO Training Institute in Noida and learn how to generate clicks and traffic from search engines without payment.
To sum it up, you must know your way through social media and possess creative abilities to opt for organic ads.
The Ultimate Comparison: Which One Is Better?
● While organic ads solely operate on your skills, abilities and cost nothing, they are not able to generate instant results, as done by paid ads.
● Both organic and paid ads have the capability to deliver monumental returns on investment. Paid ads can accommodate any and every budget.
● Paid ads tend to attract ready-to-buy users only, whereas organic ads focus on relevant users.
● Organic marketing can be used for small businesses that have little budget to allocate to advertisements.
● But the control that paid ads provide has its own perks, as you get to select who sees your ad and when allowing the company to get target-oriented instant results which are highly unlikely in the case of organic ads.
● Organic ads can be the company's long-term plan but paid ads provide quick and effective rewards hence great short-term results.
So it's safe to say that a combination of the two works the best.
To fully understand organic and paid ads, traffic generation, target audience, and the world of digital marketing, you can opt for our online digital marketing training in Noida. CETPA is widely regarded as the best digital marketing training institute in Noida and rightly so, as the online digital marketing course that we offer covers everything that comes under digital marketing.
Our digital marketing online training also includes SEO online training. Hence our digital marketing course is the only course you need to pursue in order to venture into the online world of marketing.
Hope this helps.
Have a great day.