Top 5 Steps to Start Your Data Science Career with Python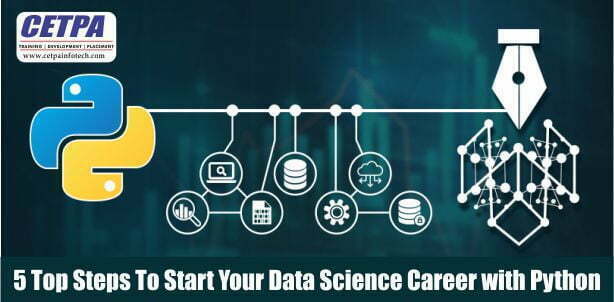 Data science is a highly technical field, and it's no news that the world of technology is booming right now. Consequently, the role of a data scientist is in high demand and thus a career in data science guarantees lucrative jobs. So, if you have been wanting to start your career in Data Science, this content is bound to help you!
Furthermore, if you possess the knowledge of python, it will improve your career prospects as a data scientist. Python is the most preferred programming language by the tech industry, it's highly flexible, easy to learn, simple, and readable. So, if you want to venture into the world of data science, you must know Python!
Moreover, starting a career in data science might seem somewhat intimidating, but if you follow the steps we've mentioned below, your journey is bound to begin with ease!
Follow these 5 steps to start your data science career:
1. Know All The Prerequisites: You don't have to confuse yourself with fifty courses or technologies to become good at data science. So, you should know which skill is absolutely necessary for the field of data science and which one is trivial. Having an in-depth understanding of a programming language is exceptionally important for data science.
Also, you do not necessarily need to be a master of mathematics. To begin with data science, you only need a basic understanding of mathematics help to understand Online Data Science Course. Moreover, you don't have to be an expert on all the required skills to begin your career in data science, you simply need to have an understanding of them. It's crucial to determine which skill is useful or useless.
1.You should also be familiar with SQL as it is the foundational skill that all data science professionals must possess. And just as SQL having basic database knowledge is also integral to pursue a career in data science.
2. Take Up A Course: Once you get a hold of the basic concepts of data science, the next step is to enroll yourself in a good data science course. Ideally, pick a course that offers the basic as well as the advanced concepts of data science. My suggestion would be CETPA's online data science course as it covers all that one needs to know about data science.
3. Start Networking and Enhance Your Communication Skills: Taking up courses alone and not having anyone to discuss lectures and technologies with can be quite daunting.
So, it would be better if you interact with course-mates, whether online or offline make sure you socialize with them as a peer group keeps you motivated.
The more you interact, the better your communication skills are going to get. Having excellent communication skills is also crucial as it enables you to express your thoughts and ideas constructively.
Also Read: 5 Advantages To Learn Python For Data Science
You should also be able to extract valuable feedback from your co-workers as it is an important part of communicating. Learning a new skill and making friends along the way isn't such a bad thing after all, right?
4. Learn Python: You need to be skilled in at least one programming language to pursue a career in data science. As mentioned above, the most preferred language for data science is Python. So, learning Python is going to benefit you in numerous ways.
Take up CETPA's online python training course for two reasons. First, it is the best institution in Delhi NCR for learning new technologies online, and second, their python courses are a step up from regular python courses. So why not choose the best?
5. Gain Practical Knowledge Along With Theoretical: It's important to gain practical experience alongside learning data science in theory. Hence, you should also focus on acquiring practical skills while taking up an online data science course.
However, if you join CETPA online data science course, an additional advantage would be that they will ensure that you get live projects to work on to gain practical knowledge as well.
Now that you have a deeper understanding of data science, all you need to do is follow these five steps and you will become an employable data science professional in no time.
Hope this helps,
Have a great day!