How To Enhance Your Skills Through MCSE Certification Course?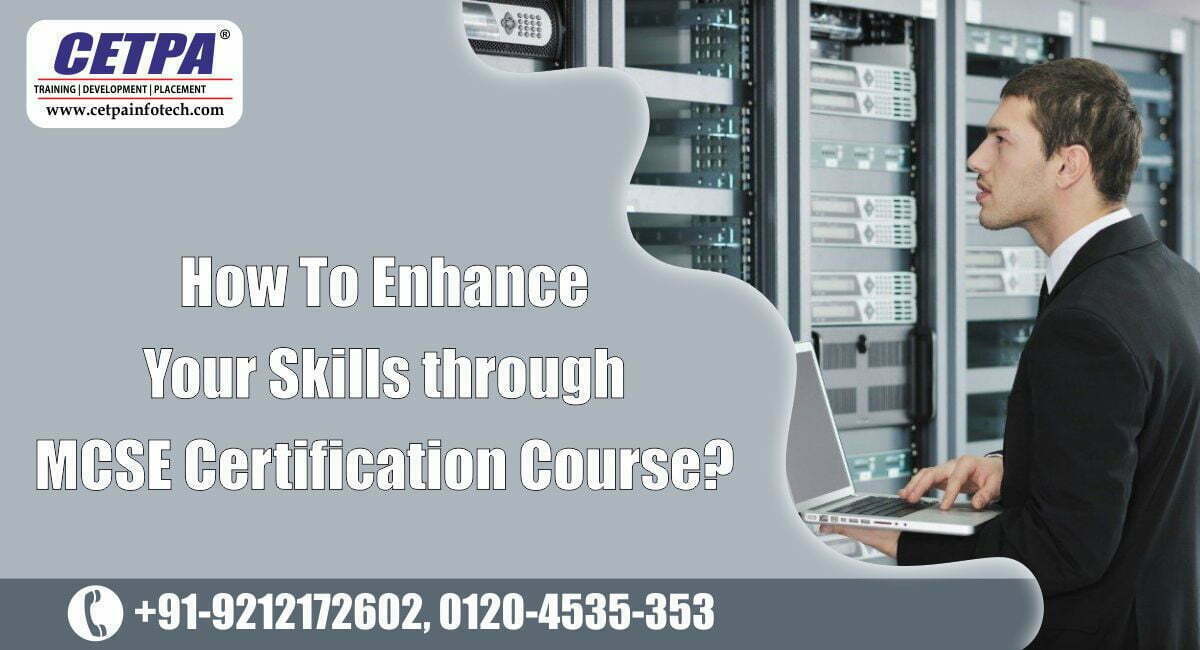 Microsoft's MCSE certification course can offer numerous lucrative career opportunities. The certification essentially validates that a professional is proficient in installing, configuring, and troubleshooting Microsoft Windows Server-based network systems.
What is the MCSE certification course?
MCSE is short for Microsoft Certified Solutions Expert. It is an expert-level certification provided by Microsoft. Although a part of MCP- short for Microsoft Certified Professional, this particular course is opted by professionals to gain practical knowledge of some of the most popular Microsoft services as well as products.
Moreover, attaining MCSE Certification will most definitely open up tremendous job opportunities for you. Microsoft is probably the biggest name in the tech world. So getting a Microsoft certification is in itself a massive accomplishment. You will also get numerous benefits from Microsoft once you gain certification. You'll be able to gain the plethora of knowledge that MCP offers, attend conferences and events organized by Microsoft, and get regular updates.
Along with worldwide opportunities and recognition, MCSE certification will also help you to stand out from the rest of the candidates and become more employable. Our online MCSE training enables you to acquire advanced skills, leading to substantial business growth.
Here is how MCSE Certification Course Enhances your Skills:
It Develops Various Advanced Skills: As soon as you complete our online MCSE training, you will become a master of numerous advanced skills. These include creating a private cloud solution, designing and building infrastructure solutions, managing devices and
applications. Creating business intelligence solutions for companies as well as deploying and maintaining enterprise-level cloud infrastructure are also included in the advanced skills that you'll learn under the MCSE certification course. The aforementioned skills are integral to handle crucial IT operations and hence can create profitable business prospects.
It Increases Your networking: How do you connect with clients who want your services? Through MCP participation catalog. As an MCSE certification holding professional you can correlate with other Microsoft professionals and potential business partners.
This is done through the listing in the MCP participation catalog. You can also build your network within the Microsoft community by attending seminars, training sessions, conferences, etc. Attending such sessions is bound to enhance your skills.
It Improves Productivity: The knowledge that you will acquire while going through our online MCSE training program is going to make you far more productive and capable of solving issues, further preparing you to be fit for leadership positions in an organization.
Major benefits of MCSE Certification Course Include:
It Is A Career Boosting Course: This certification course can boost your career drastically. It will definitely enhance your resume and open up lucrative job opportunities. Moreover, it will also help you to grow in your current organization. Additionally, this course will also improve your pay scale and so it has highly rewarding benefits. You're bound to get a promotion after the completion of our online MCSE training in Noida, in case you're already working in a company.
It Increases Your Flexibility: Given the constantly changing nature of the tech world; you have to become highly adaptable, know all about the frequent technology changes and possess problem-solving abilities. The variety of skills you acquire in this course enables you to display your flexibility to current as well as future employers.
Now that you have all the information you need to pursue an MCSE certification course, what are you waiting for? Enroll in our online MCSE training program today and enhance your skills. We provide the best MCSE training in Noida. Our online MCSE training is both cost and
time-friendly.
Hope this helps.
Have a great day.