Everything You Wanted to Know About Summer Training Course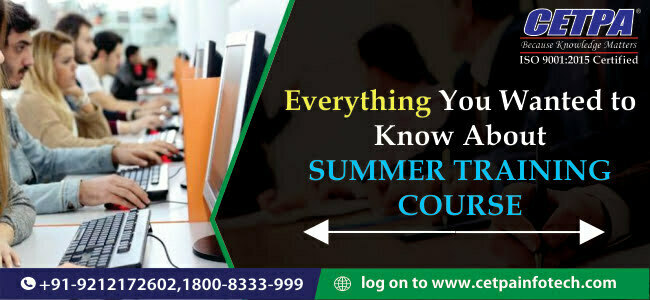 WHAT IS SUMMER TRAINING?
With changing methodologies and technologies, the competition these days is much more than ever before. In today's world, the industrial scenario needs constant technical enhancements to cater the rapid demands. Summer Training is one of the best ways to utilize the vacation of engineering student or students pursuing graduate/post-graduate level IT degree. Summer training is crucial because a student gets the proper time to learn and gain knowledge that would uplift their IT skills. During Summer Training students are exposed to real organizational culture environment.
WHO CAN JOIN SUMMER TRAINING?
Students pursuing their studies in B.Tech, M.Tech, MCA, BCA, B.Sc (IT) and M.Sc (IT) can join the Summer Training in Delhi. The duration of summer training ranges from 2 weeks- 6 weeks as per the learner's requirement.
NEED FOR SUMMER TRAINING
No matter whether big or small, all companies prefer candidates having a technically sharp, creative and analytical bend of mind. They are in search of people who do not require training or can immediately start working or in other words, they prefer candidates with some sort of experience in the respective industry during their B tech. This is the reason, why fresher's or the new candidates have to struggle while searching for a job. In this context, an individual must have experience or industrial exposures. As a result, Summer Training Course will be beneficial for the employer and employee as well.
BENEFITS OF SUMMER TRAINING
Helps to obtain comprehensive technical knowledge of selected engineering stream
Helps to improve technical skills in real time environment
Helps to know the domain of interest and selection of a field of specialization
Helps to master the basics of how to work as a team member to accomplish given tasks
Helps to enhance awareness of the industrial environment and work culture of the particular industry
Real-time work and workshop projects help to learn more analytically
Interaction with masters help to solve queries with practical exposure
Certificate obtained from the reputed company give weight to resume
Project during the Summer Training Course helps to judge trainee's abilities and skill
CONCLUSION
In most of the cases, marks of a candidate are the most important eligibility criteria but the aptitude and technical skills learned during training programs also play a very crucial role in acquiring the dream job. Therefore, it is important to understand the necessity of Summer Training in Delhi in the life of a candidate for their successful career.