AWS Is Right Certification For You?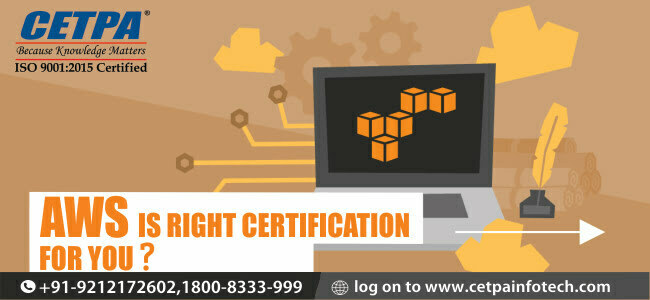 Amazon provides just about everything to users these days. With just a click of a mouse, you can have any number of things delivered to your home in just a couple of days — or even the same day. Amazon also offers cloud products and other services through its AWS (Amazon Web Services) platform. From content delivery to database migrations, AWS has grown into the one-stop shop for many corporations looking for solutions to help their enterprises run more efficiently.
WHAT IS AWS CERTIFICATION?
Whether you're just contemplating to increase your knowledge with an industry-recognized credential, or you're hoping to settle at an AWS job, getting certified is a must. You can obtain AWS certification by joining AWS Online training in Delhi. There are various types of AWS certifications available, depending on your requirements and goals. Before taking an AWS exam for your certification, however, it is crucial to receive the best training possible so that you can ace your exam the first time around.
WHY DO YOU REQUIRE AWS CERTIFICATION?
Depending on the industry they work in, professionals commonly struggle with this decision. It's a question they ask themselves often: Should I receive formal training through an education program, or will the hands-on experience be sufficient? After all, enrolling in AWS training in Noida takes time and costs money. It's important to evaluate the need for advanced training in the particular field you're interested in.
If you're serious about a career in IT and cloud computing, getting certified is highly recommended. Getting your AWS certification, in particular, can help you to stand out among the competition. Not only can it help you find a job in general, but it can help you get a higher paying job. It's certainly an investment in your future that's worth making.
AWS CERTIFICATION LEVEL
These are different positions such as architect, developer, admin, and others with specialties like security, big data and networking. So, you can make a choice for the right AWS certification according to your career and the experience level. Given below is the list of AWS certification:
AWS Solutions Architect
AWS Developer
AWS Admin
AWS Networking Expert
AWS Big Data Expert
AWS Cloud Practitioner/Fresher
Read More: How To Become Fully AWS Certified
4 MAJOR BENEFITS OF GETTING AN AWS CERTIFICATION
AWS Experts Are In High Demand.
You'll Likely Earn More.
A Certification Demonstrates Commitment to the Profession.
AWS Certifications can be Easier to Earn than other Certification.
In general, earning a certification can provide some huge advantages. If you're on the fence about getting your AWS certification, consider some of these major benefits:
1. AWS Experts Are In High Demand:
Amazon manages 33% share of the cloud computing market, which is three times more than one of their prominent competitors, Microsoft. Moreover, AWS is currently gaining year-on-year growth of 43 percent, which shows that they're likely to dominate the cloud computing market even more in the future. With these various numbers mind, there's no denying that certified AWS experts are in high demand.
2. You'll likely Earn More:
According to a recent survey, AWS course in Noida has increased the salaries for the average certified professional by as much as 25.9 percent.
3. A Certification Demonstrates Commitment To The Profession:
Getting certified takes effort, time, and commitment. This level of commitment makes an excellent impression on potential colleagues, employers, and partners. If you are in the job market or considering a change, certifications can give you an advantage during the hiring process and help you stand out in a competitive market.
4. AWS Certifications Can be Easier To Earn Than Other Certification:
Obtaining a certification can be hard work, no matter what you're getting certified in. But when talk about AWS certifications; it may not be as difficult or time-consuming as other comparable certifications. If you've already got a full plate, but you also have ambitions and want to further your training in a technology field you're passionate about, an AWS certification can be the perfect compromise.
Read More:Ways to Reinvent Your AWS