Ways You Can Grow Your Creativity Using Summer Training Course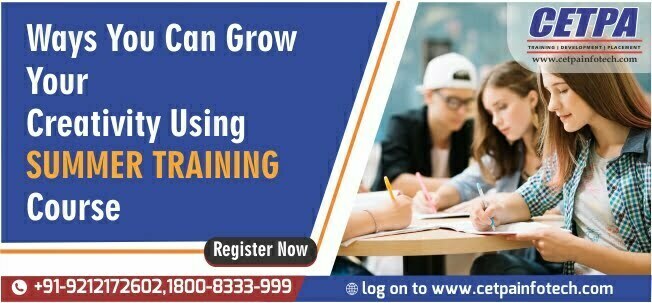 Summer Training is one of the best ways to add skills to your CV in the short term. Summer Training has been around for quite some time now. It's a time when schools close for vacations after the examinations.  If you are a student who is in the final year of college, it is no longer summer vacation. It's a time to make some serious judgments which are going to have a long-lasting impression on your life.
Given below are some of the ways with the help of which you can grow creativity using Summer Training:
1. Learn Time Management: Time management, and handling your workload, is another important skill you'll learn as an intern. During your time as an intern, you'll start understanding how to manage your time effectively to complete your training duties so you can meet deadlines, participate in meetings, and do research. Many people struggle with time management – having an internship experience is a great way to learn how to make the most of the time you have, especially if you're working with tight deadlines.
 2. Career Foundation: Summer Training in Delhi provides you the building blocks you require for your future. Various internship opportunities help set the foundation for your job. It is important that you select your internships based on your interests and job prospects. As an intern, you have the possibility to get your foot in the door with an organization. Put in mind, companies often use internships as a recruitment tool to test out future employees and in many cases, companies hire interns after graduation.
3. Real World Experience:Joining a company as an intern gives you the opportunity to work hands on in a professional environment. As an intern you're not just there to get coffee or run errands but you're there to gain actual work experience. Internships help by teaching you more about the career path you are pursuing.
4. Interns are Potential candidates for a new Hire: Getting hired by the company where you're interning is probably the best, and most sought after, benefit of summer internship training. Whether the internship is paid or unpaid, it's advantageous to do the job correctly and to the best of your ability. You'll also want to fine tune your communication skills and style to create positive relationships with other employees. Managers and supervisors will be watching how you interact with others.
Specifically, they'll be monitoring your performance to judge how well you are able to:
Work under pressure
Take the lead on assigned projects
Make decisions and complete goals
Collaborate compromise to facilitate group decisions
5. Networking: Summer Training Course gives you the opportunity to attend meetings and events. By interacting with professionals you gain new connections and learn how to communicate in a professional environment. Networking helps in acquiring references and find new job opportunities. Internships can even provide you with a professional mentor.
CONCLUSION                     
Summer Training Course is a compulsory part of the B.Tech program.  Every student should very seriously. B. Tech course is the most ambitious choice for students. Students should put best efforts on each aspect of this course without any confusion. Competition in the employment business is growing stronger day by day. Reaching semester exams and completing educational projects is an essential thing but summer training provide industrial exposure. Therefore engineering student should attend summer training very seriously. It is important and benefits to attain in-depth knowledge of the engineering stream.